After being held captive for three days while House Democrats litigated their impeachment case against President Trump, House Impeachment Manager Adam Schiff (D-CA) enraged Senate Republicans last night during his closing remarks when he referred to an anonymously sourced media report that they would face retribution from the White House if they voted to convict the president.
"CBS News reported last night that a Trump confidant said that key senators were warned, 'Vote against the president and your head will be on a pike.' I don't know if that's true," said Schiff, challenging GOP lawmakers to vote with "moral courage" instead of caving to their party.
GOP senators are heard yelling "that's not true" when House manager Adam Schiff cites a CBS report claiming Pres. Trump told them their heads "will be on a pike" if they voted against him. pic.twitter.com/wrXI4KhGPR

— Alex Salvi (@alexsalvinews) January 25, 2020
Schiff's 'pike' comment enraged several moderate Republicans - who Democrats desperately need on their side for a vote on whether to call witnesses in the trial.
"I thought he was doing fine with [talking about] moral courage until he got to the 'head on a pike.' That's where he lost me," said one such Senator, Lisa Murkowski (R-AK), adding "He's a good orator. ... It was just unnecessary."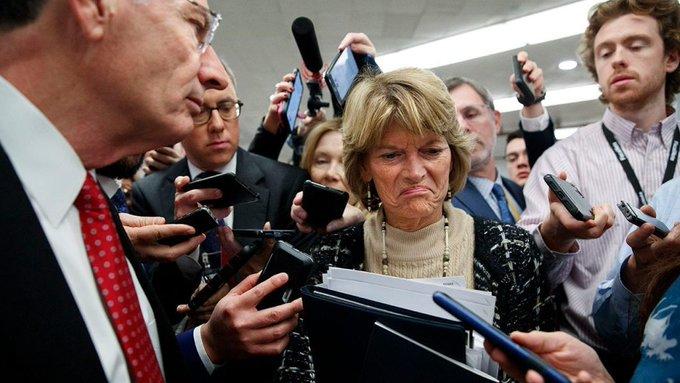 Another swing vote on Witnesses is Sen. Susan Collins (R-ME), who said "Not only have I never heard the 'head on the pike' line but also I know of no Republican senator who has been threatened in any way by anyone in the administration."
GOP Sen. John Barrasso of Wyoming agreed, saying "No Republican senator has been told that. What he has proven to all of us is, he is capable of falsehoods and will tell it to the country. And would tell it to us when we are sitting in the Senate chamber. When every one of us knows it is not true."
While Sen. James Lankford (R-OK) - another GOP Senator who says he's open to witnesses said the claim Schiff peddled is "completely, totally false."
"None of us have been told that," he said, adding "That's insulting and demeaning to everyone to say that we somehow live in fear and that the president has threatened all of us."
Sen. Joni Ernst (R-IA) said Schiff had her attention "until he got to the part where he just completely made a bunch of bullcrap up," while Sen. Joe Manchin (D-WV) said "That could have been left out, that's for sure."
Trump's legal team began their defense of the president on Saturday.