---
CA Officials Topple Giant 'TRUMP' Sign Overlooking 405 Freeway, Citing 'Life And Safety Hazard'
California officials were so triggered after someone erected a giant "TRUMP" sign on a hillside overlooking a Los Angeles freeway, that they promptly removed it from the private property within two hours of a caller reporting it.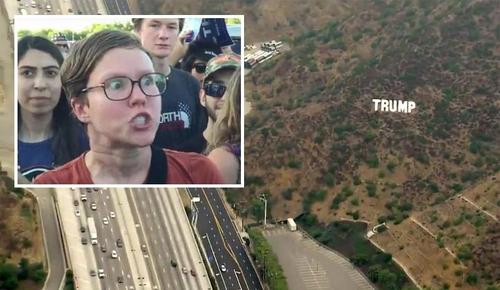 The sign, visible on the hills near the Sepulveda Pass as Los Angeles drivers began their Tuesday commute, was first reported just before 7 a.m. by a driver who "was apparently concerned it could spark a blaze" after the state's history of "destructive brush fires in the past few years."
As such, the CA Highway Patrol noted the sign as a "traffic hazard" as drivers began to decelerate to take photos of the sign.
By 9 a.m., the sign was taken down by the California Department of Transportation (Caltrans), which entered private property and "laid it down so it wasn't a visual distraction." (h/t The Federalist).
Update: the sign is down.

— Christina Pascucci (@ChristinaKTLA) October 6, 2020
It is unknown whether the owner of the private property was notified before the sign was toppled, or whether permission was given beforehand.