---
Cake Lives Matter: Protesters Descend On New York Bakery For Making MAGA-Hat-Shaped Cake
"Cake lives matter" was actually written on a sign of one of the protesters who showed up outside Coccadotts Cake Shop in New York, just outside of Albany. The bakery drew huge protests over the last couple of days for doing what a bakery does: baking a cake.
But, of course, this wasn't just any cake. This was a cake with feelings: a super-racist, super-homophobic capitalist cake. And the protesters knew that because it was made in the shape of a red hat that said "Make America Great Again" on it.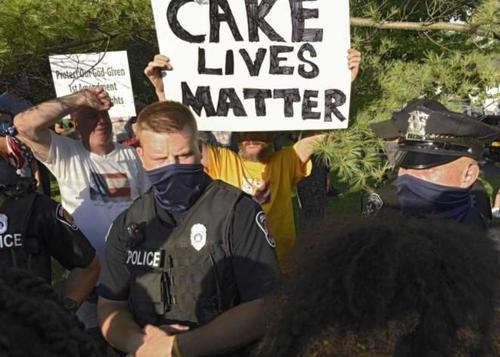 The bakery's owner, Rachel Dott, had posted images of the cake on social media in late July, which catalyzed the protests. 
But supporters of the bakery also showed up. According to the Times Union:
The Black Lives Matter protesters, who also alleged a member of the Cocca family was sympathetic to the right-wing group known as the Proud Boys, were equipped with bullhorns but they were greatly outnumbered by anti-protesters who waved American flags and encouraged passing vehicles to honk in support. 

Colonie police officers stood between the two groups keeping them separated as much as possible. State Police troopers and Albany County Sheriff's deputies also were on the scene.
The two groups got "face-to-face" and were "yelling at each other", the article says. "Hey, hey, ho, ho, racism has got to go," the BLM group was shouting (reminder: still about a cake).
One protester said: "They're able to feel what they feel about their politics. We have issues when it comes to social injustice as in firing someone because they're gay, wearing 'All Lives Matter' masks."
None of those things were reported to have happened at the bakery they chose to protest at. 
Dennis O'Kane of Delmar showed up in support of the bakery, telling reporters he was there to "support America". "I've known these people for 30 years. These people are really nice," O'Kane said about the bakery owners.
You can view video of the protest below. As the first YouTube comment says so succinctly: "Imagine living in a world where people are triggered over a cake."