---
California Democrats Push Bill To Mandate 'Gender Diversity' Books In Schools
Authored by Steve Watson via Summit News,
Democrats in California are pushing legislation that would force every school in the state to stock books in their libraries that are centred around LGBTQ themes and "people of all gender expressions."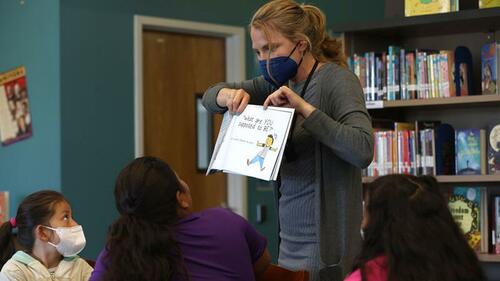 Democrat California assemblyman Corey Jackson, who has pushed the bill through committee to the full legislature, said the legislation "intends to combat the national Christian white supremacist movement, which is aimed to ban books." 
Jackson charged that "the radicalization of the Christian faith," is being used "to achieve a political objective," adding "We must meet this moment of history and make sure we are on the right side of it."
The Free Beacon reports that Jackson's legislation would place a state board in charge of classroom and school library books and texts, with any school needing to get state approval before removing any material that is challenged as potentially inappropriate, with regards to race and gender.
However, the bill does make exceptions for removing religious texts deemed to be "sectarian" or "denominational".
The report further notes that under the legislation, the state education board would be required to set curriculum guides for school districts that emphasize diversity. The guides be required to focus on "people of all gender expressions in all types of roles, races, cultures, and religions," as well as representations of labor unions and "the entrepreneur."
Speaking out against the legislation, Lance Christensen, vice president of policy for the California Policy Center said "It's shocking to have an author of a bill to make such inflammatory commentary on those who would oppose this bill in good faith."
Christensen added that opposing "radical indoctrination does not mean we are all white Christian nationalists" further charging that Democrats are conflating school text curation with book-banning.
As we highlighted earlier this week, Chelsea Clinton appears to have taken on a new activism project, defending attempts to force kids as young as Kindergarten age to be exposed to such sexually explicit "LGBTQ+" material at school.
Clinton tweeted a claim that Republicans are trying to "ban" books and that it is harmful to children to remove material with LGBTQ+ "themes".
Chelsea Clinton Comes Out In Favour Of Porn For School Kids
As we have exhaustively covered, the truth is that no one is calling for the books to be banned, but many are calling for the books that contain pornographic images and even pedophilia themes, as well as unscientific statements about biological gender, to be removed from school libraries.
A Twitter fact check of the Clinton tweet pointed out that the book shown in the tweet contains graphic sexually explicit material. Clinton was then treated to a stream of responses providing examples of some of the shocking material contained within the books.
Twitter Fact Check Confirms Book Chelsea Clinton Promoted For Children Contains Graphic Sex Acts
Related:
*  *  *
Brand new merch now available! Get it at https://www.pjwshop.com/
ALERT! In the age of mass Silicon Valley censorship It is crucial that we stay in touch.

We need you to sign up for our free newsletter here.

Support our sponsor – Turbo Force – a supercharged boost of clean energy without the comedown.

Also, we urgently need your financial support here.
Loading...