---
California Expands Travel Ban List Over Gender Ideology To Half The Country
Authored by Brad Jones via The Epoch Times (emphasis ours),
California has expanded its travel ban to three states that restricted transgender students from participating in school sports teams that don't align with their biological sex.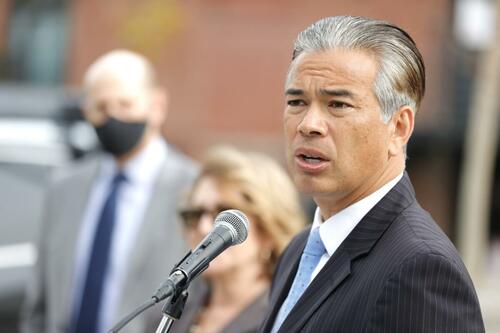 State Attorney General Rob Bonta announced on July 14 that California will restrict state-funded travel to Missouri, Nebraska, and Wyoming because of recently passed legislation in those states, bringing the total number of ban-affected states to 26.
Mr. Bonta stated in a press release that legislation targeting the transgender community is part of a "concerning trend of discriminatory practices in states across the country, aiming to roll back hard-won protections."
California lawmakers imposed the initial travel ban in 2016 with the passage of Assembly Bill 1887, a law that prohibits state agencies from requiring employees to travel to any state that has enacted laws California deems discriminatory on the basis of sexual orientation, gender identity, or gender expression. It also prohibits state-funded or state-sponsored travel to states on the list.
The law, authored by Assemblyman Evan Low (D-Campbell), requires the California attorney general to post and update the list of states that have been targeted under the ban. Mr. Low is one of 13 members of California's LGBTQ Caucus who have authored and pushed gender ideology-related legislation in recent years.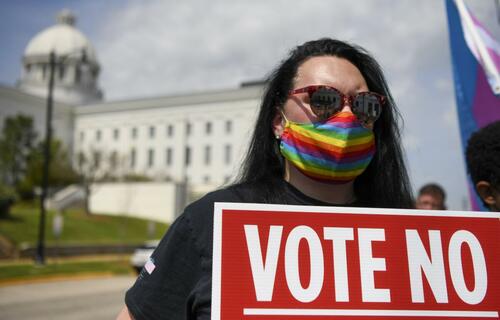 The press release also stated that such laws "specifically target and marginalize transgender youth by preventing them from participating in sports in accordance with their gender identity, as well as restricting access to critical gender-affirming healthcare services."
Mr. Bonta claimed that laws in these three states are not only discriminatory but constitute government overreach. However, opposition groups such as Our Duty, an international group that opposes transgender ideology, disagree with his assessment.
Erin Friday, co-leader of Our Duty western region, told The Epoch Times that California is instead "flexing its muscles" and "infringing on other states' rights," to comply with an extremist agenda.
New Bill Would Replace Travel Ban With LGBT Promotion in Other States
Ms. Friday, an attorney, also questioned why—given California's budget shortfalls, declining economy, and exodus of businesses from the state—some Democrat lawmakers want to use state funds to promote transgenderism in other states under proposed legislation Senate Bill (SB) 447.
The office of Sen. Toni Atkins (D-San Diego), who authored the bill, said in a press release on July 14 that SB 447 would lift the travel ban to states with "anti-LGBTQ+ policies" and replace it with "a non-partisan outreach campaign to encourage acceptance of the LGBTQ+ community."
According to the Senate appropriations committee, the Governor's Office of Business and Economic Development (GO-Biz) would incur annual staffing costs of $583,000 to implement the program, and while the proposal expects the advertising funds will be covered through donations, the committee warned that should sufficient donations fail to materialize, the bill would result in a cost pressure to fund the shortfall, the magnitude of which is "unknown, but potentially significant."
"We are in a budget crisis, the surplus is gone, and they're going to spend more than half a million dollars to … advertise in other states?" Ms. Friday asked.
SB 447 passed the Senate Floor on May 24 with a 31-8 vote along party lines. The Assembly jobs, economic development, and the economy committee also passed the bill on July 11 with a 6-1 vote, moving it further along in the legislative process.
Nicole Pearson, attorney and founder constitutional law firm Facts Law Truth Justice, told The Epoch Times that California legislators have overstepped their bounds.
"California has gone from passive-aggressively forcing its pro-abortion and gender-affirming-care agenda by banning travel, to actively pushing it on other states with other legislation including SB 447," Ms. Pearson said.
While she hasn't thoroughly researched all the potential legal ramifications of SB 447, she said it smacks of unconstitutionality and is unfair to taxpayers and people, including minors, who will be the subject of "social and medical experiments."
California is essentially promoting "abortion and gender-affirming care tourism," she said. "It's unreal what's happening. I don't think it's ethical, and I know it's not legal."
Meanwhile, the expanded travel ban, she said, shows Gov. Newsom's "complete-and-utter brazen disregard" for the United States Constitution, particularly the Full Faith and Credit Clause which requires state courts to respect the laws and judgments of other states' courts.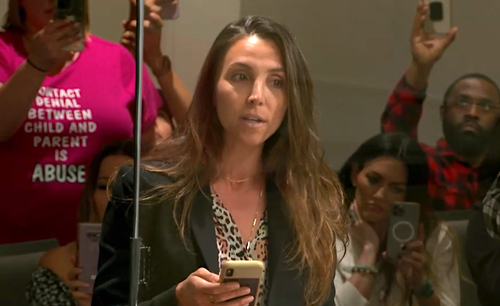 "I've seen over the last three, going on four years now since he has been in office, and certainly since 2020, the complete dismantling of some of the most important, underlying principles of our country, including separation of powers, federalism and hierarchy of laws," she said. "Gov. Newsom, as he gears up for his presidential run, is demonstrating to the country that he does not respect the U.S. Constitution, the supreme law of the land and that and he is going to do whatever he wants to push whatever agenda he has at the moment."
California's trans sanctuary state law, Senate Bill 107, authored by state Sen. Scott Wiener (D-San Francisco) which took effect this year is another example of government overreach, she said.
Ms. Pearson recently testified against Senate Bill 345 at an Assembly Public Safety committee hearing on July 11 against proposed legislation by Sen. Nancy Skinner (D-Berkeley) that would prevent criminal and civil investigations and boards from suspending or revoking the medical licenses of doctors who perform illegal abortions or "gender-affirming care" in other states.
"I don't even know where to start with this bill, it is so unconstitutional and illegal on its face," she said.
Democrat lawmakers in California have not only chastised red states for passing legislation opposing or restricting so-called gender-affirming care—including the use of puberty blockers, cross-sex hormones and even gender transition surgery on minors—but are now insulating Californians to commit crimes in other states, Ms. Pearson said.
"This lack of respect for democratic political and legislative processes is undermining and jeopardizing America's status as a constitutional republic," she said.
Loading...