---
California Reparations Committee Calls for Ending Cash Bail
Authored by Elizabeth Dowell via The Epoch Times,
California's reparations committee is calling for state officials to end cash bail and the prosecution of low-level crimes after approving a reparations payment plan to make amends for slavery and anti-black racism earlier this week.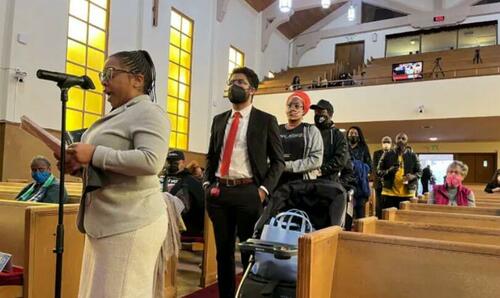 The nine-member committee, which was created by state legislation signed by Gov. Gavin Newsom in 2020, approved its final recommendations to the California Legislature, which will decide whether to enact the measures and send them to the governor's desk to be signed into law.
A final report is due to the Legislature by July 1, where recommendations include several proposals related to criminal justice, including the elimination of cash bail.
"The cash bail system is at the core of many of the class and race-based inequities in the criminal legal system," the committee wrote in its proposal.

"The task force accordingly recommends that the legislature take all steps necessary to definitively end cash bail."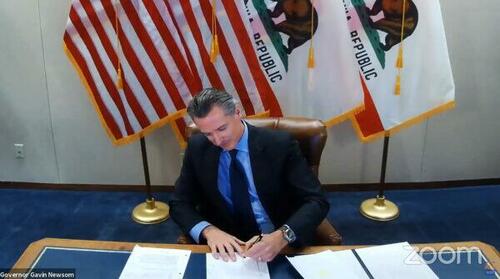 California Gov. Gavin Newsom signs into law a bill that establishes a task force to come up with recommendations on how to give reparations in Sacramento, Calif., on Sept. 30, 2020. (Office of the Governor via AP)
Government officials and prosecutors have argued that it's unfair to low-income people who can't afford it to pay cash for bail and have fought to end this requirement.
"Pretrial detention can last months and even years, during which incarcerated individuals suffer countless harms, including deteriorating mental and physical health, risk of sexual violence and lasting trauma," the committee wrote.

"These harms exert significant pressure on defendants to accept plea bargains in order to be released from custody rather than fighting the charges at trial."
Newsom called the recommendations "a milestone in our bipartisan effort to advance justice and promote healing."
"Dealing with the legacy of slavery is about much more than cash payments," Newsom said in his statement.

"We are waiting for the process to be completed."
The recommendations approved by the committee outline restitution that, if approved by state lawmakers, could cost billions of dollars to address historical disparities in health care, housing, and policing.
"Many of the recommendations put forward by the Task Force are critical action items we've already been hard at work addressing: breaking down barriers to vote, bolstering resources to address hate, enacting sweeping law enforcement and justice reforms to build trust and safety, strengthening economic mobility—all while investing billions in rooting out disparities and improve equity in housing, education, healthcare, and beyond. This work must continue," Newsom said.
Assemblymember Reggie Jones-Sawyer, a Los Angeles-area Democrat on the committee, said in an interview that it's too early to know whether payments could get passed in the Legislature, as the committee's report deadline looms.
"We have absolutely no idea right now what will or will not be approved," he said.
Republican Lauren Boebert criticized the reparations payments calling it "a joke."
"The fact that supposedly serious people in San Francisco are considering a plan that would give $5,000,000 in reparations to every black resident in their city in a state that never had slavery is a joke," Boebert wrote on Twitter.
California's black population includes more than 2.5 million people.
The committee outlines what it describes as "over-policing" of black Americans before calling for California to stop prosecuting low-level crimes.
"Given the devastating impacts of this kind of over-policing, the task force recommends that the legislature prohibit law enforcement from criminally enforcing public disorder infractions and other low-level crimes," the committee wrote.

"Instead, a public health and safety institution, without criminal arrest or prosecution powers, would enforce prohibitions such as sleeping on the sidewalk, fare evasion, spitting on the train, and similar transit-related or other public disorder violations that criminalize poverty," the committee added.
Assemblymember Lori Wilson, who chairs the state Legislative Black Caucus, said that the caucus would champion policy proposals included in the task force's report.
"We look forward to working collaboratively with our Legislative colleagues and Gov. Newsom's administration as we continue to fight for equity in our communities," Wilson said in a statement.
Loading...