---
Can Project Veritas Survive Without Founder-CEO James O'Keefe?
Authored by Michael Ryall and Siri Terjesen via The Epoch Times,
Two weeks ago, Project Veritas generated global headlines by exposing a Pfizer employee who claimed that the company was allegedly exploring plans to mutate the coronavirus themselves through "directed evolution" and profit from it. This week, Veritas is again on the front pages, this time for a very public, board-level fracas resulting in the unceremonious departure of Veritas's dynamic founder CEO James O'Keefe.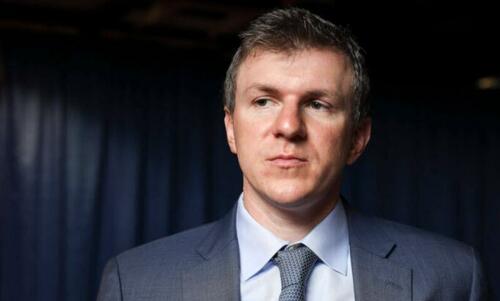 Watching this drama play out, one question at the top of everyone's mind is whether Veritas can survive without O'Keefe.
As researchers in corporate governance and strategy, we have analyzed large datasets on founder CEO exits as well as written individual case studies on the subject. In our judgment, O'Keefe's departure will effectively end Project Veritas.
First, Project Veritas is an exemplar of an organization whose brand is the founder CEO. O'Keefe's name, personality, and leadership style are inextricably integrated into the public perception of Project Veritas—the courageous, hard-hitting, late-hours, abrasive, and revolutionary news organization in the image of O'Keefe distinguish Project Veritas from countless other news and political organizations.

Second, in an age of hard-hitting journalism and politics, stakeholders aren't just willing to tolerate, but actively seek leaders with a strong work ethic, a willingness to use unconventional tactics, and a high tolerance for confrontation, all of which are closely linked to the organization's mission. For example, Apple co-founder Steve Jobs's reputation as a charismatic, driven-to-perfection, risk-taking genius was matched by his impatient and petulant personality. Jobs's serious disagreements with the board of directors in 1985, nine years after co-founding Apple with Steve Wozniak, led to Jobs's departure. Apple survived, but didn't perform at the same levels until Jobs returned in 1997, first as adviser and later as CEO.

Third, the founder imprint is particularly apparent in non-profit 501(c)3 and (c)4 organizations, which rely heavily upon motivated donors. For them, a visionary leader, a closely aligned mission, and a track record of success are paramount. O'Keefe's success at the helm of Project Veritas is clear, building revenues from $738,000 in 2012 to $22 million in 2020.
Conversely, there are countless examples of non-founder CEOs whose departures did little to change the trajectory of their organizations. Among non-profit examples, Young Americans for Liberty (YAL)—founded by Jeff Frazee in December 2008— weathered the storm when then-CEO Cliff Maloney was placed on leave and then terminated in January 2021. A key aspect of YAL's survival is founder Frazee's ongoing work as board chair and treasurer of both YAL and the YAL Foundation.
Research and anecdotal evidence suggest no clear path forward for Project Veritas without its founder CEO. The Project Veritas brand, its ability to navigate the treacherous waters of modern journalism, and its ability to acquire the resources needed to continue all walked out the door with James O'Keefe.
Loading...