---
Capitol Police Officer Dies By Suicide Just Days After Siege
Another Capitol Hill police officer has died, just days after one officer was previously killed during the 'Stop the Steal' chaos when he was reportedly hit over the head with a fire extinguisher during the Capitol mayhem that has been driving global headlines.
Officer Howard Liebengood, 51, reportedly died by suicide while off-duty on Saturday, the US Capitol Police (USCP) announced Sunday in an official statement.
SECOND OFFICER DEATH.

Capitol Police Officer Howard Liebengood, 51, who worked Wednesday during the siege, has died by suicide, according to the former Capitol Police Chief.

He labels it a "line of duty casualty," per Nancy Cordes.

(📸 Getty Images) pic.twitter.com/4iIy1XNNy0

— Austin Kellerman (@AustinKellerman) January 10, 2021
The USCP has not disclosed the specific cause of death, and it's unclear the degree to which Liebengood was involved in "front line" events of Wednesday, which saw five total people die, including one woman that was shot by an officer while attempting to breach a high secure area of Congress.
However, the wording of police sources close to him strongly suggest Liebengood was on duty at Capitol Hill Wednesday, and may have indeed been at the center of events there:
Punchbowl reporter Jake Sherman says his sources told him Liebengood's death was a suicide. He died Saturday while off duty.

Liebengood joined the Department in 2005.

Former Capitol Police Chief Terrance Gainer calls Liebengood's death a "line of duty casualty"... clearly meaning even if it was a suicide there's a direct connection to the riot.
"He was assigned to the Senate Division, and has been with the Department since April 2005," the police statement noted.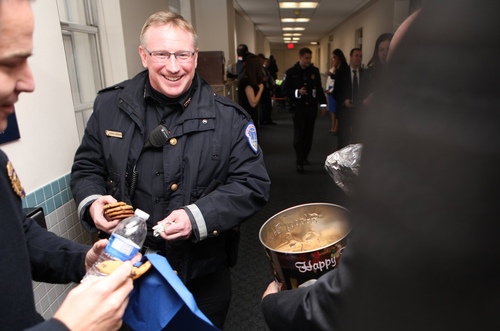 "Our thoughts and prayers go out to his family, friends, and colleagues. We ask that his family and other USCP officers' and their families' privacy be respected during this profoundly difficult time," the department's statement said further.
Statement from the cap police union. https://t.co/VTbZSLmu1s

— Jake Sherman (@JakeSherman) January 10, 2021
Multiple Congressional leaders have issued statements offering condolences. 
"I'm saddened to learn about the death of USCP Officer Howard Liebengood. My thoughts and prayers go out to his family and friends. May he rest in peace. Thank you for your service," Senator Mark Warner (D-Virginia) said.
The White House lowered its U.S. flag to half-staff on Sunday, three days after a police officer died from injuries suffered while fending off supporters of President Trump who stormed the Capitol building https://t.co/CUmkeTDXkl

— Bloomberg (@business) January 10, 2021
Later in the day Sunday President Trump ordered all flags over federal buildings and US embassies to be flown at half-mast in honor of the two deceased Capitol police officers.