---
CDC Rolls Out 'Wild To Mild' Flu Shot Campaign To Reach Vaccine-Hesitant
Authored by Megan Redshaw via The Epoch Times (emphasis ours),
The CDC launched a new digital campaign to encourage the vaccine-hesitant to get a flu shot to merely "tame" symptoms.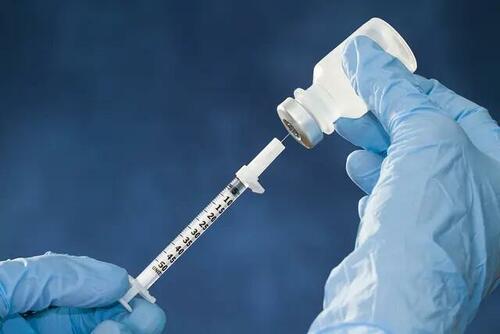 The number of Americans willing to roll up their sleeves to get a flu shot declined during the pandemic, as many who received the vaccine appeared to get sick anyway, and concerns grew over potential side effects.
In response to dwindling numbers, the Centers for Disease Control and Prevention (CDC) on Monday launched a new digital ad campaign it hopes will encourage the vaccine-hesitant to get the shot, even if breakthrough infections occur.
The agency's new messaging is simple: The flu shot won't prevent a person from getting sick but can "tame" wild flu symptoms into mild flu symptoms in those who get vaccinated but still get sick.
The "Wild to Mild" campaign is part of the agency's efforts to rebrand expectations about what yearly influenza vaccines can and can't do and provides infographics, animated images, social media marketing materials, and other online resources people can use to encourage their "friends, loved ones, and followers on social media" to get vaccinated. The campaign materials feature endearing graphics with two opposing animals, such as a fierce lion and a kitten, a grizzly bear and teddy bear, and a mean gorilla and stuffed monkey, to convey its message.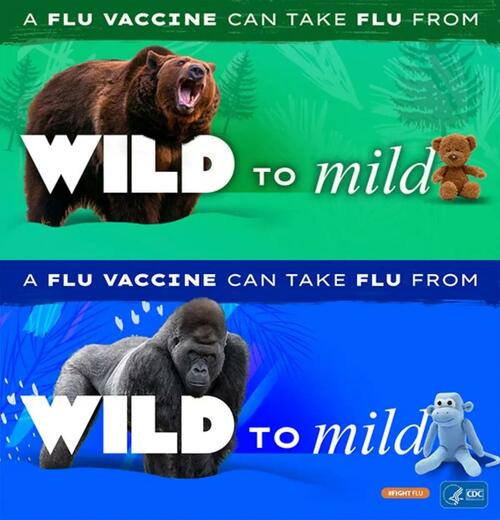 Ads for the new campaign began rolling out this week on radio and social media platforms targeting pregnant women and parents of young children, as vaccination rates have declined in these high-risk groups.
Dr. Bill Schaffner, an infectious disease specialist at Vanderbilt University and member of the CDC's advisory panel on vaccines, told CNN he believes the agency is taking the right approach.
"With these respiratory viruses, flu included, the vaccines aren't very good at preventing milder disease. They're much better at preventing serious complications. And I think we have not been very clear in presenting that information," Schaffner said. "We have to acknowledge that. We have to say 'Yep, it won't prevent that mild disease. But here's the benefit.'"
This is similar to the marketing U.S. regulatory agencies used with COVID-19 vaccines. Americans were first told they would only need two doses of an mRNA COVID-19 vaccine or a single dose of the Johnson & Johnson shown to prevent COVID-19—and that getting vaccinated would protect their neighbor. After Americans started experiencing breakthrough infections, U.S. health agencies admitted the shots did not prevent COVID-19 or transmission of the virus to others, and vaccine efficacy was redefined by whether the vaccine prevented hospitalizations and death.
Linda Wastila, professor and Parke-Davis chair of geriatric pharmacotherapy with a doctorate in health policy, told The Epoch Times in an email that she finds it interesting the CDC is now promoting flu vaccines as a means of preventing severe disease instead of the flu. 
"I wonder if they will go and revise their language for all the other vaccines, the vast majority of which also fail to prevent infection," she added.
Years of Data Show Flu Shots Have Low Efficacy
According to the CDC, all flu vaccines for the 2023–2024 season will be quadrivalent vaccines, meaning they will contain strains designed to target four different flu viruses. The CDC annually conducts its own studies to determine how well influenza vaccines protect against the flu and uses those and previous studies with different strains to support the statements made about influenza vaccine effectiveness.
Factors affecting vaccine efficacy depend on which flu viruses are circulating and how well-matched those viruses are to flu vaccines. According to the agency, flu vaccine effectiveness has ranged from 10 percent in 2004 to 54 percent in 2023.
In a September 2023 study published by the CDC in its Morbidity and Mortality Weekly Report, a research team from the CDC analyzed data from 2,780 patients hospitalized with severe acute respiratory infection from five South American countries from March 27 to July 9, 2023.
The researchers determined the 2023 Southern Hemisphere seasonal influenza vaccine reduced the risk of influenza-associated hospitalizations by 52 percent, with an estimated protection of 55 percent against the predominant A(H1N1)pdm09 strain. Because circulating viruses are genetically similar to those in the Northern Hemisphere, they concluded the formulation may offer equal protection.
The current study used to support CDC recommendations only focused on specific high-risk groups, including pregnancy over three months, but the agency recommends all people in the United States ages 6 months and older receive a flu shot in September or October.
The agency says other recent studies show influenza vaccination reduces the risk of illness by 40 to 60 percent among the overall population during seasons when most circulating flu viruses are well-matched to the strains used to make flu vaccines. Yet the other CDC studies used by the agency to support flu vaccine efficacy specifically during pregnancy are several years old, funded by the agency, and relate to other vaccines. 
Safety of Flu Vaccines in Pregnant Women
According to the National Foundation of Infectious Diseases, flu vaccination coverage decreased by 6 percentage points to 58 percent among children and adolescents ages 6 months to 17 years during the 2021–2022 flu season. Vaccination coverage dropped among pregnant women to 50 percent from 55 percent during the same period and has fallen 16.6 percentage points since the pandemic's start in March 2020.
The CDC's safety data on flu vaccines during pregnancy consists of a handful of studies carried out by the agency between 2011 and 2014. The CDC lists two studies on its webpage that assessed the risks of influenza vaccines in newborns, with the most recent 2020 study using data gathered between 2007 and 2015.
Although the agency says most influenza vaccines will be thimerosal-free, some recommended flu vaccines contain this controversial ingredient. Thimerosal is a mercury-based preservative in some U.S. vaccines and is associated with severe neurological disorders, even in trace amounts.
Although the CDC claims that thimerosal is safe and was taken out of pediatric vaccines in 2001, peer-reviewed scientific publications demonstrate broad consensus among independent research scientists that thimerosal is dangerous. Up to 25 micrograms of thimerosal remain in many of the influenza vaccines offered during the 2023–2024 flu season, including those administered to pregnant women and infants.
CDC Promotes 3 Respiratory Virus Vaccines for Fall With No Safety Data
The new quadrivalent flu shot is just one of three vaccines coming down the CDC's pipeline this fall. The agency recommends bivalent COVID-19 vaccines—recently authorized by the U.S Food and Drug Administration (FDA) without clinical data—flu shots for individuals 6 months of age and older, and the new respiratory syncytial virus (RSV) vaccine. The CDC has not provided any data showing it is safe to coadminister these vaccines to any group, including those who are immunocompromised and pregnant women. 
"My primary concern with the CDC's promotion of the flu, COVID, and RSV vaccines is the absolute lack of data we have on their co-administration," Ms. Wastila told The Epoch Times in an email.  
"We have very little data on the new RSV vaccine and virtually nothing on the new approved and authorized COVID boosters—approved and authorized by FDA yesterday on manufacturing data versus studies in people—although Moderna did check for antibody responses in 100 subjects, which is insufficient." Ms. Wastila said she's also concerned about the broad acceptance of the idea that there is one flu vaccine or one COVID-19 vaccine when there are now three COVID-19 vaccines available on the market—new Pfizer and Moderna boosters and Novavax—and it is unknown how these vaccines interact with flu and RSV vaccines. "There is no study that looks at all three of these types of vaccines taken together," she said. "I have grave concerns that the combination of all three will greatly impair recipients' immune systems. In particular, the impacts of the live vaccine on immunity."
Loading...