---
Charges Against Trump Hinge On What He Believed And When
Authored by Philip Wegmann via RealClear Wire,
In a federal courthouse that rioters marched past on their way to storm the U.S. Capitol on Jan. 6, 2021, former President Donald Trump pled not guilty to four felony charges that he had attempted to overturn the results of the 2020 presidential election.
"When you look at what is happening," he later told reporters, who had waited for him in the rain on the tarmac of Reagan International Airport, "this is a persecution of a political opponent. This was never supposed to happen in America."
Trump then boarded his plane without taking questions.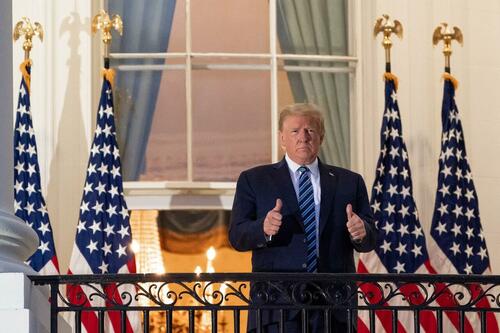 Yet, many questions stemming from special prosecutor Jack Smith's indictment will remain, and the competing, confusing legal arguments about whether the previous president knowingly lied about whether fraud swayed the last election will likely determine the immediate future of the nation.
The prosecution argues that those claims "were false, and the defendant knew that they were false," fomenting "an intense national atmosphere of mistrust and anger and eroded public faith in the administration of the election." The defense retorts that those charges amount to "criminalizing speech." 
Under the obstruction statute brought by Smith, the government must prove that Trump knew that the 2020 election was fair and that he had corrupt intent when launching a conspiracy to overturn it. Hours after the indictment was released, Trump attorney John Lauro that he'd "like them to try to prove beyond a reasonable doubt that Donald Trump believed that these allegations were false."
The indictment lists Trump's claims that there was widespread fraud, and the indictment details how members of his circle, from former Vice President Mike Pence and then-Attorney General William Barr to his own campaign officials, rebutted them in the moment. Not included in the 45-page document? A smoking gun, according to Alan Dershowitz, Harvard Law professor emeritus. 
"They seem to have lots of people who are prepared to testify – who will testify – that Donald Trump actually believed that the election was stolen. He was wrong. He was dead wrong. But the Supreme Court of the United States has held repeatedly that there's no such thing as a false opinion under the First Amendment," Dershowitz told the Hill Rising. 
"If he had the opinion that he had won the election, then the corruption allegations can't stand," the professor continued. 
Getting into the head of Trump, understanding whether he truly believed what he said, then, is central to the case against the former president, a task that has already consumed and maddened much of Washington, D.C. for over half a decade. For evidence that Trump knew he had in fact lost, Smith points to a meeting Trump had on Jan. 3, 2021, with his Joint Chiefs of Staff.
"Yeah, you're right, it's too late for us. We're going to give that to the next guy," Trump allegedly said of a proposed change to national security policy, insinuating that future decisions should be left to incoming President Biden. 
Trump supporters have dismissed that statement as a passing reference and hardly determinative. His own former attorney general, however, said publicly that he believes Smith has more evidence and that he's now convinced that his old boss knew that he'd lost the election. 
In a CNN interview, Barr said he arrived at that conclusion after reviewing "comments from people like [Steve] Bannon and [Roger] Stone before the election, saying that he was going to claim it was stolen if he was falling behind on election night, and that that was the plan of action." 
Stone, a longtime Trump confidant, encouraged Trump to challenge the results of the election, even predicting that there would be violence. 
"This is a cheap shot by Bill Barr. While my comments may be a bit coarse, I did not specifically say if Trump lost, he should declare victory," Stone told RealClearPolitics. The seasoned political operative insisted, instead, that he was simply giving Trump "precisely the same advice that James A. Baker III gave Bill Barr's boss, George W. Bush." 
According to Stone, who said he was not in touch with Trump between December of 2020 when he was pardoned and "until long after January 6th," Trump should declare victory if the outcome was unknown.
Video from November of 2020 later circulated showing Stone saying,  "I really do suspect it'll still be up in the air. But when that happens the key thing to do is to claim victory. Possession is nine-tenths of the law – no, we won, fuck you. Sorry, over, we won, you're wrong, fuck you." 
Stone told RCP that he thinks Trump truly won the election and that he believes the former president sincerely holds that belief as well. "There is a distinct difference between what I said and what Steve Bannon said though," he added of Trump's other top aide. 
"What Trump's gonna do is just declare victory. Right? He's gonna declare victory. But that doesn't mean he's a winner," Bannon told a group of Trump supporters in October of 2020, according to audio of the meeting reported by Mother Jones. "He's just gonna say he's a winner."
"As it sits here today," Bannon reportedly said later in that conversation, "at 10 or 11 o'clock Trump's gonna walk in the Oval, tweet out, 'I'm the winner. Game over. Suck on that.'"
Bannon, who was subpoenaed by Smith last month and who didn't return RCP's request for comment after checking with his own legal counsel, was only off by three or four hours. Just past 2 a.m. Wednesday after the election, Trump walked into the East Room of the White House as results were still being tabulated and announced to supporters, "Frankly, we did win this election."
Trump has never deviated from that claim during or after his time in office. The former president told RCP in July 2020, nearly four months to the day of the election, that if mail-in-ballots were widely used "this will be the most fraudulent election, and rigged election, in the history of our country."
Opinions, even wrong ones, the former president's defense argues, are protected speech.
"No sitting president has ever been criminally charged for his views, for taking a position," Lauro told Fox News before alleging that there are "two systems of justice" in the United States. "Was Hillary Clinton prosecuted for the Russian hoax? Were those individuals who said, 'Don't worry about the Biden laptop, because it's just Russian disinformation,' are they being prosecuted?" he asked host Bret Baier.
Jack Smith does not dispute that the former president had a First Amendment right to speak about the election or even to make false claims about it. The prosecutor says as much in the indictment. He contends, however, that Trump must have known his claims of fraud were false and deliberately enlisted others in a conspiracy to overturn the election.
"Just because someone uses words to commit a crime (like a robbery – stick 'em up – or bribery or extortion) that doesn't make it protected by the First Amendment, Richard L. Hasen, a University of California, Los Angeles law professor and election law expert, told RCP. "What's different about Trump is that he was talking about political things, including his claim that he won his election. He is not being prosecuted for this lying about winning the election – that prosecution would likely be unconstitutional."
"The indictment so acknowledges that right to lie on the second page," Hasen added. "He's being prosecuted for manipulating election processes and the counting of electoral college votes."
Smith has called for "a speedy trial." Trump's lawyers say they have another objective in mind. Lauro told NPR their goal "is a just trial, not a speedy one," stressing how they'll need time to rebut a case that took the federal government almost two and a half years to bring. On Thursday, at Donald Trump's arraignment, the presiding judge ordered motions from both sides filed by Aug. 28.
Until then, and perhaps until next November, the prosecution and the defense, as well as the entire country, will wrestle with the question of what the former president actually believed about the 2020 election and when he believed it.
Loading...