---
Chicago Crime Rises 61% In 2023, Violent Offenses Spike While Governor Insists Crime "Coming Down"
Authored by Naveen Anthrapully via The Epoch Times,
The crime rate in Chicago has spiked by 61 percent in the first three weeks of 2023, with almost all crime segments registering an increase, with data coming at a time when the state's governor insists that crime in the city is decreasing.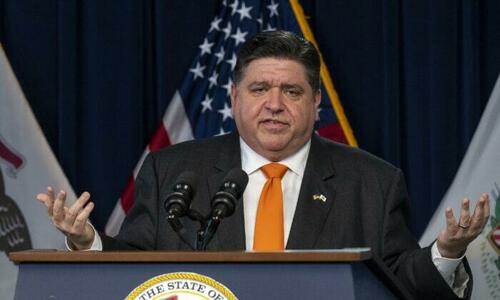 In the first 22 days of this year, the Chicago Police Department received 4,844 complaints related to crime, up 61 percent compared to the 3,013 complaints received in 2022, reveals data (pdf) from the department. This is also 97 percent higher than from the same period in 2021 and 81 percent higher than in 2020.
The biggest increase in crime in the past year was in motor vehicle theft, which rose by 165 percent year to date until Jan. 22, 2023, when compared to the year-ago period.
Aggravated battery jumped 31 percent, robbery 26 percent, theft, 24 percent, criminal sexual assault 12 percent, and burglary 11 percent. Murder fell by 9 percent, while shooting incidents declined 1 percent.
The data come as Illinois governor J.B. Pritzker has been trying to paint a positive picture of Chicago's crime incidents.
"Crime is coming down gradually in the city and across the state. It's going to take a little while. These things don't come down immediately. But it's getting better," he said in an interview with CNBC this month.
Chicago Mayor Lori Lightfoot recently attracted criticism after a mayoral debate on Jan. 9 during which she suggested that street vendors "not use money, if at all possible, using other forms of transactions to take care of themselves" so as to ensure that their money is safe.
"To combat crime in Chicago, Mayor @LoriLightfoot says 'not use money, if at all possible, (use) other forms of transactions to carry…' What's next? Laws demanding 'cash control'?" conservative talk radio host Larry Elder said in a tweet on Jan. 23.
Businesses and Citizens Looking to Exit City
The high crime rate in Chicago is affecting businesses operating in the city, with some of them choosing to leave. In October 2022, Tyson Foods, for example, announced plans to relocate staffers from the Chicago area and South Dakota to Arkansas. In May, Boeing had announced plans to shift its headquarters out of Chicago.
In a speech to the Economic Club of Chicago in September, McDonald's CEO Chris Kempczinski revealed that he has received multiple offers from governors and mayors from other states who want him to shift the company's headquarters from Chicago.
"While it may wound our civic pride to hear it, there is a general sense out there that our city is in crisis," Kempczinski said.

"We have violent crime that's happening in our restaurants … We're seeing homelessness issues in our restaurants. We're having drug overdoses that are happening in our restaurants."
A survey published this month by nonprofit AARP found that 88 percent of Chicago voters over 50 years of age have considered leaving the city in the past year. They wanted to move to a community with a lower crime rate.
Among respondents, 89 percent said that a candidate's position on violence and crime is "very important" when it comes to deciding the next mayor.
Cashless Bail
One of the main reasons contributing to ongoing crime is a lax approach to enforcing the law while approving measures that cut down severity of punishments related to lawlessness.
A controversial law, the SAFE-T Act, was set to go into effect on Jan. 1, 2023, in Illinois. But on Dec. 31, the state supreme court placed on hold a portion of the bill that would have eliminated cash bail for certain crimes.
Last month, a Kankakee County judge had ruled that cashless bail violated Illinois' constitution and couldn't be applied in counties where lawsuits have been filed to block it.
Republican leaders had earlier raised alarm bells about the SAFE-T act, warning that it would result in a rapid rise in crime in Illinois, including Chicago. The city frequently registers over 700 homicides annually.
State Senator John Curran, a Republican, pointed out that SAFE-T's cashless bail raises the risk of releasing dangerous criminals back into the streets. Multiple law enforcement officials had also warned about the cashless bail provision.
According to real estate platform Property Club, Chicago is ranked number six on the list of most dangerous cities in the United States.
Loading...