---
Chicago Shootings In March Top Four Year High As Mayor Lightfoot's Plan To Combat Crime Fails  
Two years since Chicago mayor Lori Lightfoot won that runoff election, her multi-year plan to combat violent crime across the Democratic-run city is in shambles. 
The Chicago Police's Monthly Crime Newsletter shows the number of shootings in the metro area in March - and the number of shooting victims - jumped to a four-year high. The report is a stark reminder of Lightfoot's anti-violence plan to reduce violent crime and rebuild communities has hit a snag. 
In March, there were 233 shooting incidents and 298 shooting victims, the report showed. This compares to 146 shootings and 175 victims in March 2020, 136 shooting incidents and 165 victims in March 2019, and 136 shootings, with 151 victims in March 2018. 
Homicides in the Democratic stronghold city were up 33% in the first three months of this year compared with the same period in 2020. For the same period, shootings were up 40%. 
The surge in violence comes as Lightfoot is fighting the unprecedented socio-economic impacts of COVID-19 across the metro area. Her multi-year plan to heal the community, protect and secure public places, improve policing, among other goals, has yet to decrease violent crime.
At some point, her stated goals will have to come into question as some public health experts warn of a "perfect storm" of socio-economic collapse, virus pandemic, mental health crisis, and drug epidemic are some factors resulting in the wave of violent crime. There's also a community-based movement calling for de-policing that continues to widen the trust between the community and police. 
Just this weekend alone, seven people were killed and at least 27 others wounded in shootings across the city. An uptick in shootings and violence could be associated with warmer weather trends as criminal gangs fight for turf. 
Data compiled by HeyJackass shows on a year-to-date basis, homicides, and shootings are significantly higher than last year. This is problematic ahead of the summer season when much of the killing occurs.
54 people were shot last week in #Chicago, 7 fatally.

Same week last year: 45 shot, 6 fatally.

2021 YTD: 149 killed, 632 wounded
2020 YTD: 112 killed, 459 wounded pic.twitter.com/rxEnNa0jmC

— HeyJackass.com (@w_h_thompson) April 5, 2021
On a community basis, HeyJackass shows a high number of homicides and shootings have occurred in Englewood, Grand Crossing, Austin, and Garfield Park.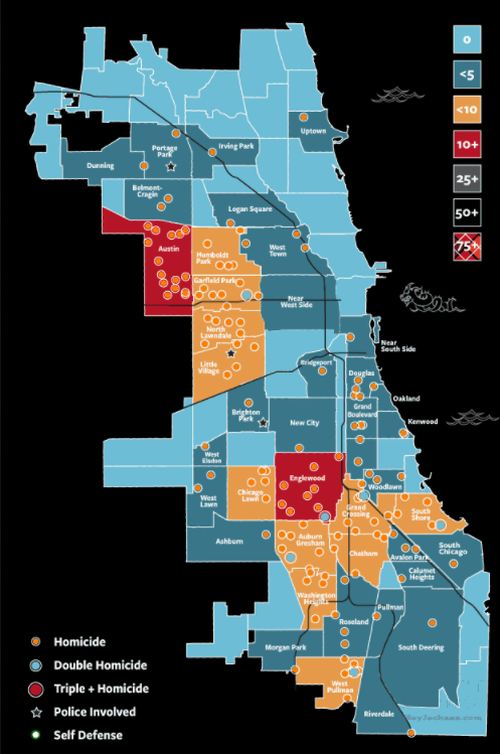 In the last 30 days, 52 people have been killed and 257 wounded.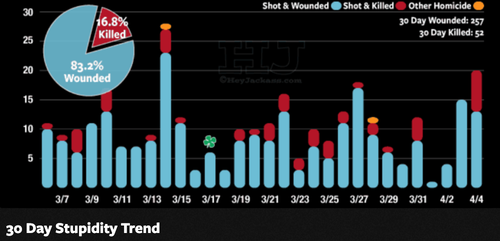 Black-on-Black shootings in Chicago are out of control,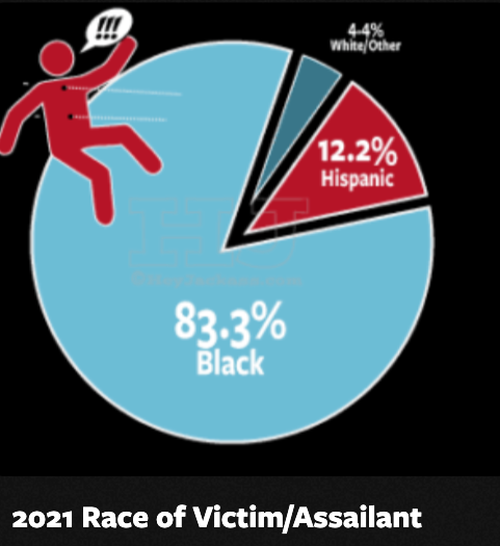 Already, the year-to-date homicide trend in 2021 appears to be nearing the decade record. This suggests momentum in violent crime will continue into summer.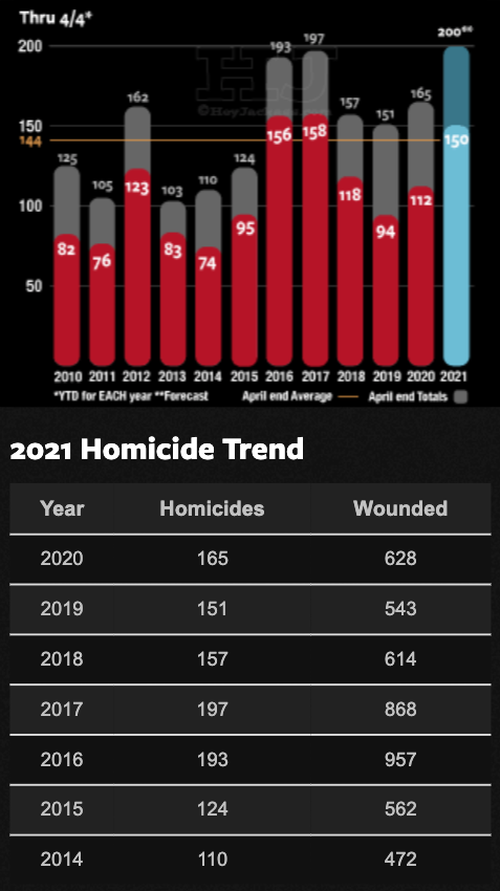 Chicago's situation echoes that of many other liberal-run cities, where crime has run rampant since last summer's "peaceful protests," which consisted of property damage, assaults, looting, and lighting cities on fire. The latest "police reform" protest turned violent last month.