---
Chinese Balloon 'Did A Lot Of Damage,' Says House Foreign Affairs Chair McCaul
Authored by Ryan Morgan via The Epoch Times (emphasis ours),
The Chinese high-altitude balloon that passed over the United States at the start of February "did a lot of damage," according to Rep. Michael McCaul (R-Texas), the chairman of the House Foreign Affairs Committee.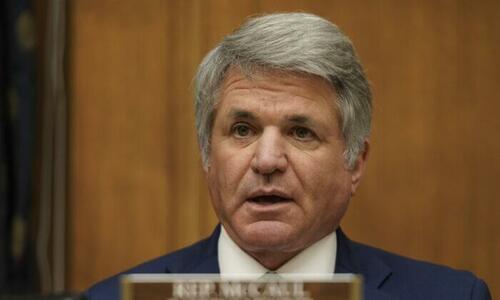 In an interview on CBS's "Face The Nation" program, McCaul said the Chinese balloon was a "sophisticated spy balloon" that "went across three nuclear sites" as it floated over the United States from Jan. 28 to Feb. 4. McCaul specifically noted the balloon passed over nuclear bases in Montana, the U.S. Strategic Command (STRATCOM), and a base that hosts nuclear bombers in Missouri.
Specifically, the balloon passed over Malmstrom Air Force Base, Montana and Offutt Air Force Base. Malmstrom is home to U.S. nuclear missile forces. Offutt is home to STRATCOM, which is tasked with detecting and deterring attacks against the United States and its allies, including nuclear strikes. The balloon also flew near Whiteman Air Force Base, which hosts the nuclear-capable B-2 Spirit stealth bombers.
While the Defense Department says it mitigated the damage caused by the Chinese spy balloon that passed over several sensitive U.S. military sites, House Foreign Affairs Cmte. Chair Rep. Michael McCaul says, "Going over those sites, in my judgment, would cause great damage." pic.twitter.com/pnPjjeOj2W

— Face The Nation (@FaceTheNation) February 12, 2023
"It did a lot of damage," McCaul said of the high-altitude balloon's flight path. The balloon passed over the various U.S. military sites before it was shot down off the coast of South Carolina on Feb. 4
"The fact is, whether it be the hypersonic weapon they've made that circled the world and landed with precision, to the spy balloon, we have to stop selling them the very technology that they use in their most advanced weapon systems that they can turn against us," McCaul added.
Recent reports have indicated the Chinese government has bought U.S.-produced software products for use in its hypersonic missile programs. In recent years, U.S. officials have accused Chinese spies of stealing key technologies, and lawmakers have been considering laws to curb China's access to sensitive U.S. defense programs.
US Military Says it 'Mitigated' Balloon's Surveillance
U.S. defense officials have said they "mitigated" the balloon's intelligence-gathering capabilities during its transit over the U.S., though they did not specify what means were used to block or reduce the balloon's ability to transmit sensitive data back to China.
Officials in President Joe Biden's administration have also said they took measures to mitigate the balloon's ability to gather data. On Feb. 9, White House Press Secretary Karine Jean-Pierre said the military was able "to protect any national security, sensitive information, that was on the ground as [the balloon] was moving on its path."
McCaul shared his doubts about those mitigation efforts during the CBS interview.
Read more here...
Loading...