---
Chris Rock Tells Crowd "Arresting Trump Will Make Him More Popular Than Ever"
Authored by Steve Watson via Summit News,
Comedian Chris Rock made a salient point during a performance at an event in Washington DC, commenting that arresting Donald Trump is only going to end up with him becoming more popular.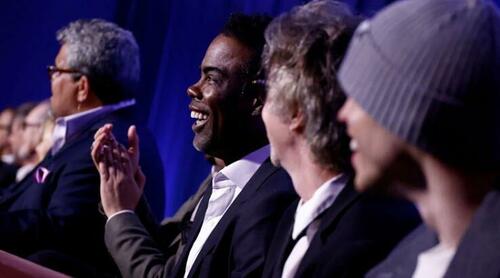 Rock was appearing at a Mark Twain Prize awards ceremony honouring Adam Sandler, where in attendance were Nancy Pelosi and several Biden administration officials.
"Are you guys really going to arrest Trump?" Rock asked the crowd at the Kennedy Center, going on to note "Do you know this is only going to make him more popular?"
Drawing laughter in his inimitable style Rock continued, "It's like arresting Tupac. He's just gonna sell more records," before asking "Are you stupid?" 
It's funny because it's true.
During the same performance, Rock took aim at Biden's age, stating "Trump was so bad as a president, he was so bad that Joe Biden had to burst off a monument. Biden was dead for 16 years." 
Chris Rock On Donald Trump: 'Arresting Trump Is Like Arresting Tupac…He's Gonna Sell More Records' https://t.co/RTMf1681ci #WeGotUs #SourceLove pic.twitter.com/yireUc2WDl

— The Source Magazine (@TheSource) March 21, 2023
The comments come amid scheduled protests in New York ahead of Trump's potential arrest related to payments made to his former attorney Michael Cohen, who then allegedly used them as 'hush money' in the Stormy Daniels saga.
Rock's comments echo those of Elon Musk who predicted a "landslide victory" for Trump in 2024 if he is arrested.
If this happens, Trump will be re-elected in a landslide victory

— Elon Musk (@elonmusk) March 18, 2023
*  *  *
Brand new merch now available! Get it at https://www.pjwshop.com/
In the age of mass Silicon Valley censorship It is crucial that we stay in touch. We need you to sign up for our free newsletter here. Support our sponsor – Turbo Force – a supercharged boost of clean energy without the comedown. Also, we urgently need your financial support here.
Loading...