---
Citi Blames "Systemic Racism" For $16 Trillion GDP Shortfall
In a 104-page study that reads more propaganda and virtue-signaling than bulge-bracket research note, Citigroup has published its findings on quantifying the cost of 'systemic racism' in America.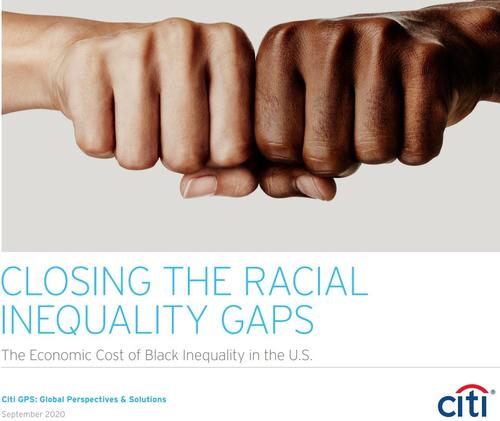 There are two big number stand-outs from the report:
1) The Historic Cost...
Due to lost wages, less access to home and small business loans, and limited access to higher education, over the past 20 years, GDP lost about $16 trillion because of race-based inequalities.
2) The Future Benefits...
If the U.S. could instantly end the most severe forms of economic discrimination against African Americans, it could give a $5 trillion boost to gross domestic product over the next five years.
Citigroup Vice Chairman Raymond J. McGuire said in the report:
In his Letter from a Birmingham Jail, Dr. Martin Luther King Jr. wrote, "We are caught in an inescapable network of mutuality, tied in a single garment of destiny. Whatever affects one directly, affects all indirectly."

Today, more than at any time since Dr. King's assassination, we are bearing witness to the grave injustices affecting our fellow citizens. Black, Latinx, and Native Americans have been hospitalized for COVID-19 at a disproportionately high rate, a direct result of what the Centers for Disease Control and Prevention has identified as "long-standing systemic health and social inequities." Blacks and People of Color are also bearing a disproportionate share of the pandemic's economic devastation. And the killings of Ahmaud Arbery, Breonna Taylor, and George Floyd have finally shaken the U.S. and the world awake to the egregious racial inequities in our criminal justice system.

As Dr. King noted, these injustices affect all of us. Higher rates of infection among some affect the health of all, and the loss of health, life, and livelihood among communities of color diminish everyone's economic security. No one should want to live in a society that incarcerates or kills so many of its citizens just because they are black or brown.

The privileges we enjoy by working for Citi come with responsibilities. While elected officials and community activists must do their part, so must we. One important thing we can do is to show the costs of racial inequality through objective analysis which is what the authors of this report have sought so effectively to demonstrate. Our overarching goal for the Citi GPS series is not only to tackle the key opportunities and challenges of the 21st century, but also to address complex societal questions and to not shy away from difficult subjects. As such, we believe we have a responsibility to address current events and to frame them with an economic lens in order to highlight the real costs of longstanding discrimination against minority groups, especially against Black people and particularly in the U.S.

The analysis in the report that follows shows that if four key racial gaps for Blacks — wages, education, housing, and investment — were closed 20 years ago, $16 trillion could have been added to the U.S. economy. And if the gaps are closed today, $5 trillion can be added to U.S. GDP over the next five years.
Why Gaps Exist: Racism and Inequality Are Little Improved
The 400 years of enslavement of Black populations in the Americas has residual effects that persist to this day despite tomes of legislation providing equal access to various aspects of American life under the law. Attitudes and policies undermining equal access are at the root of the racial gaps plaguing U.S. society.
Moreover, societal inequities have manifested themselves into economic costs, which have harmed individuals, families, communities, and ultimately the growth and well-being of the U.S. economy.
If the racial gaps in wages in the U.S. had been closed two decades ago, there might have been an additional 0.2 percentage point to real GDP growth per year.

Adequate access to housing credit might have produced 770,000 new Black homeowners.

More Black students with university and advanced degrees might have generated an additional $90 to $113 billion in income that could have contributed to consumption.

More than 6 million jobs per year might have been added and $13 trillion in cumulative revenue gained if Black-owned firms had equitable access to credit.
The global implications are also apparent given the U.S. contributes a one-third share of growth to the world economy.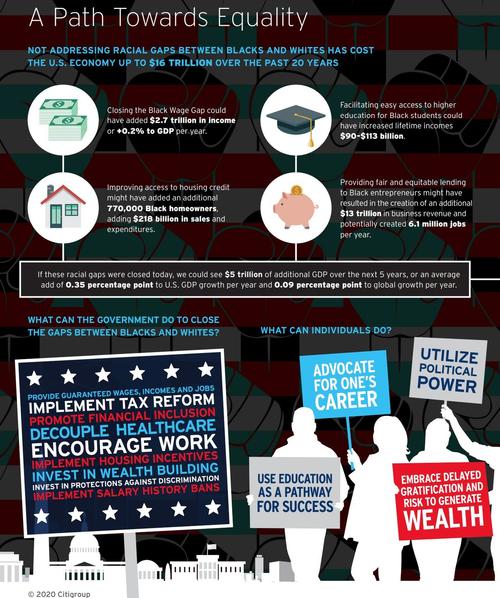 *  *  *
Full 'Research' note below: