---
Classified Docs Were At Biden House While Hunter Took Millions For "Representing F**king Spy Chief Of China"
Authored by Michael Shellenberger via Public,
For the last week and a half, defenders of President Joe Biden have said that the way he allegedly mishandled classified documents was not as dangerous, illegal, or inappropriate as the way former President Donald Trump allegedly mishandled classified documents.
But we now know that Hunter Biden was taking millions of dollars from businessmen tied to Chinese military intelligence while living at the home of his father, President Joe Biden, where classified documents, including ones relating to foreign nations, were recently found.
We additionally know that Hunter Biden was in the grip of a debilitating addiction to cocaine and alcohol and that he experienced frequent blackouts and loss of memory.
There is no evidence that Hunter Biden, willingly or unwillingly, sober or intoxicated, took classified documents from his father's residence in Delaware and gave them to his client, a Chinese businessman named Patrick Ho.
"There's no evidence that Hunter Biden accessed the documents, but — God-forbid — the opportunity existed for him to do so," said investigative journalist Peter Schweitzer, who has tracked the Biden family's business ties to the Chinese government, including military intelligence, over the last five years.
During the time that Hunter lived in his father's residence, between 2017 and 2018, Hunter and the entities he and his uncle, James Biden, President Biden's brother, controlled received at least $4.8 million from a Chinese energy conglomerate called CEFC, which is tied to the Chinese military. Hunter Biden received an additional $1 million from Patrick Ho, a CEFC official.
"After Ho is arrested in late 2017, the first phone call he makes is to James Biden, the president's brother, because he's looking for Hunter," said Schweitzer.
Why is that? What was going on between the Bidens and the Chinese government, exactly? And what does it all mean?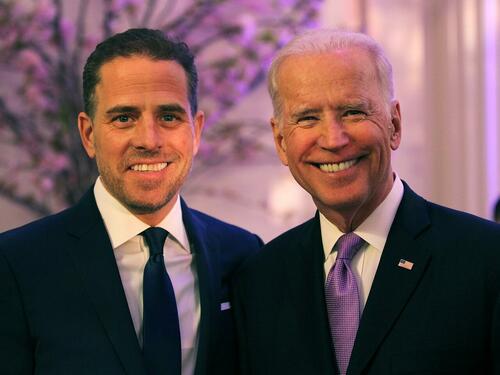 ...
Hunter's former client Patrick Ho is a criminal convicted and sentenced to three years in prison. Ho was sentenced for his role in a multimillion-dollar effort to bribe leaders from Chad and Uganda. That appears to be what Ho was attempting to do with Hunter: bribe him in order to buy protection from his powerful father. A CEFC intermediary reached out to Hunter Biden in December 2015 to set up a meeting between Hunter and Ye Jianming, the founder and chairman of CEFC, according to emails from Hunter Biden's laptop hard drive. Hunter Biden at one point said he was working for Ye. Hunter, in a voicemail found on his laptop, tells a colleague,  "I'm representing the f**king spy chief of China."
...
What does it all mean? The evidence strongly suggests that the Chinese government was seeking to bribe the Biden family to gain advantages both in terms of energy and also to protect its sources.
...
Subscribers to Public can read the rest here...
Loading...