---
CNN, New Yorker Suspend Jeffrey Toobin For Masturbating During A Zoom Call
Update (1740ET): In a stunning 'correction' from Vice, which ratchets this story up to '11' on the Spinal Tap amplifier of WTF-ness,
"This piece has been updated with more detail about the call and the headline has been updated to reflect that Toobin was masturbating."
Hey look, we understand, an accidental exposure of a penis could be rubbed off as a one-off, awkward moment but spanking the monkey, that's a hard one to get over.
Quite a multitasker!!
*  *  *
From the "Not, The Onion" file (which is becoming far too regular in this farcical new normal), legal analyst Jeffrey Toobin has been suspended by CNN and The New Yorker after he exposed himself during a Zoom call last week between members of the New Yorker and WNYC radio.
"I made an embarrassingly stupid mistake, believing I was off-camera," Mr. Toobin said in a statement to Vice, which reported the incident and the magazine's investigation.

"I apologize to my wife, family, friends and co-workers."

"I believed I was not visible on Zoom," Mr. Toobin said of the call, which Vice, citing unnamed sources, said took place last week.

"I thought no one on the Zoom call could see me. I thought I had muted the Zoom video." Mr. Toobin could not be immediately reached on Monday afternoon.
Natalie Raabe, a spokesperson for the New Yorker, confirmed that "Toobin has been suspended while we investigate the matter," Vice reported.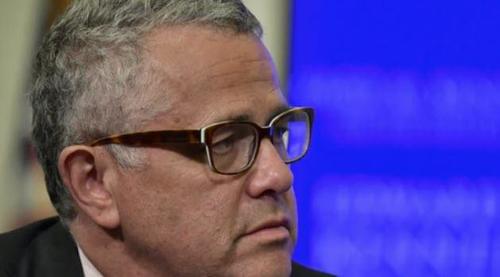 "Generously", CNN has "granted" Toobin some time off too...
Statement from CNN: "Jeff Toobin has asked for some time off while he deals with a personal issue, which we have granted."

— Jeremy Barr (@jeremymbarr) October 19, 2020
It appears Mr. Toobin is popular among Canadian Twitterati...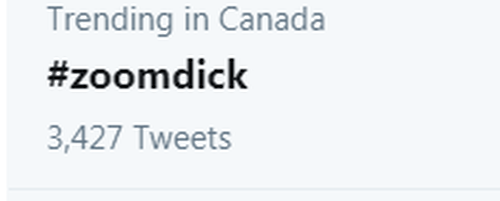 Exactly how such an 'accident' happens during (or even near) a business Zoom call is unclear, but as the details 'firm up', social media erupted in mockery...
jeffrey toobin posted hog on zoom

— nuanced opinion guy (@charles_kinbote) October 19, 2020
the nine (inches)

— Erin 🎃GrudgePAC🎃 Ryan (@morninggloria) October 19, 2020
the more i think about this the more confusing it is. how on earth
why on earth
what on earth

— Erin 🎃GrudgePAC🎃 Ryan (@morninggloria) October 19, 2020
"zoom dick incident" pic.twitter.com/FXDFgkwFk4

— Alison Herman (@aherman2006) October 19, 2020
Just here to watch the comments on #ZoomDick pic.twitter.com/4ywwZlIQq3

— Franko (@RealFrank215) October 19, 2020