---
Colorado State Snowflakes Melt Down Over 'Free Speech' Events, Offered Trauma Counseling
Students at Colorado State University who have been traumatized by free speech events held on campus now have 17 different counseling resources to help them cope.
The future of America, ladies and gentlemen...
"If you (or someone you know) are affected by a free speech event on campus, here are some resources," reads a sign posted to Instagram by Turning Point USA Rockies.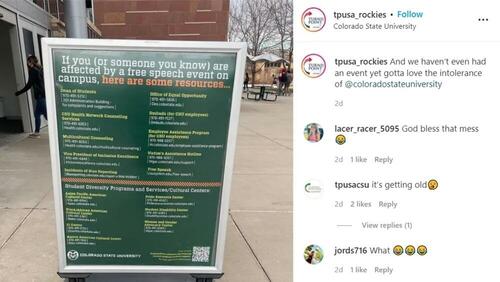 As Campus Reform notes, the university's sign points to 17 departments that can help students who have been "affected."
Departments and programs were also designated for minority students, including Student Diversity Program centers for Asian Pacific, Black/African, and Native Americans. Service and Cultural resources provided spaces for LGBTQ+ students, students with disabilities, and included the Women and Gender Advocacy Center.

The Rockies account called out the school for "intolerance," noting, "And we haven't even had an event yet gotta love the intolerance of @coloradostateuniversity."

Colorado State University has consistently been a hostile environment for conservative organizations, particularly in the fall 2021 semester. -Campus Reform
CSU seems to have no problem with left-wing students harassing conservative students, however.
 Read more here.