---
"Comply Promptly": House Judiciary, Intel Committees Send Demand Letters To Officials Who Discredited Hunter Biden Story
Two House Committees investigating Biden family malarkey have sent demand letters to 29 Central Intelligence officials who discredited the Hunter Biden laptop story, and have yet to respond to previously requested interviews.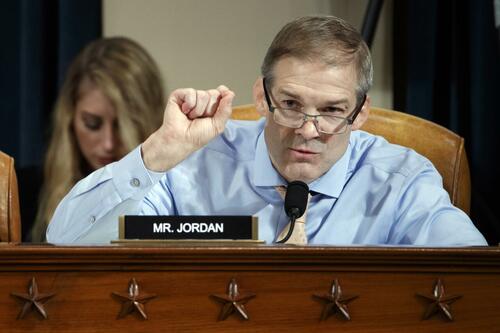 Jim Jordan, chairman of the House Judiciary Committee, and Mike Turner, Chairman of the House Intelligence Committee, reiterated their requests for testimony, and asked that the officials "comply promptly," the Daily Caller reports.
"The Committee on the Judiciary and the Permanent Select Committee on Intelligence are conducting oversight of federal law-enforcement and intelligence matters within our respective jurisdictions. The Judiciary Committee made a prior request to you for documents and information about the public statement you signed in October 2020 that falsely implied the New York Post's reporting about Hunter Biden was the product of Russian disinformation," read the letters.
Both The Washington Post and The New York Times noted the authenticity of Hunter Biden's laptop in March 2022, more than one year after the Daily Caller News Foundation first verified it. Recent reporting by the Daily Caller and other outlets has highlighted the Biden family's extensive dealings with Chinese companies, including a presentation Hunter Biden gave promoting American shale and natural gas to Chinese businessmen. -Daily Caller
"This request, to include a request for a transcribed interview before the Committees, remains outstanding. These documents and your testimony are necessary to further our oversight. As we begin the 118th Congress, we write again to reiterate our outstanding request and ask that you immediately comply in full," read the letters. 
"You have been on notice about our oversight request—and aware the request is outstanding—for months. For your convenience, we have attached the letter from the Judiciary Committee dated April 6, 2022. To date, you have not complied with this request. Accordingly, we reiterate our requests and ask that you comply promptly."
The letters were sent to:
Nada Bakos
David B. Buckley
David Cariens
Janice Cariens
Peter Corsell
Brett Davis
Glenn Gerstell
Steven L. Hall
Kent Harrington
Don Hepburn
Timothy D. Kilbourn
Andrew Liepman
Ronald Marks
Jonna Hiestand Mendez
John Moseman
Emile Nakhleh
Gerald A. O'Shea
David Priess
Pamela Purcilly
Chris Savos
John Sipher
Stephen Slick
Cynthia Strand
Greg Tarbell
David Terry
Gregory Treverton
John D. Tullius
David A. Vanell
Winston Wiley
According to former Biden family business partner Tony Bobulinski, Joe Biden was "plainly familiar" with his brother James' and son Hunter's business dealings with  a CCP-linked Chinese energy company.
Loading...