---
Concerns Raised Over Number Of Students Identifying As LGBT
Authored by Doug Lett via The Epoch Times,
The head of the group Unified Grassroots in Saskatchewan is raising concerns about gender ideology in the classroom.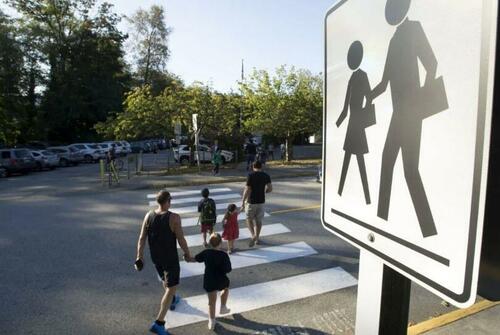 Nadine Ness said she has been contacted by several parents who are worried about the percentage of students in some classrooms who are identifying as LGBT.
In one case, she said, a father told her that in his 13-year-old son's class, 13 out of 30 young people identify as LGBT.
She was also notified of a principal in a different school telling a parent that some 32 percent of Grade 7 and 8 students are identifying as LGBT.
Her concern is that the percentages seem very high.
"I think it sends a clear message that something is happening in the classroom that is leading kids to go that route of either identifying or being confused about gender," she told The Epoch Times.

"That 32 percent is not what's reflected in society."

"It just confirms what I'm hearing from parents across the province," she added. "It's not every classroom. It seems that they all have a few things in common where the children will have been exposed to teachers or people within the school system that are constantly pushing that ideology."
She went on to say that it is probably normal that some children would identify—but not the percentages she is being told.
"I'm sure there's some of them that do identify, but that many kids are getting confused—we have to ask ourselves, is this what's in the best interest of the children that are going into these schools?"
Ms. Ness said she has been told some of the numbers come from a survey within the Saskatchewan school system, but said she has not been able to find out much about it.
"And if it's province wide, I wanted the public to start demanding accountability from the government … I have yet to be able to get a copy of it to know what questions are asked and I actually had some teachers reach out to me, and they told me they don't even get to see the questions … They're putting these kids in front of a computer screen to answer the survey, and no teacher gets to actually see what questions are asked."
The Epoch Times contacted the Saskatchewan Ministry of Education for more information about the survey, but did not get a response by deadline.
For Ms. Ness, the issue is why the percentage of young people identifying is so high.
"I hope it triggers studies and for the Ministry of Education to look into this," she said.

"Is it just confusion? Is it indoctrination? Or is this really just where we're going as a society?" she asked.

"Is this natural or not natural?"
Unified Grassroots is a non-profit organization that was started by parents in 2021 over concerns about the effect of COVID-19 policies on children. Ms. Ness said they have thousands of members and followers provincewide.
Loading...