---
Congress Punts Shutdown Risk, Setting Stage For Explosive January Showdown: Goldman
On Tuesday the House passed a 'clean' bill that would extend government funding at current levels until Jan. 19 and Feb. 2 of next year, with no pork attached to satisfy Democrats, or spending cuts to satisfy actual conservatives. The bill is expected to sail through the Senate, and President Biden will sign (or say) whatever they put in front of him - so it's effectively a done deal.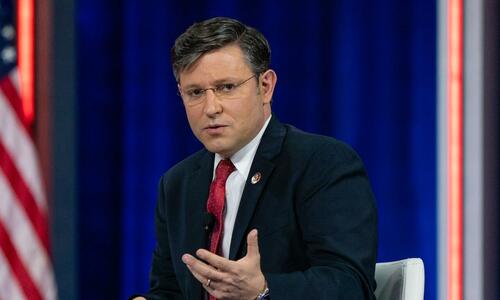 The bill uses a "laddered" approach with two expiration dates which fund 4 of 12 annual appropriations bills until the January date, and all of the other bills until the February date - including funding the Department of Defense and the release of economic data.
And while the House Freedom Caucus' Matt Gaetz said "Everybody gets a mulligan," referring to how Speaker Mike Johnson (R-LA) enlisted Democrats to move the bill forward, Goldman thinks the risk of shutdown increases in January, as reaching either a short, or a long-term extension will likely encounter fierce political resistance (full note available to pro subs in the usual place).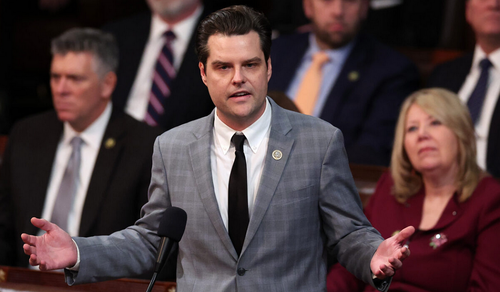 If Congress fails to pass any further spending bills by the expiration dates, a partial shutdown will ensue on Jan. 20, and a full shutdown will occur on Feb. 3.
One of the key points of contention is the gap in proposed spending levels between House Republicans and the Senate, estimated at around $120 billion. This disagreement makes the passage of full-year spending bills an uphill battle. Adding fuel to the fire is the condition attached by Republicans for their support of aid to Ukraine, which hinges on immigration reforms. Furthermore, the establishment of a "debt commission" is on the table, potentially forming part of a larger fiscal package.
As Punchbowl News further notes;
When the initial Jan. 19 funding deadline comes along — just 21 legislative days away under the current House calendar — Johnson will likely be in largely the same position he's in now.

He'll have a House Republican Conference that disagrees with his tactics and is unwilling to set aside its own short-term politics to seek a long-term funding deal. Just 57% of House Republicans voted for the CR Tuesday, hardly a mark of confidence in the new speaker.

House Republicans will only have a narrow four-seat majority by that point. And Johnson will still have a conference that is seeking steep spending cuts while the Senate is proceeding with bipartisan funding bills.

Johnson's members have so far failed to pass some major spending bills, including the Labor-HHS, Commerce-Justice-Science and Transportation-HUD packages. The Senate will still be far more united than the fractured House.

Johnson couldn't even pass a rule — a typically party-line procedural motion — for the CR this week. When it comes to actually winning a spending showdown with President Joe Biden and Democrats, Johnson and House Republicans are nowhere.
In short, the path forward contains lots of political landmines. While this temporary measure has managed to avoid an immediate crisis, it sets the stage for a more intense showdown early next year. The likelihood of further extensions faces stiff resistance, particularly from House Republicans. The situation is a ticking time bomb, with each extension only amplifying the eventual fallout.
Loading...