---
Conservative Entrepreneurs Step Up To Serve Customers Alienated by Woke Corporations
Authored by Kevin Stocklin via The Epoch Times (emphasis ours),
As corporations increasingly take up progressive political causes like racial equity and climate change, some watch with despair or disdain. Conservative entrepreneurs see a business opportunity.
"There's a huge market for them," Mark Meckler, president of Convention of States Action (COSA), told The Epoch Times. As a former CEO of Parler, he knows how brutal it can be to go up against dominant, established competitors. Success is not guaranteed.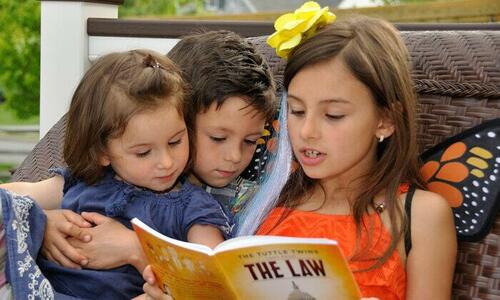 But citing conservative companies like Black Rifle Coffee and Patriot Mobile, Meckler said, "if you think about it, you're talking half the country" as a potential market. "Of the voting age public, you're probably talking 75–80 million people that would like to partake in these kinds of products."
"If I were not doing politics right now, that's the space I would be in," he said. "I would be looking at every market segment that I could and I would be starting every kind of conservative company that I could."
Connor Boyack, president of Libertas Institute and writer and publisher of the "Tuttle Twins" children's books, concurs.
"I believe we need way more entrepreneurs in this space," Boyack told The Epoch Times, "providing products and services for families to learn about and act upon the ideas of a free society."
Breaking Into Publishing
Like many well-known children's authors, he wrote his first book in the "Tuttle Twins" series for his own kids. And like many well-known children's authors, he took his books to the established publishing houses, who were not interested.
"So we just decided to launch the 'Tuttle Twins' as an independent project, published directly by our company," he said. "In retrospect, that was exactly the right move for us because it afforded us creative control. We're not at the mercy of anyone who can cancel us or undermine what we're trying to do."
While many schools are teaching kids about socialism and racial ideology, Boyack's books touch on ideas like preserving liberty, the Golden Rule, and how free markets work, topics that "help children develop critical thinking skills about real-world concepts." Between 2014 and 2019, they sold 750,000 books. In 2020, they sold 1.3 million, and in 2021 they sold 1.7 million.
"The freedom movement has been playing defense for decades. We have been letting our ideological adversaries educate our children, and waiting until they become adults before we communicate our ideas to them," Boyack said. "By then, it's already too late because they've already become firmly established in a worldview that they've developed as a result of their schooling, social media, and so forth."
Building a Cell Phone Company
Patriot Mobile, a conservative phone service provider that covers all 50 states, has had similar success.
"There was a very liberal cell phone company that was funding some races in Florida and across the nation, and that's where our founders got the idea: Wow, we could have our own cell phone company and do conservative things with the profits," Leigh Wambsganss, chief communications officer at Patriot Mobile, told The Epoch Times. "Our mission is to protect our God-given rights."
Patriot Mobile was able to build its cell phone service company by interfacing with towers owned by other cell phone companies. It has been a long road getting all the systems and access set up, but today "we're growing by leaps and bounds," she said. The company grew by 75 percent in 2020 and 110 percent in 2021.
"Every impediment, we stop and pray," she says. "It helps us make really solid decisions. Because we're a Christian company, our business exists to glorify God."
A Gift Becomes a Business
For Egard Watches, it all started with the idea that founder and CEO Ilan Srulovicz had a decade ago to give his father a gift.
"My dad helped me smooth a lot of things in my life, and I wanted to find a way to honor him," Srulovicz said. "I thought it would be really nice to buy him a nice watch, but I couldn't find one that really represented what I wanted."
Instead, while working in 3D modeling at a visual-effects studio, he made one himself. "It kind of went from there," he said, with more and more people wanting to buy his designs.
"There are two types of customers who are attracted to the company," Srulovicz explains. "There's the customer who wants something very unique from a kind of micro brand, and they're getting a lot of value of their money." Others, he said, "connect to our brand story. People connect to the messages we put out."
Heading into the COVID years, Egard Watches became known as a company that swam against the ideological tide. Srulovicz was vocal in pushing back against movements like defunding the police, "toxic masculinity," censorship of speech, and vaccine mandates.
"I'm a first-generation American, whose mother escaped Iraq," Srulovicz said. "My dad's family was killed off in the Holocaust." This has given him an appreciation for "traditional, foundational American values," he said.
"I believe in gender roles. I believe that the police have a very important value in society. And I believe in individual freedom. I'm very much pro- the right of people to speak, even if I disagree with them," he said. "So I'm putting out these messages constantly in the hopes of inspiring other companies to do the same thing. We don't need to just sit in the corner and be quiet and hope for the best."
Read more here...
Loading...