---
Conservative Rappers Slam Target For "Targeting Your Kids"; Top iTunes Despite 'Shadow Ban' Claim
Conservative rappers Forgiato Blow, Jimmy Levy, Nick Nittoli and 'Stoney Dudebro' have taken aim at Target for "targeting your kids" with controversial transgender-oriented merchandise for children.
The song, titled "Boycott Target" and filmed inside a Target store, has made it to the top spot on Apple's iTunes.
The video comes as Target has lost roughly $13 billion in market value over backlash to the company's LGBT-themed children's merchandise, with the company's shares suffering their longest losing streak in nearly five years.
Some of the clothing in question includes newborn onesies with pro-LGBT slogans, while others include a "tuck-friendly" swimsut, and "Trans people will always exist" clothing.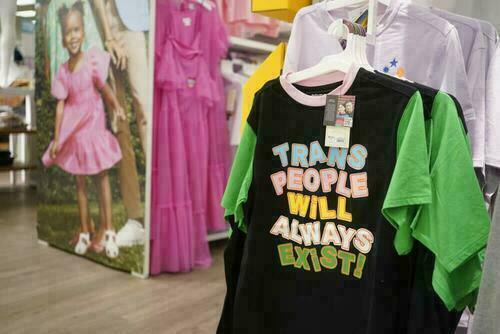 In a Monday interview with Fox News, Blow said: "We're living in a culture right now where people need to speak out," adding that there's "no place" for this type of merchandise.
"Somebody has to stand up for the kids," he said.
Target Has Lost Their Minds We Must Protect Our Children #BoycottTarget

Go Woke You Must Go Broke !!! pic.twitter.com/Jl6Ng5HUDX

— Trumps Nephew (@ForgiatoBlow47) May 25, 2023
Blow says that despite the song's success, it's been "shadow banned" on Apple's music platform.
"I had my free speech ripped from me. A lifetime ban on Instagram, a lifetime ban on Facebook for speaking positivity. You know, when I was an artist before this, a degenerate rap artist, they didn't care if I rapped about negativity and demonizing America," he said, adding "We're obviously shifting the culture."
"We're waking people up, letting them know that, hey, you don't have just to follow the crowd. You can stand on your own and be a leader, not a follower."
🚨🚨🚨 JUST IN: BOYCOTT TARGET RALLY THIS THURSDAY JUNE 1ST 530 PM 3401 N MIAMI AVE SUITE 100, MIAMI, FL 33127 #SaveTheChildren #BoycottTarget pic.twitter.com/qj5oxpBcuw

— Trumps Nephew (@ForgiatoBlow47) May 30, 2023
Target has also faced backlash from the LGBTQ+ community after pulling some of the controversial children's apparel from its US stores and website, citing concerns over employee safety.
"For more than a decade, Target has offered an assortment of products aimed at celebrating Pride Month. Since introducing this year's collection, we've experienced threats impacting our team members' sense of safety and well-being while at work," the company said in a May 24 statement. "Given these volatile circumstances, we are making adjustments to our plans, including removing items that have been at the center of the most significant confrontational behavior. Our focus now is on moving forward with our continuing commitment to the LGBTQIA+ community and standing with them as we celebrate Pride Month and throughout the year."
Loading...