---
Conservatives' Boycotts Wipe Off Billions From Target And Bud Light Valuations, More Brand Battles Upcoming
Authored by Naveen Athrappully via The Epoch Times (emphasis ours),
Major brands such as Bud Light and Target, among others, are facing immense backlash from supporting LGBTQ causes, with the market capitalization of the firms crashing by double digits in recent weeks.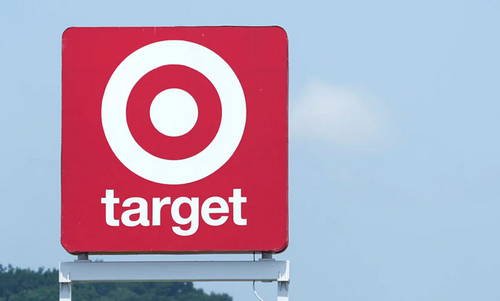 Stores of Target were boycotted after the retail giant rolled out its Pride collection at the beginning of May, including some items targeted at children. Between May 1 and May 30, Target's market capitalization fell from $72.52 billion to $61.78 billion—a decline of 14.80 percent. Bud Light became a target after partnering with transgender social media personality Dylan Mulvaney in a promotional campaign in April. Between April 3 and May 30, the market cap of Anheuser-Busch, which owns Bud Light, fell from $132.06 billion to $108.19 billion—a decrease of over 18 percent.
Target shares were trading at $130.93 as of 06:07 EDT, June 1, down 13.71 percent year to date and at a fresh 52-week low. It is the stock's longest losing streak since November 2018. Shares of Anheuser-Busch Inbev SA were trading at €49.97, down 12.18 percent for the year.
In addition to Target and Bud Light, several other companies, including PetSmart, Chick-fil-A, and Walmart, are also now facing boycott calls due to their endorsement of the LGBTQ agenda.
A major factor enticing brands to increasingly promote transgender ideologies is an attempt to score points on environmental, social, and governance (ESG) standards used by several high-profile investors.
Target
Target rolled out its Pride collection at the beginning of the month, offering over 2,000 products, including clothing, books, home furnishings, and calendars, among others. Some of the items were targeted at children.
For example, books for kids aged 2–8 had titles like "Pride 1,2,3," "Bye Bye, Binary," and "I'm Not a Girl." Target also suggested "The Pronoun Book" to kids aged 0–3. In home décor, Target offered mugs labeled "Gender Fluid." It also offered transgender swimsuits for adults with a "tuck-friendly" feature.
The company's actions attracted a lot of negative reactions online, eventually leading to a boycott call. The firm then decided to remove some of the controversial items.
Target's 2022 ESG report shows that at least 51 percent of its suppliers are "owned, controlled, and operated by women, BIPOC, LGBTQIA+, veterans, or people with disabilities." In addition, 59 percent of their Pride Month assortment was created by LGBT creators and brands.
Target has also donated $2.1 million to New York City-based Gay, Lesbian and Straight Education Network (GLSEN), an activist group that puts LGBTQ-themed books in K–12 school libraries and encourages teachers to discuss sex and gender with kids.
Bud Light
In April, Anheuser-Busch sent custon Bud Light beer cans to Mulvaney featuring the trans-activist's face, a move that was criticized as pushing the transgender agenda. The can was created to celebrate a full year of Mulvaney transitioning to "girlhood." In the ad, Mulvaney is shown promoting Bud Light drinks with the hashtag #budlightpartner.
As the promotional campaign went viral, criticism started to pour in. Mike Crispi, a podcast host and former Republican New Jersey primary candidate for Congress, called for a boycott. "Boycott Bud Light and NEVER DRINK IT AGAIN EVER," he said in a tweet on April 3.
The campaign has been devastating for the company's sales numbers.
Data by Bump Williams Consulting and Nielsen IQ reported by the New York Post showed that sales of Bud Light fell by 25.7 percent for the week ended May 20.
As for ESG policies, Anheuser-Busch's 2022 ESG report (pdf) shows that the company has created employee resource group (ERG) toolkits focusing on "LGBTQ+, gender, and racial equity."
PetSmart
Pet products retailer PetSmart faced backlash for its "You Are Loved" collection that was launched just days before the June Pride Month.
The collection featured rainbow-colored toys, clothes, and other items like aquarium ornaments and dog bandanas that had the words "pride vibes" emblazoned on them.
The company's offerings for dogs include a Pride dog bikini. For cats, rainbow-colored collars and tents are on offer. PetSmart provides "Pride wings" costumes and "Pride vibes" tank tops for reptiles.
Similar to Target, PetSmart also carries a partnership with GLSEN, having made contributions totaling $600,000—with $200,000 made this year alone.
Chick-Fil-A
Fast-food chain Chick-fil-A came under recent scrutiny after the firm was discovered to have hired a vice president of "diversity, equity, [and] inclusion," or DEI.
"We have a problem," Joey Mannarino, a conservative host highlighting Chick-fil-A's prior announcement, wrote on Twitter on May 30. "Chick-fil-A just hired a VP of Diversity, Equity and Inclusion. This is bad. Very bad. I don't want to have to boycott. Are we going to have to boycott?"
"Chick-fil-A isn't the Lord's Chicken anymore … it's the Woke Chicken … Funding ties also to BlackRock and Vanguard in addition to hiring for DEI to up their ESG scores," Morgonn McMichael, a contributor at Turning Point USA, said in a June 1 tweet.
Chick-fil-A used to support organizations perceived as anti-LGBTQ. But in 2019, the company changed its stance and said that it would extend support to other charities. As part of the restructure, Chick-fil-A stopped donating to the Salvation Army and the Fellowship of Christian Athletes (FCA).
Walmart
After Target, Walmart is another retailer under scrutiny for its LGBT support. The company's July 2022 ESG report states that it conducts an "inclusive sourcing" program for LGBTQ groups. "For our U.S. businesses, we sourced more than $13.3 billion in goods and services from approximately 2,600 diverse suppliers."
Walmart received a full 100 points on The Human Rights Campaign's Corporate Equality Index (CEI). In order to obtain a perfect CEI score, an organization has to donate to LGBTQ causes as well as refuse to donate to non-religious organizations that oppose such causes. The organization must also support gender transitioning.
In 2021, Walmart donated $500,000 to PFLAG, the largest organization in the United States that advocates for LGBTQ causes.
Walmart is also offering Pride products. A controversial product being offered by the company is a "breathable" chest binder aimed at "trans, lesbian, and tomboys." The binder, offered online, features pictures of a young girl modeling the product.
GLSEN
GLSEN, the organization to which Target and PetSmart made donations, has a "Rainbow Library" program under which the nonprofit has sent more than 46,000 "LGBTQ+ affirming K-12 books" to over 4,600 schools across the nation. GLSEN also encourages teachers to incorporate gender and sex discussions in topics like mathematics.
Among the list of books that GLSEN wants elementary school students to read is "When Aidan Became a Brother," which is a story about a couple who "fixed the parts of life that didn't fit anymore" after their daughter told them she "felt more like a boy."
Read more here...
Loading...