---
Cop Roasts Leftist Protester After She Demands To Deal With Female Police Officer
Authored by Paul Joseph Watson via Summit News,
A cop hilariously roasted a leftist protester during recent unrest in Seattle after the demonstrator demanded to deal with a female officer, to which the cop responded, "How do you know they don't identify as female?"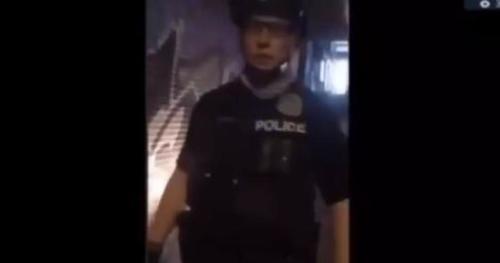 The video clip begins with a confrontation between what appears to be two female protesters and two male officers.
"Shut the fuck up, you're really fucking pushing it, you piece of shit!" the protester yells at the cops before appearing to spit at them.
Although it's difficult to tell what is happening, the cops then appear to arrest and handcuff one of the women as her friend yells, "Don't touch her!"
"Get a female police officer now, I am demanding you get a female police officer now!" she adds.
"How do you know they don't identify as female?" responds the cop.
"How do you know that officer doesn't identify as female?" pic.twitter.com/tmN4Goh18l

— Paul Joseph Watson (@PrisonPlanet) October 30, 2020
"What? What did you just ask me?" the protester says, baffled.
"You're assuming those officers genders," the cops responds.
Respondents to the clip enjoyed the roast.
"I love how at the end they say fuck in such a defeated voice knowing damn well it's thanks to their bullshit that people can throw that card," commented one.
"Absolutely brilliant. You could hear her brain short-circuit," remarked another.
"Well it is Seattle after all. He may be honestly asking the question," said another.
*  *  *
New limited edition merch now available! Click here.
In the age of mass Silicon Valley censorship It is crucial that we stay in touch. I need you to sign up for my free newsletter here. Also, I urgently need your financial support here.