---
Cop Who Kneeled On George Floyd Appeals To US Supreme Court
Former Minneapolis police officer Derek Chauvin, who was convicted of second-degree murder in the kneeling death of George Floyd, will petition the US Supreme Court to review his conviction after the Minnesota state Supreme Court refused to hear his appeal.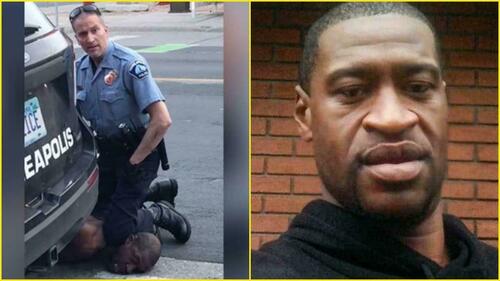 At least four of the nine justices must vote to grant a petition for it to move forward to the oral argument stage. The USSC is expected to release orders in ongoing cases on July 24, Aug. 21 and Sept. 8, meaning the Court could act on Chauvin's new case on one of those dates - or it could wait until the new term begins in October.
Chauvin's petition was dismissed by the state supreme court on July 18 in a one-sentence order without explanation, denying the former cop an opportunity to overturn his 22.5-year sentence. He asked the Minnesota Supreme Court to take up the case in May after the state Court of Appeals rejected his claim that he received an unfair trial the month before.
Mr. Chauvin, a white man who was a member of the Minneapolis police department at the time of the incident in March 2020, reportedly kneeled on Mr. Floyd, a black man, for more than nine minutes while he was handcuffed in a prone position after being detained on suspicion of passing a counterfeit 20-dollar bill at a convenience store. A passer-by captured video footage of him complaining while detained that he couldn't breathe, and the video went viral, leading to protests in the United States and around the world.

The death of Mr. Floyd led to widespread public revulsion and a violent nationwide backlash against police that continues to affect the nation's politics, criminal justice system, and culture, as well as riots across the country that resulted in billions of dollars in damages. -Epoch Times
In 2021, prosecutors asked jurors to dismiss autopsy findings in the Floyd case.
As Jonathan Turley noted at the time;
Will the Supreme Court entertain Chauvin's request, risking more nationwide riots?
Loading...