---
"Corruption !!!" - Furious Trump Questions Why Observers Were Barred From Early Voting Sites
President Trump's "fraudulent" rantings about voter fraud will likely be featured in Tuesday night's debate against Joe Biden, which marks the first time the two men, who have traded threats to throw down with their fists on more than one occasion, will face off on stage. And while the NYT and its allies in the Democratic Party and on cable news have been pushing the scoop about Trump's tax returns, conservative blogs are simultaneously sharing a story about GOP poll watchers being refused from "early voting stations" in Philadelphia, a city that's dominated by Democratic politicians.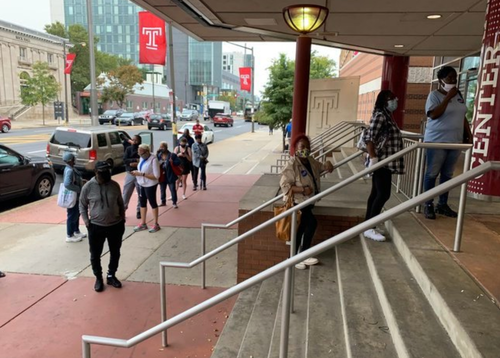 On Tuesday, the city of Brotherly Love opened 15 new satellite offices
Philadelphia's satellite voting sites haven't opened yet, and there is already a line to vote in the 2020 election. pic.twitter.com/nVPm9ZY0i6

— Sean Walsh (@sbcmw) September 29, 2020
Here's one of the booths at the satellite voting sites, where people can fill out their mail-in ballots in person and submit them on the spot. Flow chart shows how to put your ballot in the secrecy envelope, and then the mail-in envelope. pic.twitter.com/ydAj1fV2nN

— Sean Walsh (@sbcmw) September 29, 2020
According to the Gateway Pundit, Trump observers are being denied entry to the satellite voting locations across the city, according to Mike Roman, an election official for the Trump Campaign.
TRUMP observers are being blocked entry to all of the satellite voting locations in Philly!! What are they hiding?

— Mike Roman (@mikeroman) September 29, 2020
Officials told reporters that the closures were related to an issue with the city's voter database.
45min after the scheduled opening of Philly's satellite election sites, they are still closed due to a prob w the state's voter database. Voters are getting impatient.

Theresa Thomas, who was first in line: "Why am I still sitting here? ... They might as well give me a job."

— Sean Walsh (@sbcmw) September 29, 2020
Details are pretty vague at the moment, but President Trump just elevated the issue by tweeting about the story.
Wow. Won't let Poll Watchers & Security into Philadelphia Voting Places. There is only one reason why. Corruption!!! Must have a fair Election.

— Donald J. Trump (@realDonaldTrump) September 29, 2020
And he's not the only one.
Why are poll watchers being kicked out voting locations in Philadelphia? https://t.co/QO8kZB3dyd

— Benny (@bennyjohnson) September 29, 2020