---
Cotton: Secret Service Didn't Even Talk To Hunter Biden About White House Cocaine
Authored by Steve Watson via Summit News,
Following the announcement that the Secret Service has shut down the investigation into the cocaine found inside the White House without finding a culprit, Senator Tom Cotton said Sunday that they didn't even talk to Hunter Biden about the matter.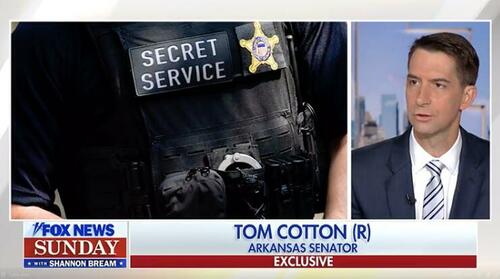 "We've got no answers," Cotton said during an interview with Fox News, adding "That's not surprising. The Secret Service is a troubled agency as it's long had challenges. It probably needs new leadership."
"I take this very seriously. I mean, what if this was anthrax?" Cotton continued, adding "This is supposed to be the most secure building in the world. Yet the Secret Service closed down this investigation after just a few days."
"It's my understanding, they barely conducted in any interviews. I don't think they interviewed the president's son, who's a known cocaine addict," the Senator urged.
"This is like if Hamburglar lived in the White House, all the hamburgers disappeared, and they said they didn't have any suspects or know one they could question," an exasperated Cotton added.
"They know who went through those doors, so they can interview them as well. If the president were really serious about it, he could demand everybody that goes through those doors, submit to a drug test," Cotton noted.
He continued, "You can use hair testing samples and identify anyone who's used cocaine in the last few months. Those are the steps you would take if you took this seriously. This just seems like another Biden cover up."
Watch:
WATCH: @SenTomCotton reacts to the Secret Service ending probe of White House cocaine discovery with no suspect. Tune in! pic.twitter.com/Siqs1qdOP4

— Fox News Sunday (@FoxNewsSunday) July 16, 2023
When pressed about the ending of the cocaine 'investigation', John Kirby, the coordinator for Strategic Communications at the National Security Council claimed that the Secret Service "did the best they could to track down how it got there and who it might have belonged to and they just were not able to come up with any forensic evidence that proves it."
Top Biden spokesman John Kirby shrugs off the cocaine scandal inside the Biden White House:

"I can't really speak to the investigation that was done by the Secret Service ... they just were not able to come up with any forensic evidence that proves it" pic.twitter.com/GPlAYv1NRE

— RNC Research (@RNCResearch) July 16, 2023
Did their best? They didn't even interview anyone.
Commenting on the matter over the weekend, Donald Trump was adamant that the Secret Service knows exactly who the drugs belonged to, refusing to believe that they could be so incompetent.
"I've gotten to know the Secret Service really well, and I can't speak more highly of these people, they are incredible people," Trump said, adding "And I believe that they know everything – they're really smart and good at what they do."
"I don't think it's possible for bags of cocaine to be left in a certain area, in the Situation Room," he continued, adding "I'm not talking about five blocks away, the Situation Room, where you decide on war, where you decide on nuclear."
NEW: Trump comes out swinging against the weaponized Department of 'Justice,' accuses them of being involved in a cover up with the cocaine that was found outside of the situation room.

"The FBI has tremendous problems of credibility. The DOJ is weaponized like I've never seen… pic.twitter.com/HQNS186vVF

— Collin Rugg (@CollinRugg) July 16, 2023
Tucker Carlson called the cocaine farce his "favourite story of all time, because it just explains all the behaviour" of the Biden administration:
Tucker having a blast at Turning Point Action conference talking about the cocaine found at the White House: "So if I could give you one piece of advice, after 27 years in the television business, don't trust a man with numb gums." pic.twitter.com/kKhjAAjC5n

— Julio Rosas (@Julio_Rosas11) July 15, 2023
*  *  *
Brand new merch now available! Get it at https://www.pjwshop.com/
In the age of mass Silicon Valley censorship It is crucial that we stay in touch. We need you to sign up for our free newsletter here. Support our sponsor – Turbo Force – a supercharged boost of clean energy without the comedown.
Also, we urgently need your financial support here.
Loading...