---
Court Blocks West Virginia's "Save Women's Sports" Law
Authored by Mimi Nguyen Ly via The Epoch Times,
A West Virginia law that bars transgender people from competing on sports teams different from their biological sex has been blocked.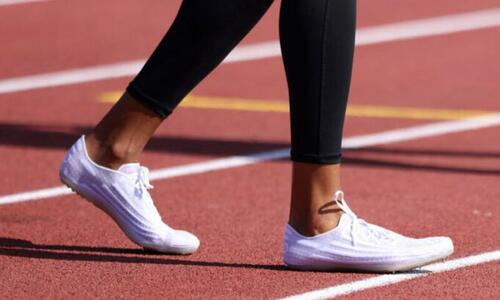 This means that transgender athletes in West Virginia can, for now, compete in teams of the gender with which they identify.
The 2-1 decision (pdf) was made by an appeals court on Feb. 22. It reinstates a preliminary injunction, which was first issued in July 2021, against West Virginia's "Save Women's Sports" legislation.
That July 2021 injunction was issued by U.S. District Court Judge Joseph R. Goodwin, a Clinton appointee. But he reversed his decision in January this year, determining the law "constitutionally permissible."
The appeals court's Feb. 22 decision halts Goodwin's January order to dissolve the injunction.
The law, House Bill 3293, was signed by West Virginia Gov. Jim Justice, a Republican, in 2021.
It states that there are "inherent differences between biological males and biological females" and that "biological males would displace females to a substantial extent if permitted to compete on teams designated for biological females, as recognized in Clark v. Ariz. Interscholastic Ass'n (9th Cir. 1982)."
The legislation states that a biologically male person cannot participate in female sports, and vice versa, in public middle schools, high schools, and universities.
Law Challenged By Biological Male
The law was challenged soon after it was signed in 2021 by a biological male child, Becky Pepper-Jackson, who was 11 at the time. Pepper-Jackson identifies as female and wanted to participate in female sports teams at a middle school. But administrators cited the new state law in blocking Pepper-Jackson from doing so.
The lawsuit was filed in federal court in West Virginia against the state board of education, the board of education in Harrison County, as well as both superintendents. The case was brought by the American Civil Liberties Union, ACLU-WV, Lambda Legal, and the Cooley law firm.
The initial complaint claimed that biological male children who identify as female are being discriminated against "on the basis of sex and transgender status" in violation of the U.S. Constitution and Title IX, including the Equal Protection Clause of the Fourteenth Amendment, which says that no state may deny a person within its jurisdiction "equal protection of the laws."
Goodwin in January wrote in his ruling that "acting to prevent transgender girls, along with all other biological males, from playing on girls' teams is not unconstitutional if the classification is substantially related to an important government interest."
Following Goodwin's decision in January, attorneys for Pepper-Jackson emphasized in their appeal (pdf) that it is "categorical transgender exclusion—not sex separation in sports—that B.P.J. challenges."
"And it is that exclusion—not the differential treatment of cisgender girls compared to cisgender boys—that must pass muster under Title IX and equal protection scrutiny," they wrote.
The ACLU said in a statement that the stay on Goodwin's January decision will allow Pepper-Jackson "to try out for her school's spring track and field team on Feb. 27."
"We are thrilled that Becky will get to continue to participate in school sports with her classmates, at least for now," said Aubrey Sparks, the managing attorney of ACLU-WV.

"Becky has said all along she just wants to do the thing she loves with her friends and that she's taking this stand for other young people like her."
"This ruling tells Becky that she, like all transgender people, deserves respect and the opportunity to play sports, have fun with her friends, and just be a kid," said Sruti Swaminathan, the attorney for youth of Lambda Legal Staff.
Loading...