---
'COVID-Karen' Installed As Fauci's Replacement At NIAID
Authored by Jordan Schachtel via 'The Dossier' Substack,
There will soon be a new boss in town over at the Government Health insane asylum and off the books pharmaceutical lobbying outfit that is the National Institute of Allergy and Infectious Diseases (NIAID).
Her name is Dr Jeanne Marrazzo, and she has been named to replace Fauci as the new NIAID chief.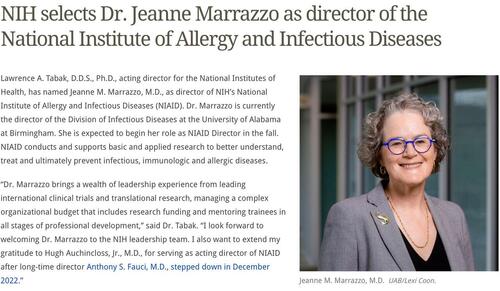 She shares many similarities with her predecessor.
Both come from the HIV/AIDS world, neither saw a patient ever again after completing their respective residencies, and neither has ever achieved anything scientifically significant.
Unsurprisingly, Dr Fauci, who is worshipped as a deity in the Government Health world, gave his blessing to Marrazzo.
Marrazzo is "very well-liked, very respected" and experienced, Fauci told STAT News on Wednesday.
"She's going to be a good fit. It's a great challenge that she's going to be facing; it's going to be exciting for her."
Fauci is far from the only person to applaud Dr. Marrazzo's elevation to a Government Health head honcho post.
Her appointment received much praise from the famed pseudoscientist Peter "Regional Fauci" Hotez.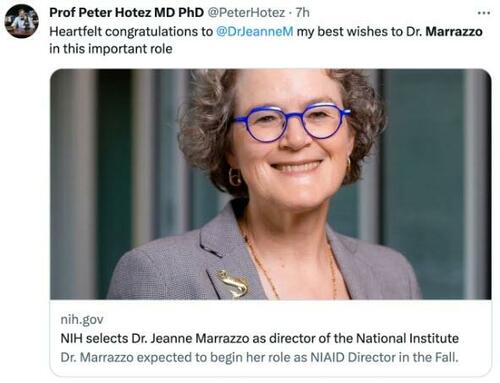 She also received praise from the communist fake doctor who leads the World Health Organization.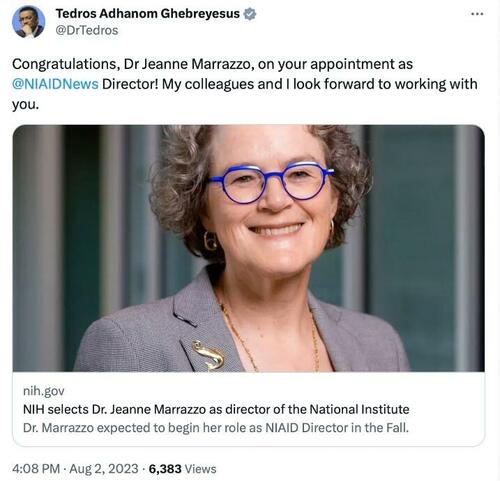 Marrazzo is loyal to the narrative, which is why she got the job in the first place.
For example, she has continued to claim that coronavirus hysteria kicked off thanks to a bat and/or pangolin doing some weird stuff and then next thing you know, pandemic!
Here's Jeanne Marrazzo, the new Dr. Fauci (head of the NIAID) on Apr 20, 2020 answering a question from a young boy and pulling out her stuffed bat and pangolin dolls to explain the source of Sars-CoV-2. Of course she was pushing Proximal Origin. Of course. pic.twitter.com/CDOnxUh3C7

— Justin Hart (@justin_hart) August 2, 2023
Another necessary "prerequisite" for the job is her complete and total allegiance to the mRNA mafia.
In advancing her apparent side gig as a pharma saleswoman, she has repeatedly promoted the false notion mRNA shots stop viruses from mutating.
Showcasing her big brain energy during the covid hysteria era, Marrazzo made it clear that she believed masks worked magnificently to stop all viruses… except Covid of course!

And if you disagree with Dr. Marrazzo, it's probably because you hate lesbians. What a win for diversity!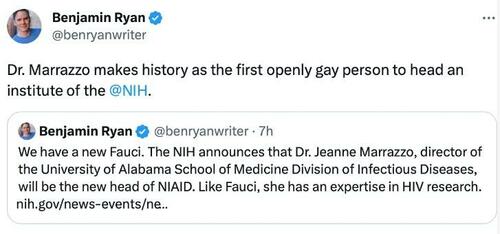 Justin Hart of Rational Ground has even more info on the troubling new appointee: This is slap in the face to those of us who really, REALLY, wanted to repair things with our healthcare institutions.
Loading...