---
Cruz: Google Is The "Most Dangerous Company On The Face Of The Planet"
Authored by Steve Watson via Summit News,
Senator Ted Cruz has continued his campaign against the unregulated expansion of Big Tech by labelling Google 'the most dangerous company' on the planet.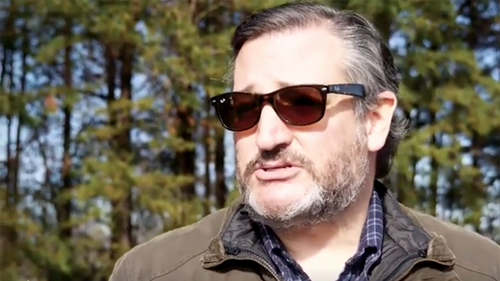 Cruz made the comments to reporters Saturday at a campaign event for the Georgia Senate runoff.
"I think hands down Google is the most dangerous company on the face of the planet. Google is the most dangerous because it's the biggest by far. It is the most powerful by far. It controls the vast majority of searches people do," Cruz noted after describing big tech as the "single greatest threat" to "free and fair elections." 
Watch Senator Ted Cruz expose Google, Twitter and Facebook. He says, "Google is the most dangerous company on this planet'.https://t.co/TeUalLcqrn

— OmShantiOm11🇮🇳 (@OmShantiSanghi) January 4, 2021
Cruz referred to the 2016 election where "Google, through manipulated search outcomes, shifted over 2.6 million votes in 2016 to the Democrats."
Cruz noted that psychologist Dr. Robert Epstein, who testified before Cruz's Judiciary Subcommittee on the Constitution "is not a Republican. He is a liberal Democrat who voted for Hillary Clinton but is outraged to see that kind of abuse of power. Google is clearly the most dangerous."
Cruz added that while Google is the most dangerous, "Twitter is the most brazen."
"We just recently had a hearing where Jack Dorsey testified with a beard that looked like he had crawled out from under a bridge," Cruz noted.
During that hearing, Cruz asked Dorsey if he believes Twitter has the ability to influence election outcomes, to which Dorsey replied "no"… an answer Cruz described as "absurd." 
"If you don't think you have the power to influence elections, why do you block anything?" Cruz countered, forcing Dorsey to admit that "more accountability is needed."
CRUZ: "Does Twitter have the ability to influence elections?"

DORSEY: "No"

CRUZ: "If you don't think you have the power to influence elections, why do you block anything?" pic.twitter.com/6N21uxDvjw

— Daily Caller (@DailyCaller) October 28, 2020
Cruz then asked Dorsey "Who the hell elected you and put you in charge of what the media are allowed to report and what the American people are allowed to hear?"
"Mr. Dorsey, who the hell elected you?" Ted Cruz says.

"We realize we need to earn trust more. We realize more accountability is needed," Jack Dorsey responds.

Twitter shares taking a hit after that round of questioning 📉https://t.co/YVXYzGhOZo pic.twitter.com/4TLDsgHZ8U

— Bloomberg Technology (@technology) October 28, 2020
Speaking Saturday, Cruz urged "Look, Twitter brazenly censored the New York Post when it ran stories about Hunter Biden and Joe Biden's corruption concerning China, concerning Ukraine and Russia, and they just silenced it. Not only did they prevent you and I from circulating those stories, for two weeks, they banned the New York Post."
Indeed, the company did more than that, they even blocked users from tweeting out the link to the Post story.
"The New York Post is not some fly-by-night organization. It is the newspaper with the fourth-highest circulation in the country. It was founded by Alexander freakin' Hamilton," Cruz urged.
Cruz added that Facebook CEO Mark Zuckerberg has "benefited because Twitter and Google are so rotten that even though Facebook's pretty bad, just saying free speech is important makes him appear markedly better than his rivals, but all three are very serious concerns."
The Senate voted last week to pass the National Defense Authorization Act without the repeal of Section 230 that President Trump had requested:
Our Republican Senate just missed the opportunity to get rid of Section 230, which gives unlimited power to Big Tech companies. Pathetic!!! Now they want to give people ravaged by the China Virus $600, rather than the $2000 which they so desperately need. Not fair, or smart!

— Donald J. Trump (@realDonaldTrump) January 1, 2021