---
Cuomo Ordered Aides To Conceal Nursing Home Death Numbers While He Negotiated $4M Book Deal: NYT
Nearly a dozen women have accused Gov. Andrew Cuomo of sexually inappropriate behavior, including his most recent accuser, Sherry Vill, who said became at least the second woman to accuse Cuomo of kissing her without consent - and she had the receipts.
And as Dems seize upon recent revelations about allegations against Florida Rep. Matt Gaetz to try and change the subject away from Cuomo, who appears likely to hang on at least until the end of his current (and third) term, more reports of nefarious behavior about Cuomo have emerged overnight.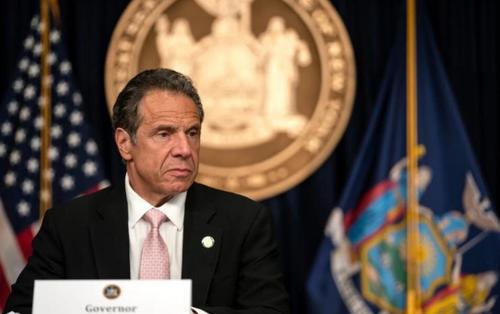 Late yesterday, the NYT reported that the governor was busy trawling for a $4MM deal for a book about Cuomo's "pandemic leadership lessons" while several of his aides were feeding deliberately false data to the DoJ and suppressing a Health Department report that threatened to disclose a far higher number of nursing home deaths. Unsurprisingly, Cuomo's spokespeople denied the report. But there's no denying that Cuomo published "America's Crisis: Leadership Lessons from the COVID-19 Pandemic" in October. Cuomo was working on the book as early as mid-June.
The implication, of course, is that Cuomo did everything he could to delay publication of the higher nursing-home death toll number until he had received the advance for his book.
The embarrassing number was initially supposed to be featured in the second sentence of the report, but top Cuomo aide Melissa DeRosa managed to get it removed from the final version.
An impending Health Department report threatened to disclose a far higher number of nursing home deaths related to the coronavirus than the Cuomo administration had previously made public. Ms. DeRosa and other top aides expressed concern about the higher death toll, and, after their intervention, the number - which had appeared in the second sentence of the report - was removed from the final version.

The revisions occurred as the governor was on the brink of a huge payoff: a book deal that ended with a high offer of more than $4 million, according to people with knowledge of the book's bidding process.
The NYT even speculated that Cuomo violated laws prohibiting using state resources (including staffers paid by the state) for personal gain, but Cuomo spokesman Richard Azzopardi insisted "every effort was made to ensure that no state resources were used in connection with this project." Of course, that's not an outright denial. And according to the NYT "a top aide to the governor, Stephanie Benton, twice asked assistants to print portions of the draft of the book, and deliver them to Mr. Cuomo at the Executive Mansion in Albany, where he lives."
Emails and an early draft of Mr. Cuomo's book obtained by The New York Times indicate that the governor was writing it as early as mid-June, relying on a cadre of trusted aides and junior staffers for everything from full-scale edits to minor clerical work, potentially running afoul of state laws prohibiting use of public resources for personal gain.

One aide to the governor, speaking on the condition of anonymity for fear of retaliation, said that she and others were also asked to assist in typing or transferring notes for Mr. Cuomo's book, which he composed in part by dictating into a cellphone.

"Sorry lady can u print this too and put in a binder," Ms. Benton wrote to another female staffer on July 5, a Sunday. "And drop at mansion."
Cuomo aide Melissa DeRosa played a critical role in development of the book, and the July 6 Department of Health report that basically cleared Cuomo and his administration of wrongdoing regarding its handling of nursing homes. Of course, we now know that couldn't be further from the truth, as the governor failed to stop hospitals from sending COVID-infected patients back to nursing homes, accelerating the spread and leading to more than 15K deaths. Earlier drafts of the DoH report seen by the NYT show the edits demanded by DeRosa very clearly omitted the fatality figures.
In two earlier drafts of the report, which were both reviewed by The Times, the second sentence said that "from March 1, 2020, through June 10, 2020, there were 9,844 fatalities among NYS nursing home residents with confirmed or suspected COVID-19."

The earlier drafts were written by Eleanor Adams, a top state epidemiologist, and Jim Malatras, a former Cuomo aide who now serves as chancellor of the State University of New York system. The 9,844 death total was far higher than the 6,432 nursing home deaths used in the state's final report, which continued the state's practices of omitting the deaths of nursing home residents who died at the hospital.
Azzopardi said the July 6 report was supposed to examine whether the administration's policies "contributed to increased deaths, and not be a full accounting" of all nursing home residents who died. Cuomo has said he would donate some of his book profits to charity, though he hasn't said how much. Earlier this week, reports confirmed that top state public health officials paid several in-person visits to Cuomo's brother, CNN anchor Chris Cuomo, while he suffered from COVID during the early weeks of the outbreak.