---
Dalai Lama Apologizes After Kissing Boy, Asking To 'Suck My Tongue'
If you had 'the Dalai Lama is probably a giant pedo' on your bingo card, congrats.
The spiritual leader has apologized after kissing a young boy on the lips and then asking him to "suck his tongue" at a public event in India. The incident took place in late February at his temple in Dharamshala, where around 100 young students who had just graduated from the Indian M3M Foundation were present, The Guardian reports.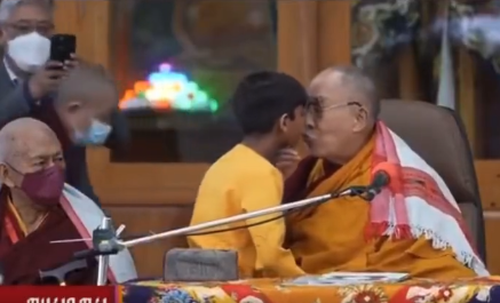 In a viral video, the young boy can be seen asking the 87-year-old "Can I hug you?"
To which the Dalai Lama told him to come up to where he was seated, before motioning to his cheek and saying "first here" - after which the child kissed him and gave him a hug.
Then the Dalai Lama, keeping a grip on the boy, said "I think here also," before planting a kiss on the child's lips.
"And suck my tongue," he continued - sticking out his tongue and touching his forehead with the student, who stuck out his own tongue and struggled to get away as the Dalai Lama pulled him closer for a hug.
The Dalai Lama asked a little boy to suck his tongue and not one mainstream news outlet is asking what the heck is going on here. This is pedophilic, abusive and totally sick. pic.twitter.com/n16lDgONhg

— Robby Starbuck (@robbystarbuck) April 10, 2023
According to his office, it was just teasing...
"His Holiness often teases people he meets in an innocent and playful way, even in public and before cameras. He regrets the incident," said his office.
April 10, 2023
And of course, the BBC notes "Sticking one's tongue out can be a form of greeting in Tibet."
Except that's not what happened...

Loading...