---
DC Council Passes Emergency Bill As Crime Rates Soar
Authored by Katabella Roberts via The Epoch Times,
Washington, D.C. Council voted on July 11 to pass an emergency public safety bill granting judges and law enforcement officials more power as part of efforts to address soaring crime rates in the area.
The bill, known as the "Prioritizing Public Safety Amendment Act," was put forward by Councilmember Brooke Pinto and passed Tuesday in a 12–1 vote.
Just one council member—Janeese Lewis George, a Democrat—voted against the measure, which will remain in effect for 90 days after it is signed into law by Mayor Muriel Bowser.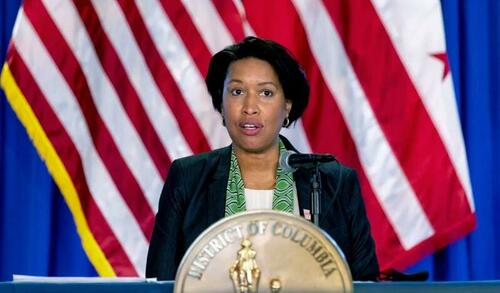 Washington Mayor Muriel Bowser speaks at a news conference in Washington, on March 15, 2021. (Andrew Harnik/AP Photo)
Under the emergency public safety bill, council members aim to prevent crime and violence by establishing a "rebuttable presumption in favor of pre-trial detention" system for adults who previously committed a violent crime.
Through that system, it will be deemed necessary to detain such individuals who commit new violent crimes, pending their trial date, if a court finds there is "probable cause" that the individual committed the crime of violence.
Similarly, juveniles who commit specific dangerous crimes or crimes of violence, regardless of whether or not they were armed, will also be detained pending trial under the new measure.
The district will allow increased access to private security cameras throughout the district under the measure, and raise the amount of reimbursement residents can get for installing private security cameras outside of their homes.
New Firearm Offence
Additionally, the bill clarifies that pretrial GPS monitoring data can be used as evidence against defendants in court, and makes misdemeanor arrest warrants extraditable when suspects leave the District after committing a crime.
Perhaps one of the biggest elements of the bill is that a new offense of "endangerment with a firearm" will be created, making it a felony for someone to fire a gun in public.
A string of other measures are included in the bill aimed at protecting victims of sexual abuse and domestic violence, and generally bringing down crime levels.
Ms. Pinto praised the passing of the "common-sense legislation" in a statement late Tuesday where she thanked government leaders for taking "tangible steps" to help keep the city safer over the summer.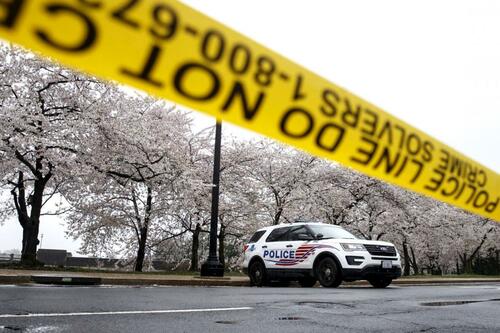 A Washington, D.C. Metropolitan Police vehicle is parked on the other side of police tape on March 23, 2020. (Carolyn Kaster/AP Photo)
"Today's vote sends a clear message that the current state of crime and violence cannot be tolerated and that our government is working together to make DC residents safer," Ms. Pinto said.

"We must continue to build on the legislation we passed today to better invest in preventative tools and interrupt cycles of violence. However, this legislation is a major step forward in our efforts to create a safer DC for all our residents," the council member added.
In a separate statement, Ms. Bowser said the new legislation will "fill gaps in our criminal justice system and, in doing so, will increase accountability for violent and criminal behavior and make our city safer."
"We know that a safer DC is possible and our community is in agreement that the status quo is unacceptable," Ms. Bowser said.

"People getting killed on our streets is unacceptable. People getting their cars or property stolen at gunpoint is unacceptable. Parents being afraid to let their children play outside or seniors being afraid to walk to the bus stop is unacceptable."
The passing of the new safety bill comes as crime rates have soared across D.C. according to police data, with homicides up 17 percent year-on-year, and sexual abuse up 35 percent.
Robberies are also up 52 percent annually and violent crime is up 33 percent overall, according to the Metropolitan Police Department data. Motor vehicle theft and arson are also up 117 percent and 300 percent, respectively.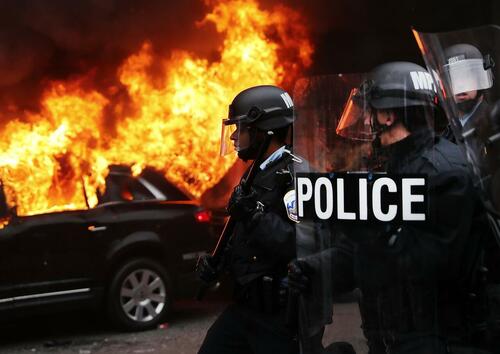 Police and demonstrators clash in downtown Washington after a limo was set on fire following the inauguration of President Donald Trump, in Washington, D.C., on Jan. 20, 2017. (Spencer Platt/Getty Images)
Opposition to Safety Bill
However, not everyone welcomed the new measure. During Tuesday's vote, Ms. George argued the legislation would likely do little to substantially reduce crime in D.C. and branded the pretrial detention aspect of the bill "reckless," telling fellow council members that she fears the provision could see more people being held in jail.
"There is no credible evidence that pre-trial detention would make D.C. safer. We're doing the same thing we did in 1994," said Ms. George.

"We have books on this, we have scholarly articles on this. It's the same reaction … we cannot make the same mistake. This is how mass incarceration happens. Bit by bit. We do not need to choose between bad strategies or nothing."
Despite her objections, an amendment introduced by Ms. George to strike out the pre-trial detention for adults provision was voted down by council members.
Criminal justice reform organizations including the D.C. Justice Lab also opposed the measure.
"Every summer, crime goes up. Every summer, someone tries to introduce an emergency bill to do something about it. And every summer, these bills fail to make any difference. And it's because they're not tailored to what actually works to reduce crime," said Emily Cassometus, the director of government and external affairs for D.C. Justice Lab.

"In D.C., we know that locking more people up and that having big, sweeping generalizations doesn't work. We know that having really specific targeted interventions does, and that giving people support and resources does," Ms. Cassometus added.
The passing of the bill follows a string of shootings in D.C. in July, including that of Ahmad Yar, a former interpreter who served alongside U.S. Army Special Forces in Afghanistan for a decade before fleeing his native country when the Taliban rose to power.
Mr. Yar was shot last week while working his shift as a Lyft driver. He was taken to hospital where he later died of his injuries.
Loading...