---
House Eyes Tuesday Debt Ceiling Vote As Biden Scores Win On Defense Spending
Update (1645ET): Assuming a deal is struck over the weekend, Tuesday appears to be the most likely date for a House vote to raise the debt ceiling, which would allow for a speedy turnaround in the Senate, before moving to President Biden's desk before a June 1 deadline, Bloomberg reports.
Meanwhile, the Biden team scored a point on defense spending, which Republicans wanted to expand. Instead, GOP negotiators are settling on a smaller increase sought by Joe Biden in his budget proposal, people familiar with the talks said.
The emerging consensus on a defense number marks a significant victory for Democrats, who have been trying to bat back Republican efforts to augment Biden's proposed $886.3 billion proposal for national security next year, which is already a 3.3% increase over current levels.

The Pentagon would receive $842 billion of that request, according to the people, who spoke on condition of anonymity because no final agreement has yet been concluded. -Bloomberg
"I know people would like to spend more," House Speaker Kevin McCarthy told reporters on Thursday, adding this is "where we are."
*  *  *
Update (1530ET): A new note from Piper Sandler suggests that President Biden and the Democrats are losing the debt ceiling debate, and that Republicans have the upper hand in negotiations that "increasingly look like it will roughly freeze defense spending and slightly cut domestic spending below this year's levels."
"Any deal is likely to be opposed by the most conservative Republicans and the most progressive Democrats," the note reads. "We have always thought between 40% and 70% of House Republicans would support a deal, depending on its components, and roughly half of Democrats."
"It's increasingly looking like a deal will be more on GOP terms and win the support of most Republicans."
Piper also thinks that "Democrats have played their hand poorly" by misjudging Speaker McCarthy's leadership abilities.
Since Democrats have argued for months for a clean debt ceiling increase and the GOP passed a bill with its priorities, the negotiations have been on Republican terms," in which the most likely outcome is a debt ceiling deal that will "modestly cut domestic discretionary spending below last year's levels and defense spending will be roughly flat."
Congress will likely agree to cap spending for at least two years.
As far as permitting reforms, the GOP is arguing for an overhaul of the environmental permitting process, while Democrats are seeking changes to the rules governing the construction of transmission lines. The near term solution may be to agree to some of the permitting reforms, while kicking the more expansive reforms down the road.
Piper's base case is that a deal "will be reached by this weekend and passed into law by June 1."
*  *  *
With the dreaded "X-Date" fast approaching, House Republicans and the White House remain at an impasse over how to raise the debt ceiling.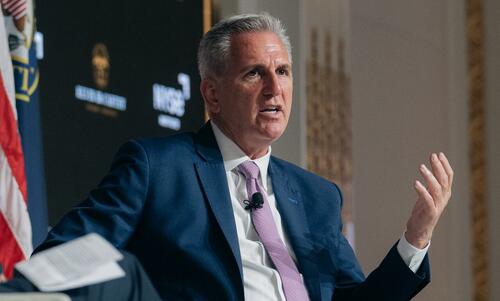 Republicans are telegraphing compromise - with Speaker Kevin McCarthy (R-CA) saying on Thursday that 'not everyone will be happy with the debt deal,' but that he expects a compromise will emerge sometime in the next few days. According to Punchbowl News, GOP leadership feels confident they can win the support of the majority of the House Republican Conference for the eventual package.
Piper Sandler's Donald Schneider is projecting a new X-Date, with the Treasury having as little as $10 billion on hand by June 2 and $2 billion by June 9. For reference, Treasury typically never goes below $25 billion on hand, "especially with 0 extraordinary measures left, as would be the case in early June."
To be clear, Treasury rarely has cash balances below $25bn, especially with 0 extraordinary measures left, as would be the case in early June. This is very risky & relies on pretty uncertain daily estimates of revenues. $2bn is not a cash balance Treasury can reasonably carry. pic.twitter.com/jSn0GkxKfZ

— Donald Schneider (@DonFSchneider) May 25, 2023
That said, this can all blow up this afternoon as "there could be another dozen twists and turns between now and the announcement of any agreement. The last yard is always the toughest one," according to Punchbowl.
The House Democratic Caucus is livid over the state of negotiations, with many rank-and-file Democrats feeling that they're about to be asked to vote on a package that will satisfy Republican demands, while getting very little of what they want in return.
"I think time is starting to run out," said Rep. Pramila Jayapal (D-WA), adding "I think Wall Street should be weighing in."
The White House — especially President Joe Biden — will have a lot of work to do to get this across the finish line. Just ask the House Democratic leadership, which has been fielding many of the complaints from members. One senior House Democratic aide suggested that Biden must try to sell lawmakers on the package by saying he — and the country — need to put the debt-limit mess behind them.

This will be a big test for House Minority Leader Hakeem Jeffries and Minority Whip Katherine Clark. They'll have to deliver dozens of Democratic votes for Biden on a deal that benefits the president's reelection campaign perhaps more than anyone else. -Punchbowl
Several Democrats have told the outlet that they question the leadership at the White House in terms of how the entire negotiation has been handled.
Republicans are hitting back. Rep. Matt Gaetz (FL) said this week that his conservative colleagues "don't feel like we should negotiate with our hostage," adding "the one-person motion to vacate has given us the best version of Speaker McCarthy."
Meanwhile, Sen. Mike Lee (R-UT) says that a debt-limit deal without substantial spending reforms will "not face smooth sailing in the Senate."
"I will use every procedural tool at my disposal to impede a debt-ceiling deal that doesn't contain substantial spending and budgetary reforms. I fear things are moving in that direction," Lee tweeted, which Rep. Chip Roy amplified.
Thank you. Republicans should not cut a bad deal - which is pretty much the definition of most swamp deal-making. #HoldTheLine https://t.co/TW1neGxQdm

— Chip Roy (@chiproytx) May 25, 2023
Meanwhile, treasuries are reacting to the constant cries of progress (despite their likely walkback in a few hours), with a bear-flattening move extending as 2-year yields rise as much as 13bp on the day, topping 4.5%, after GOP Chairman of the US House Committee on Foreign Affairs Michael McCaul declaring that a deal is 'close,' and they are down to the details now.
Futures volumes surge into the move with around 60,000 10-year note contracts trading over 3-minute window as the futures hit session lows at 112-22; US 10-year yields around 3.785%, remain cheaper on the day by 4.5bp
Front-end of the curve leads days losses with 2-year yields trading around 4.50% — 2s10s spread flatter by 7bp on the day
Fed-dated OIS bid in early session with around 14bp of rate hike premium priced into the June policy meeting, up from 12bp Wednesday close and a combined 27bp priced for June and July meetings combined -Bloomberg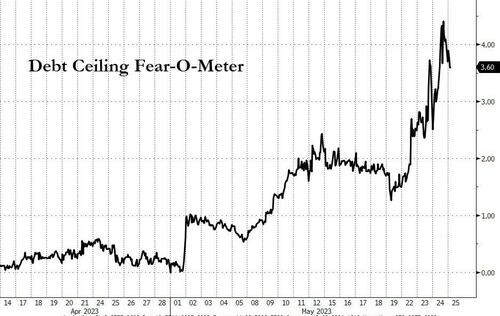 To expedite the issue once an agreement is reached, McCarthy refuses to waive a rule that allows members 72 hours to review the text of the agreement. As Punchbowl surmises, it's possible that a deal won't emerge until next weekend, June 3-4. After that, Senate Majority Leader Chuck Schumer will need to scramble to get any package to the floor before a default.
Loading...