---
Defunded Austin Cops Take So Long To Respond To DUI That Driver Sobers Up, Walks Free
Police in Austin, Texas took so long to respond to a drunk driving incident that the driver was able to sober up and avoid charges, Fox News reports.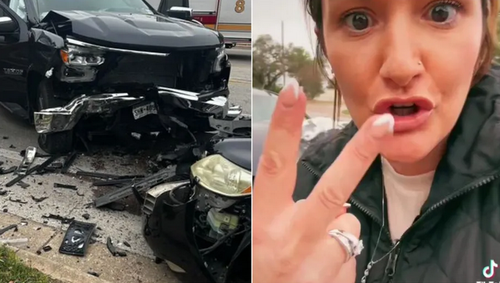 Lacey Purciful told the outlet that she was driving with her husband Dustin and two children in North Austin around 4 p.m. on March 18, when a drunk driver cut across two lanes of traffic and hit them head-on.
"Head on, didn't hit the brakes, airbags deployed, screaming kids, smoke, adrenaline, we started screaming, and got the kids out of the car," she said, adding that they quickly determined that the driver - a man in his 70s - was intoxicated. According to Purciful, the "first thing" a bus driver on the scene told her was that the other driver "smells of alcohol" and was "refusing to get out of the car."
"He sat in the car for over 30 minutes and then when he got out of the car he fell to the ground and was making weird noises and just acting weird," she said.
More than 2.5 hours later, a police officer responded to the scene, telling them that only five officers were working that area. The suspect was given a sobriety test, and was let go.
"Everyone could smell alcohol on this man," said Purciful. "He openly admitted what he was drinking. He told my husband he was drinking High Noons. It isn't just me making accusations he was just straight-up coming out and telling us and there was no remorse."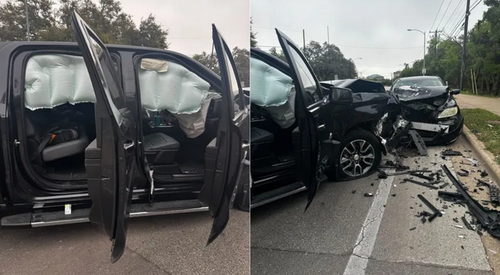 "He never asked if our children were OK. He never apologized. I have a video of him smiling at me as I'm calling him a drunk driver. He's just standing there smiling at me," she told the outlet.
The couple has retained personal injury attorney Adam Loewy who told Fox News Digital that his understanding is typically around 25 officers would be in the area if it had been fully staffed. The 2.5-hour lag allowed the driver to avoid criminal charges by sobering up, he claimed.

"I've heard this again and again where officers are telling me, look, we don't have enough people working and so when that's the scenario, these men and women go to different calls and there's more calls that come in and what happens is you just wait and that's just how it is," Loewy said. -Fox News
As Fox News notes, the Austin City Council slashed their police budget in 2020 in the wake of the George Floyd riots across the country, while low morale and a recent move by the council to abandon a recently agreed upon contract with the PD has sparked a wave of retirements from the force.
Democratic Mayor Kirk Watson recently assured the public that the PD would be "fully staffed" during the March 18th SXSW festival, when the Purcifuls were struck.
Loading...