---
Democrat-Run Chicago Broke As Mayor Mulls Tax Hikes & Layoffs To Plug $1.2BN Budget Gap
In a sign of where the entire country could soon find itself, the Democrat-run city of Chicago isn't just facing soaring violent crime, but is staring down a whopping $1.2 billion budget deficit, the Chicago Tribune reports.
Naturally the response to what some are already excusing as the city's "coronavirus-fueled budget deficit" is for Mayor Lori Lightfoot to immediately talk massive tax hikes to plug the hole.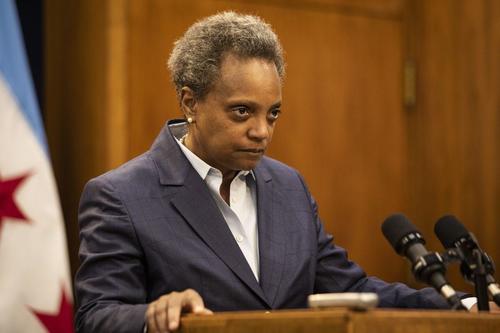 "Chicago Mayor Lori Lightfoot is considering a $94 million property tax increase, layoffs for more than 300 city workers and a gas tax hike as part of her plan to close a $1.2 billion budget deficit, sources told the Tribune," the report says.
She's expected to present her plan on Wednesday, which is according to a summary in Fox and Chicago Tribune to additionally include:
a five-day furlough for all nonunion city employees 
shifting some costs onto the books of the Chicago Public Schools  
...including asking Chicago Public Schools to reimburse city for $40 million more in school pension contributions
raising the cloud-computing tax
up to 350 layoffs of civic employees
possible $77 million in cuts to unfilled positions, or more than 1,000 vacancies
The problems have been building for years, given already the city was strapped with $46.5 billion in unpaid bills and only a reported $10 billion cash on hand, based on a damning review of the city's finances released this summer by Truth in Accounting.
Figures as of July 2020:
Trump and other Republican leaders have lately seized on rampant mismanagement on display in Democrat-run cities, in some instances with the president personally calling out "wacky" mayors, such as recently with Portland.
CHICAGO BROKE: Mayor Weighing $94 MILLION Property Tax Hike to Plug $1.2 BILLION Budget Gap https://t.co/ZKp1xw2wPd

— Sean Hannity (@seanhannity) October 19, 2020
Let's hope the proposed layoffs and furloughs of city employees don't cut into the already understaffed police force, given that as things currently stand law enforcement clearly can't get the soaring violent crime and murder rate under control, also at a moment far-Left activists have demanded the disbanding of the police.
Progressive activists have claimed the problem is the opposite - that Chicago PD currently takes too big a cut of the city's budget and resources.