As Portland slips further into chaos amid the seventh week of nightly protests, local and state officials have slammed the Trump administration for sending Homeland Security agents to perform crowd control and arrest what DHS Secretary Chad Wolf described last week as "lawless anarchists."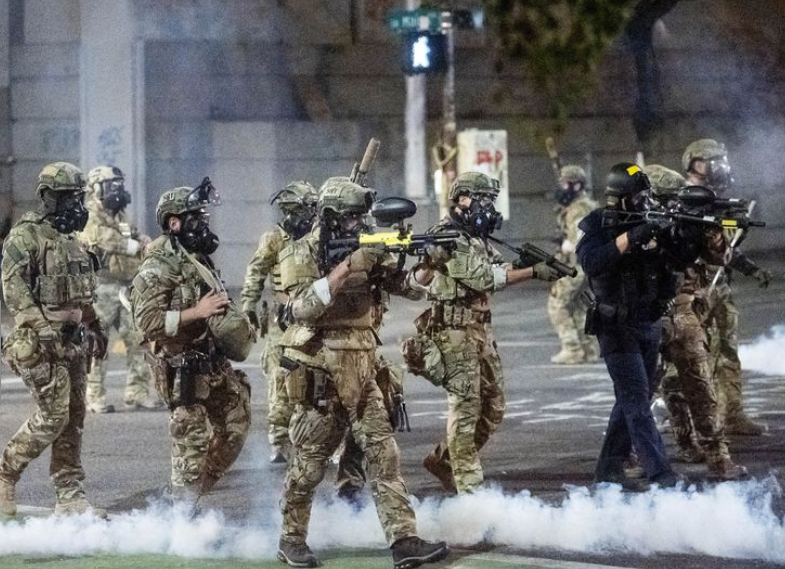 In response to the DHS presence, Oregon's Attorney General Ellen Rosenblum sued DHS and the Marshals Service in federal court over unidentified federal agents grabbing people off the streets of Portland "without warning or explanation, without a warrant, and without providing any way to determine who is directing this action."
Militarized Federal Agents from a patchwork of outside agencies have begun policing Portland (in rented minivans vans) without the explicit approval of the mayor, the state, or local municipalities. This is what that looks like in practice: pic.twitter.com/losap4SsgI

— The Sparrow Project (@sparrowmedia) July 15, 2020
The state seeks a temporary restraining order to "immediately stop federal authorities from unlawfully detaining Oregonians."
"The current escalation of fear and violence in downtown Portland is being driven by federal law enforcement tactics that are entirely unnecessary," said Rosenblum in a statement.
The administration has enlisted federal agents, including the U.S. Marshals Special Operations Group and an elite U.S. Customs and Border Protection team based on the U.S.-Mexico border, to protect federal property.

But Oregon Public Broadcasting reported this week that some agents had been driving around in unmarked vans and snatching protesters from streets not near federal property, without identifying themselves.

Tensions also escalated after an officer with the Marshals Service fired a less-lethal round at a protester's head on July 11, critically injuring him. -AP
On Monday, President Trump described the situation in Portland as "worse than Afghanistan," adding "we're going to have more federal law enforcement." Moreover, there are now plans to send law enforcement personnel to some major US cities.
"We can't let this happen to the cities," Trump told reporters at the White House, adding "The politicians out there are afraid of these people."
Question: "There was a report out this morning that you're considering sending 175 federal troops to these cities to help local law enforcement."

President Trump: "It depends on what you're definition of 'troops' is." pic.twitter.com/3p98sj5z76

— The Hill (@thehill) July 20, 2020
Over the weekend, White House Chief of Staff Mark Meadows (R) told Fox news that the Trump administration, AG William Barr and DHS Secretary Chad Wolf would roll out a plan this week to tamp down crime across various US cities.
"Some of the unrest that we saw, even in the last month or so, but particularly last night and in the week leading up to it in Portland, is just not acceptable when you look at communities not being safe and not upholding the rule of law," said Meadows. "So, Attorney General Barr is weighing in on that with (DHS) Secretary Wolf and you'll see something rolled out this week as we start to go in and make sure that the communities whether it's Chicago, or Portland, or Milwaukee, or some place across the heartland of the country, we need to make sure their communities are safe."
Here's Mark Meadows making clear that part of Trump's re-election plan is to deploy federal troops to US cities, just as he sent troops to the border just before the midterms. pic.twitter.com/pIZbEhJfOf

— Jonathan Wilson-Hartgrove (@wilsonhartgrove) July 20, 2020
On Sunday, House Democrats called for immediate investigations into DHS activities in Portland.
House Judiciary Committee Chairman Jerry Nadler, Homeland Security Committee Chairman Bennie Thompson, and Oversight and Reform Committee Chairwoman Carolyn Maloney co-signed a letter on Sunday condemning the recent law enforcement actions authorized by the Trump administration in Portland and last month in Washington D.C. and called for the Inspectors General of the Department of Justice and Department of Homeland Security to open investigations. -CNBC
"The Attorney General of the United States does not have unfettered authority to direct thousands of federal law enforcement personnel to arrest and detain American citizens exercising their First Amendment rights. The Acting Secretary [Chad Wolf] appears to be relying on an ill-conceived executive order meant to protect historic statues and monuments as justification for arresting American citizens in the dead of night," reads the letter.
Trump's Monday comments come hours after the Chicago Tribune reported that DHS plans on deploying around 150 federal agents to Chicago this week.
The Homeland Security Investigations, or HSI, agents are set to assist other federal law enforcement and Chicago police in crime-fighting efforts, according to sources familiar with the matter, though a specific plan on what the agents will be doing had not been made public. -Chicago Tribune
An official with Immigration and Customs Enforcement (ICE), who wished to remain anonymous, confirmed the expected deployment, though noted that Homeland Security agents would not be involved in immigration or deportation matters.
In an unrelated Monday press conference, Chicago mayor Lori Lightfoot (D) expressed concern over the possibility of Trump sending feds to Chicago based on what we've seen in Portland.
"We don't need federal agents without any insignia taking people off the streets and holding them, I think, unlawfully," said Lightfoot.