---
Democrats Outpace Republicans In Early Voting
Over 6 million Americans across 27 states have already cast their vote for November's general election - more than 10 times the number who had voted at this time in 2016, according to the Untied States Elections Project, which compiles early voting data.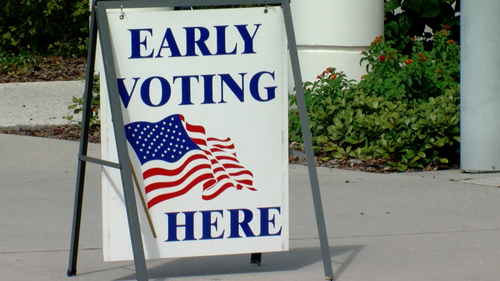 Of those, over two million ballots have been sent through the mail, with registered Democrats returning 1.4 million ballots vs. 653,000 from registered Republicans, according to University of Florida political scientist, Michael McDonald.
"We've never seen this many people voting so far ahead of an election," McDonald said earlier this week, according to Reuters. "People cast their ballots when they make up their minds, and we know that many people made up their minds long ago and already have a judgment about Trump."
The early surge has led McDonald to predict a record turnout of about 150 million, representing 65% of eligible voters, the highest rate since 1908.

...

McDonald said early voting typically starts strong, then drops before surging just ahead of the election. But in some states, rates of participation already have skyrocketed a month out. -Reuters
Overall, around 3.7 million of those who have already voted (around two-thirds) live in states which do not register voters by party, or are unaffiliated with either party. But according to demographic modeling by Democratic firm TargetSmart, 3 million votes have come from Democrats, while 2.1 have come from Republicans, according to The Hill.
That said (and it's a big one), early vote tallies aren't a solid indicator of who will win, as Hillary Clinton was trouncing Trump in early voting four years ago - though this year, early leads by Democrats are more substantial than in 2016.
In Florida, registered Democrats had out-voted registered Republicans by a slim 37 percent to 35 percent margin by this point in 2016. Today, almost 53 percent of votes cast in Florida have come from registered Democrats, while Republicans account for just 28 percent.

In North Carolina, registered Democrats have cast 52 percent of all ballots so far, up from 36 percent four years ago. Registered Republicans account for just 17 percent of the ballots, down from 37 percent in 2016.

And in Pennsylvania, a state at the heart of Trump's reelection strategy, registered Democrats have cast more than three-quarters of all ballots. Republicans made up just 15 percent of ballots returned to date. -The Hill
"The fact that you have such a massive Democratic head start, that to me makes it much more difficult for the Trump campaign to play catchup," said Louisiana pollster, John Couvillon. 
"The Democrats are so far, by and large, turning out people to vote absentee that would have likely either voted on Election Day or voted early in person," according to analytics exert Mark Stephenson of Red Oak Strategic.