---
Stimulus Talks "Are Stalled Out" After House Democrats Unveil $2.5 Trillion Counterproposal
Update (1805ET): Politico's John Bresnehan reports that Senator John Thune said stimulus talks "are stalled out."
Thune added:
"My sense is we're not making a whole lot of progress today & we're back tomorrow."
Additionally, leaving Senate Majority Leader Mitch McConnell's office, Sens. Chuck Grassley and John Cornyn said that they didn't think there would be a vote tonight.
*  *  *
Update (1630ET): The new Democrat counterproposal will equate to nearly $2.5 trillion, including a $1,500 direct payment to citizens.
It will include $150 billion in healthcare funding, $80 billion in loans, and $600 per week in unemployment benefits for those affected by the virus. $215 billion will be allocated for state and local funds.
*US Democrats new bill proposal reportedly equates to USD 2.5trln: USD 1,500 direct payment to citizens, USD 150bln health care appropriations (plus USD 80bln loans), USD 600/week unemployment benefit for virus-affected; USD 215bln state and local funds

— JE$US (@WallStJesus) March 23, 2020
Via Bloomberg:
• Includes $1.5k in aid per individual; as much as $7.5k for a family of 5
• Would create a temporary Federal Pandemic Unemployment Compensation of $600 a week for any worker affected by the virus and eligible for unemployment compensation benefits
• Would expand paid leave and family medical leave
• Aims to help current borrowers with student debt
• Seeks more than $500b in grants, interest-free loans to small businesses
• Would provide $200b in funding for states; $15b to local govts through the Community Development Block Grant program
• Calls to ensure states can carry out this year's election with $4b in grant funding; includes national requirement for both 15 days of early voting and absentee vote-by-mail
Of course, it also requires airlines to adopt strict 'green new deal' style emissions rules.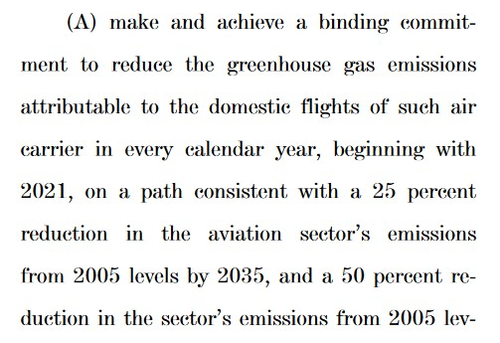 NEW -- summary of House Phase 3 proposal circulated by Democrats. Still no legislative text.
-$1,500 rebate per individual
-$150B health care approps, plus $80B loans
-$600/wk unempl benefit for covid-affected
-$215B state/local stab funds
-nat'l vote by mail pic.twitter.com/GLaJwfqVj9

— Mike DeBonis (@mikedebonis) March 23, 2020
*  *  *
Update (1535ET): House Democrats have published their counterproposal to the Senate coronavirus relief bill, which include the following provisions (among other things):
But wait! There's more:
-Pay Equity
-Funding for community newspapers
-Free internet
-$100,000,000 for NASA's environmental restoration group?
-Mandatory paid sick leave for every single business
-hiding the citizenship status of College Students from the Census Bureau

— Alec Sears (@alec_sears) March 23, 2020
You can read the entire thing here:
*  *  *
Update (1405ET): With five GOP members absent, the Senate again lacks the votes to advance the largest stimulus bill in US history aimed at fighting the economic fallout from the coronavirus pandemic.
The vote is ongoing, however McConnell says the delays could push the stimulus package package to Friday.
Senate Minority Leader Chuck Schumer (D-NY) says the vote is irrelevant because he is still discussing the details of the deal with Treasury Secretary Steven Mnuchin, according to Bloomberg.
Meanwhile, Speaker Pelosi says the bill puts corporations first.
NEW: Speaker Nancy Pelosi introduces Democratic coronavirus relief bill as negotiations stall in Senate: "We require that any corporation that takes taxpayer dollars must protect their workers' wages and benefits — not CEO pay, stock buybacks or layoffs." https://t.co/PbNCtdbCgK pic.twitter.com/DRyX6p60U3

— This Week (@ThisWeekABC) March 23, 2020
*  *  *
Update (1240ET): Senate Majority Leader Mitch McConnell (R-KY) slammed Congressional Democrats for holding up the stimulus bill for unrelated demands.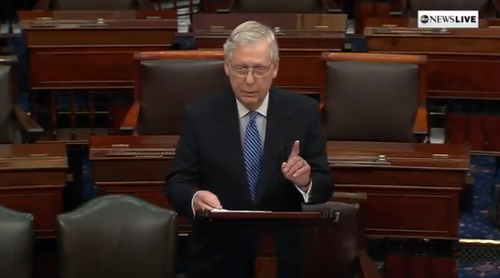 "Are you kidding me?" he asked, adding "This is the moment to debate new regulations that have nothing whatsoever to do with this crisis? That's what they're up to over there," motioning to Democrats.
"Democrats won't let us fund hospitals or save small businesses unless they get to dust of the Green New Deal," he said.
Senate Majority Leader Mitch McConnell slams Democrats over delay in coronavirus relief bill: "Are you kidding me? This is the moment to debate new regulations that have nothing whatsoever to do with this crisis? That's what they're up to over there." https://t.co/6rWzHE7qur pic.twitter.com/zDOA1wjBc8

— ABC News Politics (@ABCPolitics) March 23, 2020
McConnell has scheduled a new vote for 1:45 PM eastern.
Meanwhile, House Democrats are set to unveil a bill introduced by Reps. Ayanna Pressley (D-MA) and Ilhan Omar (D-MN) which would cancel at least $30,000 in student debt per borrower amid the coronavirus pandemic.
"During this unprecedented crisis, no one should have to choose between paying their student loan payment, putting food on the table or keeping themselves and their families safe and healthy," said Pressley in a statement.
"We must prioritize debt cancellation for the 45 million student loan borrowers who are struggling to pay off their debt during this difficult time."
*  *  *
As the country slips into economic chaos, Democratic gatekeepers to a $1.8 trillion stimulus package have made several demands which have nothing to do with coronavirus before they'll sign off on the legislation.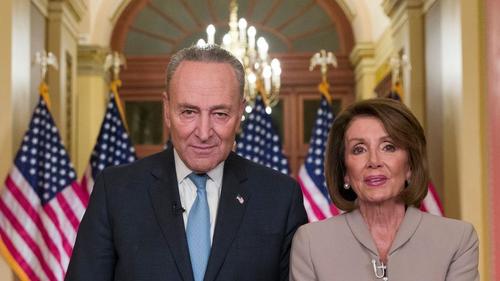 According to Town Hall's Guy Benson, Senate Minority Leader Chuck Schumer (D-NY) and House Speaker Nancy Pelosi (D-CA) are demanding massive collective bargaining powers for unions, more stringent fuel emissions standards for airlines, and an expansion of wind and solar tax credits.
Source writes, "not only are these completely unrelated to the coronavirus epidemic, they could prevent companies from participating in the loan programs altogether—directly causing unnecessary layoffs."

— Guy Benson (@guypbenson) March 23, 2020
Benson then directs our attention to a Thursday article from The Hill, in which House Democrats indicated that they wanted to go "bigger and broader than the already massive economic stimulus package offered by Senate Republicans to blunt the coronavirus pandemic.
"This is a tremendous opportunity to restructure things to fit our vision," said Majority Whip James Clyburn (D-SC) on a Thursday conference call with over 200 members of the House Democratic caucus.
Senate Majority Leader Mitch McConnell (R-KY) is not a fan.
"Anything that doesn't address that pandemic, it seems to me, should not be considered," he said.
What do Airline Emissions have to do with #CCPVirus

— Kevin Davis (@kevindavis338) March 23, 2020
A re-vote on the package is expected on Monday at noon.