---
Democrats Propose Abraham Lincoln Statue Removal
Authored by Jackson Elliott via The Epoch Times (emphasis ours),
Democrat and Confederate President Jefferson may have been unable to expel President Abraham Lincoln from the capitol, but Democrat delegate Eleanor Norton (D-D.C.) might.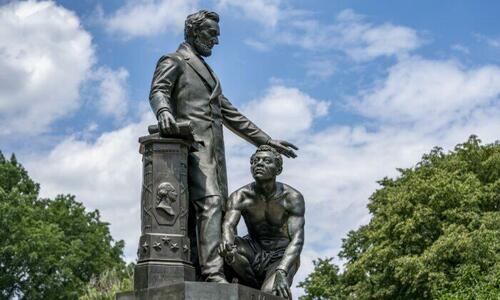 Norton, Washington D.C.'s non-voting Congressional representative, reintroduced legislation to remove a statue of Lincoln with a kneeling freed slave.
The statue has stood in Lincoln Park near the Capitol since 1876. It depicts a slave, shirtless and shackles broken, about to stand up. Lincoln stretches out his hand over the man.
Freed slaves paid for its creation. But according to Norton's press release, that's not enough.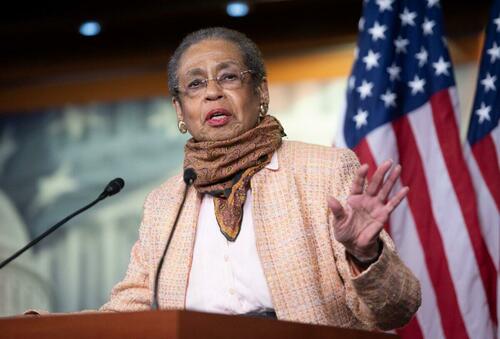 "The paternalistic statue depicting a Black man on his knees in front of President Lincoln fails to recognize African Americans' agency in pressing for their own emancipation," the delegate's press release reads.
Norton's bill would have the statue removed from Lincoln Park and placed in a museum "with an explanation of its origin and meaning."
She also noted that the freed slaves who paid for the statue didn't get input in its design.
"Although formerly enslaved Americans paid for this statue, the design and sculpting process was done without their input or participation, and it shows," Norton said. "At the time, they had only recently been liberated from slavery and were grateful for any recognition of their freedom."
Norton noted that renowned abolitionist and freed slave Frederick Douglass spoke to dedicate the stature but "pointedly did not praise the statue."
Past and Present
Douglass's speech expresses a complex set of feelings. He refers to Lincoln as the "white man's President" but also praises him as a "great man" and "liberator" who "hated slavery."
"We have done a good work for our race today," Douglass said at the statue's unveiling. "In doing honor to the memory of our friend and liberator, we have been doing highest honors to ourselves and those who come after us; we have been fastening ourselves to a name and fame imperishable and immortal; we have also been defending ourselves from a blighting scandal."
Read more here...
Loading...