---
Department Of Homeland Security Issues Christmas Warning To Illegal Immigrants
Authored by Jack Phillips via The Epoch Times,
The Department of Homeland Security called on would-be illegal immigrants to not cross into the United States this weekend due to the Arctic-cold temperatures across the country.
"As temperatures remain dangerously low all along the border, no one should put their lives in the hands of smugglers, or risk life and limb attempting to cross only to be returned," DHS said in a statement on Saturday.
A major winter storm and cold front descended across the United States late last week, breaking all-time cold temperature records in many cities. Reports indicated that at least 17 people died as of Saturday evening.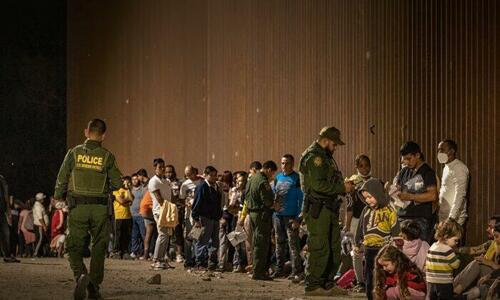 Undue Strain
At the same time, hundreds of thousands of people were left without power across several states. That's in part due to wind but also due to what utility companies say is undue strain on the power grid due to the freezing temperatures.
Many electric companies on Sunday continued to ask customers to conserve energy by not running large appliances and turning off unneeded lights. Duke Energy this weekend told customers it had ended the 15-to-30-minute rolling blackouts across North and South Carolina that it had initiated earlier in the day until additional electricity was available.
More than 2,700 U.S. flights were canceled on Saturday, with total delays tallying more than 6,400, according to flight-tracking service FlightAware. More than 5,000 flights were canceled on Friday, FlightAware said.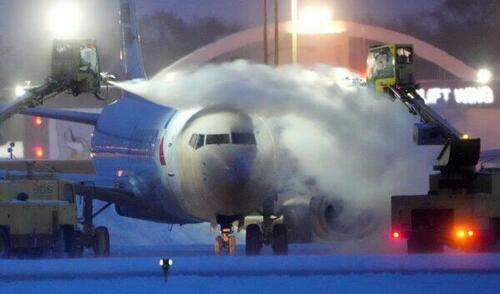 An American Airlines plane is de-iced as high winds whip around 7.5 inches of new snow at Minneapolis-St. Paul International Airport on Dec. 22, 2022. (David Joles/Star Tribune via AP)
The severe weather prompted authorities across the country to open warming centers in libraries and police stations while scrambling to expand temporary shelter for the homeless. The challenge was compounded by an influx of illegal immigrants crossing the U.S. southern border by the thousands in recent weeks.
The National Weather Service said its map of existing or impending meteorological hazards "depicts one of the greatest extents of winter weather warnings and advisories ever."
Title 42
DHS also said that illegal immigrants "attempting to enter without authorization are being expelled, as required by court order under the Title 42 public health authority," referring to the health-related order that was issued under the Trump administration in early 2020.
"Regardless of nationality, anyone attempting to enter without authorization is subject to expulsion under Title 42," said DHS's statement. "Those who cannot be expelled pursuant to Title 42 may be placed in expedited removal and anyone ordered removed subject to a bar on entry for 5 years under Title 8. Venezuelans attempting to enter the United States between ports of entry also continue to be returned to Mexico, and will be barred from the Venezuela Migration Enforcement Process announced in October."
The Supreme Court placed a hold on ending the rule, although lawyers for the Biden administration urged the court to allow it to end. The White House called on the high court to reject an emergency bid by a group of GOP-led states that sought to allow Title 42 to remain while legal challenges continue.
Last week, Solicitor General Elizabeth Prelogar wrote that it would be unusual for the court to allow those states to step in but wrote the administration "recognizes that the end of the Title 42 orders will likely lead to disruption and a temporary increase in unlawful border crossings."
"The government in no way seeks to minimize the seriousness of that problem. But the solution to that immigration problem cannot be to extend indefinitely a public-health measure that all now acknowledge has outlived its public-health justification," she wrote.
Before the Supreme Court's ruling, the Democrat-run city of El Paso, Texas, issued an emergency due to a surge of people illegally crossing the border. On Saturday, the city extended the emergency—which takes illegal aliens off the streets and puts them into designated shelters—during a special City Council meeting, local media reported.
Around the same time, New York City Mayor Eric Adams—whose city has seen an influx of illegal immigrants in recent months—warned that Title 42's end would force the city to cut some services.
"Please be advised that due to the lifting of Title 42 later this week, the City is expecting a higher amount of asylum seeker buses beginning today with 2 buses today and 10–15 more expected in the next two days," Adams, a Democrat, said earlier this month in a statement.
Loading...