---
DeSantis Fires Campaign Manager In 'Reload'
Days after Ron Desantis' largest individual donor warned he'd cut off funding if DeSantis doesn't start appealing to moderates, the Florida governor has replaced his embattled campaign manager with his Florida Chief of Staff, James Uthmeier, The Messenger reports.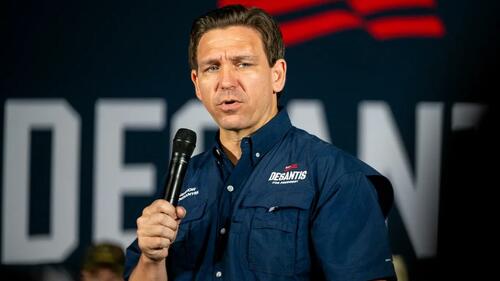 Outgoing campaign manager Generra Peck will stay on board as chief strategist as part of the shakeup - the Desantis' campaign's third in less than a month.
While Peck made headlines for guiding DeSantis to a blowout reelection last year, she came under scrutiny last month as the 2024 campaign stalled out, money dried up, and polling showed DeSantis losing to Trump at an accelerated rate.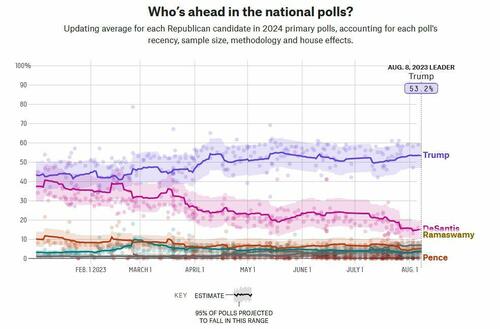 The campaign then twice cut staff and expenses and retooled DeSantis's press strategy to make him more available to the mainstream media.

But donors and some outside advisers weren't satisfied, leading DeSantis last week to ask Uthmeier to diagnose problems with the campaign and see if he could fix them. Ultimately, it led the governor to ask Uthmeier to take the job.

Uthmeier shies away from calling the reshuffling a "reboot." It's a despised word in the campaign, where advisers prefer to call this the last campaign "reload" — and say they're going to win, despite the naysayers and early polling. -The Messenger
"People have written Governor DeSantis's obituary many times," Uthmeier told the outlet. "From his race against establishment primary candidate Adam Putnam, to his victory over legacy media-favored candidate Andrew Gillum [in 2018], to his twenty point win over Charlie Crist [in 2022], Governor DeSantis has proven that he knows how to win. He's breaking records on fundraising and has a supporting super PAC with $100 million in the bank and an incredible ground game. Get ready."
Uthmeier will be joined by deputy campaign manager David Polyansky, a politically savvy Iowa operative who says he's never lost a Republican primary in the first-in-the-nation caucus state.
Uthmeier has an impressive track record — from challenging mask mandates to rapid school reopenings to redrawing Florida's congressional maps. His appointment is clearly designed to calm fears from his donors, such as billionaire Robert Bigelow - who says he isn't happy with the Florida governor's strict conservative stances. By bringing in Uthmeier, known for his alignment with First Lady Casey DeSantis's initiatives, the governor may be seeking a more balanced approach, satisfying both the conservative base and influential donors.
That said, Uthmeier has quite the challenge on his hands - with the campaign finances having suffered due to a high burn rate, and several PR disasters, including inappropriate ads created campaign staff. One ad was described by The Messenger as "homophobic (yet strangely homoerotic)" - while another ad used Nazi imagery. The campaign initially lied and denied that the videos came from staffers.
Meanwhile, former Vice President Mike Pence has just met the RNC's requirements to participate in the first debate on Aug. 23, according to a Tuesday campaign press release. Notably, Pence recently threw Trump under the bus over January 6th, while DeSantis recently told NBC News 'Of course' Trump lost the 2020 US election.
Maybe these guys should stop shooting themselves in the dick when it comes to winning over Trump supporters?
Loading...