---
DeSantis Targets 'Cultural Marxism,' Vows 'War On Woke' At Liberty University
Authored by Terri Wu via The Epoch Times (emphasis ours),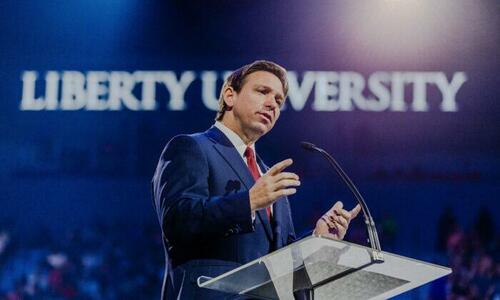 LYNCHBURG, Va.—Fresh off signing a six-week abortion ban into law the day before, Florida Gov. Ron DeSantis vowed to continue fighting the "war on woke" to about 9,000 students before receiving an honorary degree of the Doctorate of Humanities at Liberty University on Friday.
Speaking to young evangelicals at the twice-weekly convocation service, which the school calls "the world's largest gathering of Christian students," DeSantis touted Florida as the "refuge of sanity" and "a ray of hope" when "freedom and our very own way of life… withered on the vine" in the country.
In his view, Florida's population growth and his landslide reelection victory last year are a direct result of his fight against woke ideology—what he called "cultural Marxism"—and Americans "voting with their feet."
"We have made Florida the state where woke goes to die," he declared as the audience burst into a loud cheer.
His statements against gender ideology—prohibiting using puberty blockers or sex change operations on minors in Florida and criticizing biological males competing in women's sports—were also well-received by the crowd. "Because woke represents a war on truth, we must wage a war on woke," he added.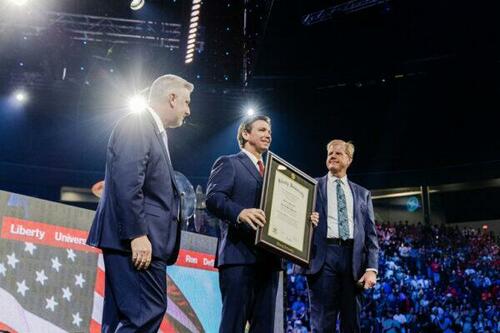 The governor started his speech by thanking Liberty University students for praying for his wife Casey's recovery from breast cancer. Casey was diagnosed in 2021 and became cancer-free late last year. "The prayers that we received as a result of that lifted up our spirits," he said. "The prayers have been answered."
In closing, he said he "looked forward to the battles ahead" in the "war on truth," "I will fight the good fight. I will finish the race. I will keep the faith."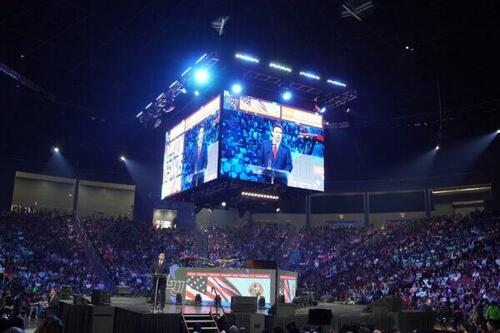 'Uplifting' and 'Inspiring'
Giulia Nicole, a homeschooled high school senior, said DeSantis's speech was "uplifting." She has been on dual enrollment at Liberty University online and will attend the college full-time in August, majoring in accounting.
"A lot of times when you hear people speak, you kind of leave feeling like the world is just going downhill, and there's not a lot of hope," she told The Epoch Times. "Gov. DeSantis was very uplifting. He was a breath of fresh air because I feel encouraged right now. I don't feel worried about the future. So I really enjoyed his speech."
She attended the convocation with her mother Carla Nicole, grandmother Maria Shoemaker, and a friend Savannah Dudzik, a Floridian in Lynchburg, for just the weekend for a pro-life event.
"I would just say I was impressed. Every time he speaks, I'm a little bit more impressed. He's so genuine. And we need people like that in politics," Dudzik, a resident in the Tampa Bay area, told The Epoch Times. "We need people who are genuine, people who you can tell he's not there for the crowd. He's not there for the applause. He's there for the people. He's there for us."
Read more here...
Loading...