---
DHS Hires Outside Legal Counsel Ahead Of Possible Mayorkas Impeachment
Authored by Samantha Flom via The Epoch Times,
The Department of Homeland Security (DHS) has hired outside legal counsel in anticipation of potential impeachment proceedings against DHS Secretary Alejandro Mayorkas.
"The Department of Homeland Security has retained outside counsel to help ensure the Department's vital mission is not interrupted by the unprecedented, unjustified, and partisan impeachment efforts by some Members of Congress, who have already taken steps to initiate proceedings," a DHS spokesperson told The Epoch Times in a Feb. 10 statement.

"DHS will continue prioritizing its work to protect our country from terrorism, respond to natural disasters, and secure our borders while responding appropriately to the over 70 Congressional committees and subcommittees that have oversight of DHS."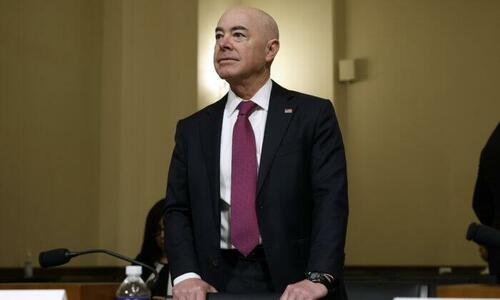 Articles of Impeachment
Rep. Pat Fallon (R-Texas) filed three articles of impeachment against Mayorkas on Jan. 10, charging that the DHS secretary had committed "high crimes and misdemeanors" and violated his oath of office by failing to maintain operational control of the border as outlined by the Secure Fence Act of 2006; willfully providing "perjurious, false, and misleading testimony" to Congress; and "slandering" Border Patrol agents by supporting false claims that they had used whips on illegal immigrants.
Last week, Rep. Andy Biggs (R-Ariz.) introduced his own resolution to impeach Mayorkas, echoing Fallon's assertion that the DHS chief had been derelict in his duties and adding that his actions had "subverted the will of Congress" and the Constitution.
"Every day Secretary Mayorkas remains in office America becomes less safe," Biggs contended in a Feb. 1 statement.
"Secretary Mayorkas is the chief architect of the migration and drug invasion at our southern border," he continued.

"His policies have incentivized more than 5 million illegal aliens to show up at our southern border—an all-time high figure. Instead of enforcing the laws on the books and deporting or detaining these illegal aliens, the vast majority of them are released into the interior and never heard from again."
Further holding that Mayorkas has allowed deadly drugs like fentanyl to pour across the U.S.–Mexico border, Biggs added: "It's clear Secretary Mayorkas has committed high crimes and misdemeanors. His conduct is willful and intentional. He is not enforcing the law and is violating his oath of office. For these reasons, Secretary Mayorkas should be impeached."
Biggs was the first member of Congress to introduce articles of impeachment against Mayorkas in August 2021, though at that time, the Democrats controlled the House. Now that the Republicans hold a slim majority, however, the move may have enough support to proceed.
...
Loading...