---
DOJ Corroborated Information From FBI Source Who Provided Biden Bribery Allegations: Official
Authored by Zachary Stieber via The Epoch Times (emphasis ours),
U.S. Department of Justice officials corroborated some of the information an FBI source provided to the bureau on allegations that then-presidential candidate Joe Biden and his son, Hunter Biden, were bribed, a former official who worked on the case said in newly reviewed testimony.
"We did corroborate certain things" from the source, Scott Brady, the former U.S. attorney for the Western District of Pennsylvania, told a U.S. House of Representatives panel on Oct. 23.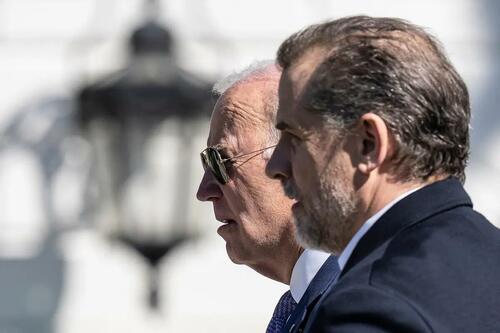 Members of Congress obtained and released over the summer a copy of the summary from FBI agents who spoke with the source, with the source conveying comments from Burisma executives concerning the Bidens.
Among them was the claim that it cost $5 million to pay one Biden and $5 million to pay another Biden.
Mr. Biden worked for Burisma, a Ukrainian firm, for years while President Biden was vice president, including in 2016. That's the year the discussion involving bribery took place, the source told the FBI in 2020.
Mr. Brady, appointed under President Donald Trump in 2017, told members this week he was tasked by superiors to accept and vet Ukraine-related information sent to or gathered by the U.S. Department of Justice (DOJ), which includes the FBI.
"We were to assess the credibility of information and anything that we felt was credible or had indicia of credibility, we were then to provide to the offices that had predicated grand jury investigations that were ongoing," Mr. Brady, who was asked to resign by President Biden after he took office, told the House panel.
Lack of Communication
After working to corroborate some of the information from the interview summary, Mr. Brady said his team passed the summary and the work they'd done to multiple offices, including the U.S. attorney's office for the District of Delaware.
That office is headed by U.S. Attorney David Weiss, another Trump appointee. Mr. Weiss has for years been investigating Mr. Biden for intentional tax avoidance and other crimes.
Mr. Brady's team briefed Mr. Weiss' team in October 2020 on the summary, known as an FD-1023.
"What we were doing was, as a part of the briefing, giving them the investigative steps that we had taken within our limited ability to corroborate the information that the [source] had provided us, and we informed them that we felt that the 1023 had indicia of credibility sufficient to merit further investigation," Mr. Brady said. "And so that's what we communicated to them."
Neither Mr. Weiss' office nor any of the other U.S. attorney's offices who received the 1023 from Mr. Brady's team reached back out about the document, according to Mr. Brady.
He said there was "both a skepticism of the information that we were developing, that we had received, and skepticism and then weariness of that information" from Mr. Weiss and Mr. Weiss' team.
"I don't want to speculate as to why, but I know that there was no information sharing back to us about what they were—or very limited. And, at one point, the communication between our offices was so constricted that we had to provide written questions to the investigative team in Delaware, almost in the form of interrogatories, and receive written answers back," Mr. Brady said.
That was not normal, he added.
Mr. Weiss' office declined to comment.
Ukraine Funding
The FBI source was reinterviewed in 2020 by the FBI at the request of Mr. Brady, who wanted more details about the allegations regarding the Bidens. The summary that resulted was ultimately obtained and released by Sen. Chuck Grassley (R-Iowa) and Rep. James Comer (R-Ky.).
The document showed the source traveled to Ukraine and spoke with top Burisma executives, including owner Mykola Zlochevsky. The source said executives said Burisma hired Mr. Biden "to protect [the company], through his dad, from all kinds of problems" and that Mr. Biden would take care of problems "through his dad."
Ukraine's president ultimately ousted Viktor Shokin, the prosecutor who was investigating Burisma, at the behest of President Biden.
"I said, 'We're leaving in six hours. If the prosecutor's not fired, you're not getting the money,'" President Biden said at a public event in 2018, relaying the interaction about a $1 billion loan guarantee he threatened to withhold. "Well, son of a [expletive]. He got fired."
The FBI has largely declined to comment on the substance of the document but said previously the summary was part of a "sensitive investigation" and should not have been released to the public.
The transcripts of the recent congressional interviews with Mr. Brady and U.S. Attorney E. Martin Estrada, appointed by President Biden, were obtained and reviewed by The Epoch Times.
In his interview, Mr. Estrada confirmed IRS whistleblower accounts and said he rejected Mr. Weiss' request to partner to prosecute Mr. Biden in California.
Mr. Estrada also said that he believed several attorneys with Mr. Weiss' office were able to bring charges in his district, the Central District of California, and that he offered office space and administrative support if they did.
Mr. Biden was ultimately charged with tax and firearm crimes in Delaware. He has not been charged in California or Washington, another district where the Biden-appointed U.S. attorney turned down a request from Mr. Weiss to partner.
Mr. Weiss earlier this year was made special counsel as he continues investigating Mr. Biden. Both Mr. Weiss and Attorney General Merrick Garland, appointed under President Biden, have been unable to explain why he needed to be made special counsel if he already had what they described as the "ultimate authority" to bring charges against the target.
Mark Tapscott contributed to this report.
Loading...