---
DOJ Hits Google With Antitrust Suit Over Ad Market, Calls For 'Corporate Breakup'
Update (1320ET):
Alphabet Inc.'s Google responded to the DOJ lawsuit announced in the last hour. The tech giant said the DOJ is "doubling down on a flawed argument," noting the suit "largely duplicates the unfounded lawsuit by Texas Attorney General."
Dan Taylor, Google's vice president of global ads, responded to the DOJ's lawsuit in a blog post: 
Today's lawsuit from the Department of Justice attempts to pick winners and losers in the highly competitive advertising technology sector. It largely duplicates an unfounded lawsuit by the Texas Attorney General, much of which was recently dismissed by a federal court. DOJ is doubling down on a flawed argument that would slow innovation, raise advertising fees and make it harder for thousands of small businesses and publishers to grow. We've already responded in detail to many similar claims made in the complaint led by the Texas Attorney General.

The lawsuit tries to rewrite history at the expense of publishers, advertisers and internet users.

DOJ is demanding that we unwind two acquisitions that were reviewed by U.S. regulators 12 years ago (AdMeld) and 15 years ago (DoubleClick). In seeking to reverse these two acquisitions, DOJ is attempting to rewrite history at the expense of publishers, advertisers and internet users. Both of these acquisitions enabled us to invest heavily in developing new and innovative advertising technologies. These deals were reviewed by regulators, including by DOJ, and allowed to proceed. Since then, competition in this sector has only increased.

Government shouldn't pick winners and losers in a competitive industry.

We are one of hundreds of companies that enable the placement of ads across the Internet. And it's been well reported that competition is increasing as more and more companies enter and invest in building their advertising businesses.

There are also specialized advertising technology companies like AppLovin, Criteo, Index Exchange, Pubmatic, Magnite, MediaMath, OpenX, The Trade Desk, Unity and many others. In fact, The Trade Desk was recently ranked one of the fastest growing companies. These may not be household names, but they power many of the ads you see every day.

With this increased competition, it's no wonder fees across the industry are reportedly flat or falling for digital display advertising technology.

Google's products expand choice for publishers and advertisers.

This complaint mischaracterizes how our advertising technology products work.

These products help publishers make money to fund their websites, apps and videos – which helps Internet users access a wide range of free content. And they make it easy for businesses to reach consumers through cost-effective digital advertising. Here are some facts:

Our advertising technologies are built to work with our competitors' products. We make it easy for partners to choose the products and services they want to use across more than 80 rival platforms for publishers and over 700 rival platforms for advertisers.
No one is forced to use our advertising technologies – they choose to use them because they're effective. In fact, publishers and advertisers typically work with multiple technologies simultaneously to reach customers and make more money.
The average large publisher will use six different platforms to sell ads on its website this year, while advertisers and media agencies will use over three platforms to buy ads, on average.1
Publishers who choose to use our advertising platforms keep the vast majority of the revenue our tools help facilitate. In total, we pay billions of dollars directly to the publishing partners in our ad network every year.

DOJ's lawsuit would reverse years of innovation, harming the broader advertising sector.

The current Administration has stressed the value of antitrust enforcement in reducing prices and expanding choice for the American people. We agree.

But this lawsuit would have the opposite effect, making it harder for Google to offer efficient advertising tools that benefit publishers, advertisers and the wider U.S. economy. Antitrust cases shouldn't penalize companies that offer popular, efficient services, particularly in difficult economic times.

And they shouldn't force companies to reverse 15-year-old investments that they have nurtured and worked hard to make successful, especially when those investments were already reviewed by regulators and allowed to proceed.

We've spent years building and investing in our advertising technology business to support a vibrant, open web. We will vigorously contest attempts to break tools that are working for publishers, advertisers, and people across America.
*   *   *
Update (1243ET):
The US Justice Department (DOJ) and eight states sued Alphabet Inc.'s Google over alleged illegal monopolization of the digital advertising market. 
"Google abuses its monopoly power to disadvantage website publishers and advertisers who dare to use competing ad tech products in a search for higher quality, or lower cost, matches," the DOJ wrote in the complaint, which was filed in the federal court in Virginia. California, New York, and Virginia were among the states that signed the complaint. 
The DOJ's lawsuit is the second against Google and calls for the breakup of its ad-tech business. This case would be the largest corporate breakup in four decades. 
"But competition in the ad tech space is broken, for reasons that were neither accidental nor inevitable. One industry behemoth, Google, has corrupted legitimate competition in the ad tech industry by engaging in a systematic campaign to seize control of the wide swath of high-tech tools used by publishers, advertisers, and brokers, to facilitate digital advertising. Having inserted itself into all aspects of the digital advertising marketplace, Google has used anticompetitive, exclusionary, and unlawful means to eliminate or severely diminish any threat to its dominance over digital advertising technologies," the complaint said. 
And the DOJ complaint continued:
"The harm is clear: website creators earn less, and advertisers pay more, than they would in a market where unfettered competitive pressure could discipline prices and lead to more innovative ad tech tools that would ultimately result in higher quality and lower cost transactions for market participants. And this conduct hurts all of us because, as publishers make less money from advertisements, fewer publishers are able to offer internet content without subscriptions, paywalls, or alternative forms of monetization. One troubling, but revealing, statistic demonstrates the point: on average, Google keeps at least thirty cents—and sometimes far more—of each advertising dollar flowing from advertisers to website publishers through Google's ad tech tools. Google's own internal documents concede that Google would earn far less in a competitive market."
Google controls more than a quarter of all US digital ads, according to Bloomberg data.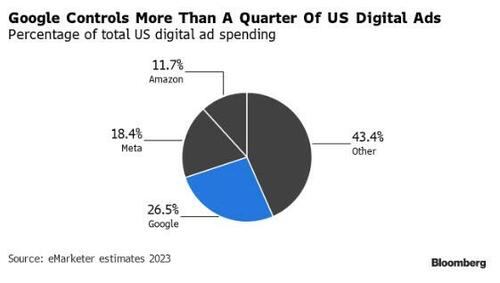 Google shares are down 1.5%.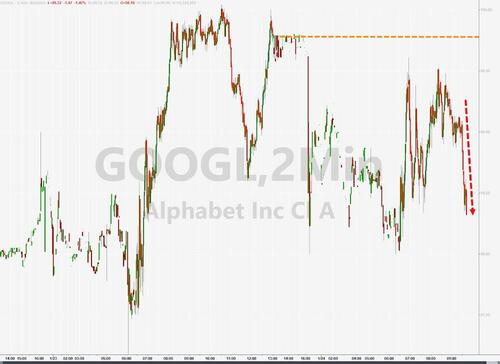 WSJ recently noted that DOJ Antitrust Division's progressive chief, Jonathan Kanter, had been cleared to oversee cases and investigations involving Google.
Here's the DOJ's complaint filed against Google: 
*   *   *
The Department of Justice (DOJ) is reportedly preparing to sue Alphabet Inc.'s Google in an antitrust lawsuit over its alleged monopoly on the digital advertising market, Bloomberg reported, citing people familiar with the matter. 
Google's dominance in the online ad space and web search marketplace has been under fire from the DOJ, which would mark the second federal antitrust complaint filed against the tech giant.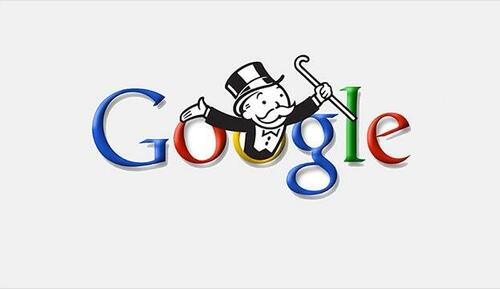 People familiar with the matter said the DOJ could file the suit in federal court by the end of the week. The lawsuit would allege violations of antitrust law in how Google maintains its dominance over the digital advertising market. The DOJ hit Google in 2022 with a lawsuit on its online search monopoly, which will head to trial in September. 
This incoming suit would be the fifth major case against the California-based tech giant. US state attorneys general have filed three separate lawsuits over the company's dominance in advertising, online searches, and apps on the Android mobile platform. 
The lawsuit will center on Google's advertising business, which accounts for 80% of its business. The company's advertising practices have caused many publishers and online newspapers to miss out on advertising revenue. 
In 2021, The Daily Mail sued the advertising giant's monopoly over selling online ad space, which led to very little revenue for the publisher. 
"The lack of competition for publishers' inventory depresses prices and reduces the amount and quality of news available to readers, but Google ends up ahead because it controls a growing share of the ad space that remains," the lawsuit said.
The simple fact is that Google is a monopoly gatekeeper for the internet has led to anticompetitive tactics that have crushed all competition. 
What needs to happen is Google's ecosystem of interlocking monopolies should be broken up to allow competitors to grow the internet; otherwise, the company is just stifling progress in the online space.
Loading...