---
DOJ Reverses Previous Support For Trump Immunity In E. Jean Carroll Defamation Lawsuit
Authored by Katabella Roberts via The Epoch Times,
The Department of Justice does not believe former President Donald Trump was immune from civil action as a public official when he allegedly made defamatory statements against author E. Jean Carroll in 2019 and will therefore not defend him.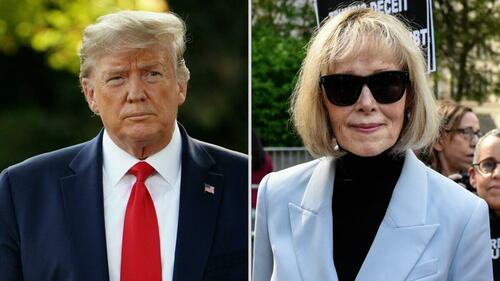 The decision marks a U-turn for the DOJ, which had previously defended Mr. Trump in a lawsuit filed against him by Ms. Carroll in 2019.
She accused the then-president of defaming her when he denied having raped her in a dressing room at the Bergdorf Goodman department store in Manhattan in 1995 or 1996.
In its previous decision, the DOJ had cited the Westfall Act, which protects federal workers from common law tort lawsuits when they are engaged in the duties of their jobs, and said Mr. Trump was acting in the scope of his employment as president when he made a series of public statements denying he raped Ms. Carroll.
Lawyers for Mr. Trump, who have unsuccessfully attempted to dismiss the lawsuit, have also argued he should be granted absolute presidential immunity in the case.
However, in a July 11 letter (pdf) to the attorneys for Mr. Trump and Ms. Carroll, Principal Deputy Assistant Attorney General Brian Boynton said the DOJ is now reversing its previous decision as it can no longer conclude Mr. Trump was acting in his capacity as president when he made the allegedly defamatory statements about Ms. Carroll.
This, the DOJ said, is owing to new guidance from a Washington, D.C. court regarding what constitutes the scope of an employee's duties.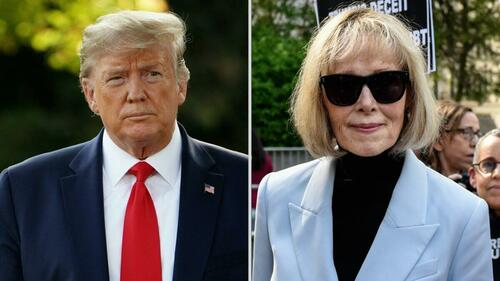 (Left) President Donald Trump comes out of the Oval Office from the White House on Sept. 16, 2019. (Right) E. Jean Carroll leaves following her trial at Manhattan Federal Court in New York on May 8, 2023. (Mandel Ngan, Stephanie Keith/Getty Images)
Protections Under the Westfall Act
That new guidance makes it clear that not every statement made by federal workers is protected under the Westfall Act just because it is made using official channels of communication. Further, the DOJ argues that there is no clear evidence that Mr. Trump's statements were motivated by "more than an insignificant" desire to serve the U.S. government.
"[T]he Department has determined that it lacks adequate evidence to conclude that the former President was sufficiently actuated by a purpose to serve the United States Government to support a determination that he was acting within the scope of his employment when he denied sexually assaulting Ms. Carroll and made the other statements regarding Ms. Carroll that she has challenged in this action," Mr. Boynton wrote.
"The evidence of Mr. Trump's state of mind, some of which has come to light only after the Department last made a certification decision, does not establish that he made the statements at issue with a 'more than insignificant' purpose to serve the United States Government," he added.
"The evidence of personal motivation that has been developed in this case outweighs any public-purpose inference one might draw in other circumstances," he continued.
"After balancing and weighing the evidence from Mr. Trump's deposition, the jury verdict in Carroll II, and the new allegations in the Amended Complaint, the Department has determined that there is no longer a sufficient basis to conclude that the former President was motivated by 'more than an insignificant' desire to serve the United States Government. Accordingly, the Department hereby declines to issue a new Westfall Act certification," Mr. Boynton concluded.
Robbie Kaplan, Ms. Carroll's attorney in the case, welcomed the DOJ's letter.
"We are grateful that the Department of Justice has reconsidered its position," Mr. Kaplan said in a statement to Axios on Tuesday. "We have always believed that Donald Trump made his defamatory statements about our client in June 2019 out of personal animus, ill will, and spite, and not as President of the United States."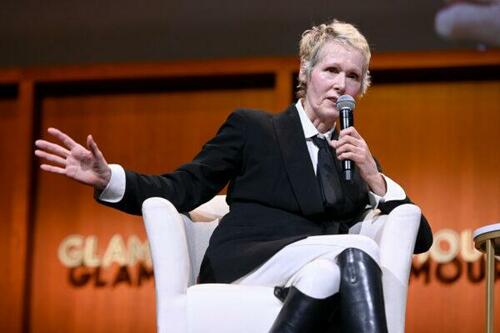 E. Jean Carroll speaks onstage during the How to Write Your Own Life panel at the 2019 Glamour Women Of The Year Summit at Alice Tully Hall in New York on Nov. 10, 2019. (Ilya S. Savenok/Getty Images for Glamour)
Carroll Files Second Lawsuit
Ms. Carroll also filed a second lawsuit against Trump in 2022 accusing him of battery and defamation after the New York State Legislature passed a law known as the Adult Survivor Act, which grants victims of certain sexual offenses a one-year window to file a civil lawsuit against alleged offenders.
The writer won in her second defamation suit against Trump in May and a jury ordered he pay her $5 million in damages, including $2 million in damages for sexual abuse and around $3 million for defamation.
The nine-member jury found that Ms. Carroll did not prove that Trump raped her but instead found that the businessman and 2024 presidential candidate sexually abused her.
Mr. Trump is currently appealing that verdict.
A trial for Ms. Carroll's first lawsuit against Mr. Trump is set to begin on Jan. 15, 2024. She is seeking at least $10 million in damages.
Earlier on Tuesday, Ms. Carroll's legal team asked a judge to dismiss a countersuit filed by the former president claiming she defamed him by repeating her claims that he raped her.
Her lawyers called the countersuit Mr. Trump's latest effort to "spin" his trial loss after his lawyers claimed the writer made the false statements with "actual malice and ill will with an intent to significantly and spitefully harm and attack" his reputation, as the "false statements were clearly contrary to the jury verdict."
They further argued that Mr. Trump had filed his counterclaim against Ms. Carroll too late in an effort to further delay "this otherwise trial-ready, much-delayed case."
The Epoch Times has contacted Mr. Trump for further comment.
Loading...