---
Fox News And Dominion Settle Defamation Case For $787.5 Million, Averting Trial Over 2020 Election Claims
Update (1610ET): And just like that, Fox News parent Fox Corp. and Dominion Voting Systems have agreed to settle their legal battle - thus averting a trial over Dominion's allegations that it was defamed by the network following the 2020 US election.
BREAKING: Voting machine company Dominion has settled its defamation lawsuit with Fox News.

Sky's @Stone_SkyNews gives us this update.

Warning: this video contains some flashing images.https://t.co/hSsVuFcuD7

📺 Sky 501, Virgin 602, Freeview 233 and YouTube pic.twitter.com/u0NYUVxNBB

— Sky News (@SkyNews) April 18, 2023
The case was settled for $787.5 million, according to Dominion's attorney. The company had originally sought $1.6 billion.
"Lies have consequences. The truth does not know red or blue."

— Dominion Voting Systems lawyer Justin Nelson celebrates Fox News' settlement of $787.5 million over its lies about Dominion in the wake of the 2020 election, sparing Fox News from a potentially damaging trial pic.twitter.com/1BC2CHUQ4j

— The Recount (@therecount) April 18, 2023
"We are pleased to have reached a settlement of our dispute with Dominion Voting Systems," reads a statement from the network, adding "We acknowledge the Court's rulings finding certain claims about Dominion to be false. This settlement reflects FOX's continued commitment to the highest journalistic standards."
That is a HUGE number. Remember, Dominion doesn't even generate $100 million per year in revenue. https://t.co/NGWMQBCmkJ

— Dan Primack (@danprimack) April 18, 2023
Fox haters are not taking the news well.
What the actual f*ck. The Judge just announced that Dominion has SETTLED its case with Fox and that the case has been resolved. This was a terrible decision by Dominion to settle — both for justice and for our democracy. Goddamnit.

— Victor Shi (@Victorshi2020) April 18, 2023
Fox News has settled with Dominion for what is presumably a massive sum. But no amount of money can erase what we all learned about Fox from this case.

— Matthew Gertz (@MattGertz) April 18, 2023
*  *  *
Dominion Voting Systems' lawsuit against Fox News kicks off on Tuesday, after the voting machine company accused the network of defamation following their coverage of the 2020 election, including former President Trump's claims that voter fraud is the reason he lost the race.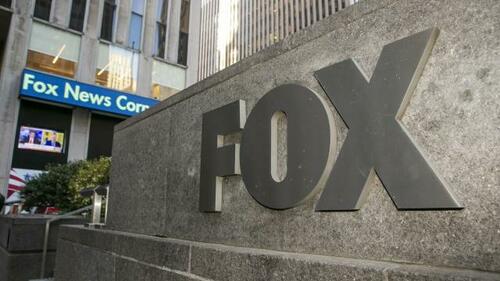 "It's potentially the most important defamation case in generations," said RonNell Andersen Jones, a law professor at the University of Utah who specializes in media law, in a statement to The Hill. "Partially, this is because it involves very high stakes for two very important entities. That in and of itself makes it important. But beyond that, it sits at the intersection of some of the most significant constitutional, social and political debates of our time."
After an abrupt Sunday night delay for rumored settlement talks, Delaware Superior Court Judge Eric Davis said on Monday that such postponements are "not unusual," and that he expects the parties to show up on Tuesday to start the trial.
"I made the decision to delay the start of the trial until tomorrow," Davis said in court, adding "it's a six-week trial. Things happen… this is not unusual… This does not seem unusual to me."
Dominion is seeking $1.6 billion in damages, but appears to have softened its claims, the WSJ reports. In a Sunday night filing, Fox's legal team indicated that Dominion wouldn't present the jury with claims for alleged lost profits - which in their original 2021 lawsuit was set at an amount not less than $600 million.
The voting machine company has accused Fox News of airing false claims by hosts and guests, who say Dominion helped rig the 2020 election in favor of Joe Biden. The company seeks damages for alleged financial harm to the company due to what they claim is a departure from journalistic norms by broadcasting claims the network knew was false.
Fox says they were just reporting allegations from former President Trump and his associates they felt were newsworthy.
Evidence released during litigation shows that Fox executives and hosts were skeptical over the election fraud claims, but didn't want to alienate Trump supporters.
"In some ways, it's just another piece of litigation for a large dollar amount, but it's also unlike any case you've seen before, weighing the future of Fox News, what's permissible for what a reporter can trust, and the future of faith in the media," said Victoria Baranetsky, general counsel at the Center for Investigative Reporting (via WSJ). "In those ways, the stakes are high."
Media organizations enjoy robust protections under the First Amendment, making defamation cases difficult for plaintiffs to win. Most lawsuits don't even make it to trial, prompting some to argue that modern precedent makes it too difficult for businesses or individuals to vindicate their reputations in court. 

Legal observers say the Dominion case could prove to be a notable counterexample. The company has come to the eve of trial riding momentum: Judge Davis has already concluded that Fox News and Fox Business did in fact broadcast false claims about Dominion, voiced by both network hosts and Trump associates, including Sidney Powell and Rudy Giuliani, who appeared as guests. -WSJ
According to the Judge, Fox has a 'credibility problem,' and may have failed to provide required disclosures and information in the litigation.
Assuming the case proceeds, Fox will have to convince a jury that they didn't act with "actual malice" regarding the claims, while Dominion will have to prove that Fox knowingly published false information, or had a reckless disregard for the truth.
Loading...