---
"Don't Want To Be Reckless" - Fauci Warns "Risky" To Lift Mask Mandates For Kids
White House COVID-19 adviser Anthony Fauci spoke with CNN on Thursday about masks in schools, saying that moves to lift mandates on children may be premature and "risky."
"It's understandable why people want to take masks off the kids. But, right now, given the level of activity that we have, it is risky," Fauci said.
"Now we could get lucky, cause the trajectory right now is going way down," Fauci added.
"And it very well may be that if you take masks off of kids in the next week or so, it's going to keep going down. But you have to be careful."
Let's look at the data, shall we?
Overall cases have utterly collapsed and deaths have rolled over...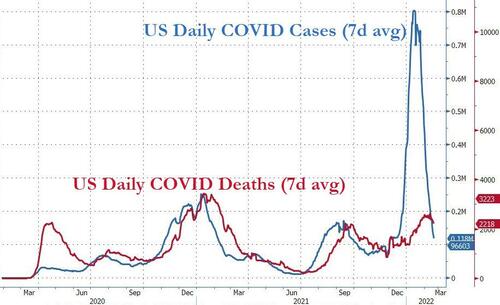 CDC Data has shown that children make up less than 0.1 percent of Covid deaths since the beginning of the pandemic in March 2020.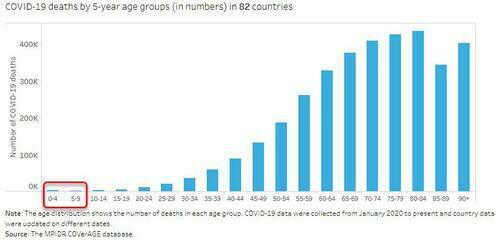 To date, 259 of around 860,000 recorded U.S. Covid deaths have been among children under the age of five.
And one final note, In looking at the grouping of the states (CA/OR/WA/IL/NY/DE/MA/CT/NJ/MD/NV/NM/VA/RI) with required masking in schools compared to those without mask mandates (UT/FL/AZ/TX/OK/MO/IA/AR/TN/SC), where very few students are wearing them, we see nearly identical trends, and those with little to no masking have lower current case rates: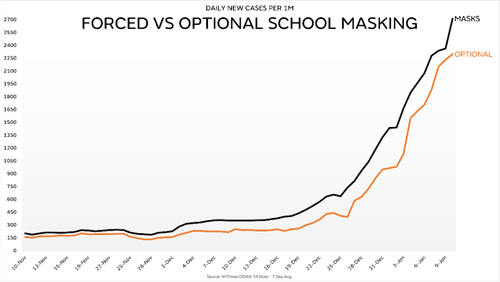 As Ian Miller and Michael Betrus recently concluded, kids should be in class without masks, without plexiglass dividers, socializing while they eat lunch and participating in sports without face masks. Logic clearly tells us this, and this data overwhelmingly proves there is no health benefit to requiring kids to wear face masks in school.
But, that's the "risk" that Fauci remains terrified of that is causing us to muzzle our kids?
As Fox News notes, research has shown that masks may have negative impacts on children's social abilities. Even Fauci admitted it during his Reuters interview:
"Is the impact on mental health, is the impact on development of kids, is the impact on schools - is that balanced against trying to be totally pristine and protecting against infection? I don't have the right answer to that," he said.
The CDC's insistence on pushing masks in schools, meanwhile, has been criticized for relying too heavily on flawed studies.
And in an interview with Reuters, Fauci did admit that we need to get back to normal (although, of course, he hedged his comments)...
"The fact that the world and the United States and particularly certain parts of the United States are just up to here with COVID - they just really need to somehow get their life back," he said.
"You don't want to be reckless and throw everything aside, but you've got to start inching towards that."
Interestingly, Fauci's comments come as some Democrat-led states have started to rescind mask or vaccine mandates, and officials in Philadelphia and Washington dropped vaccine passports to enter certain businesses.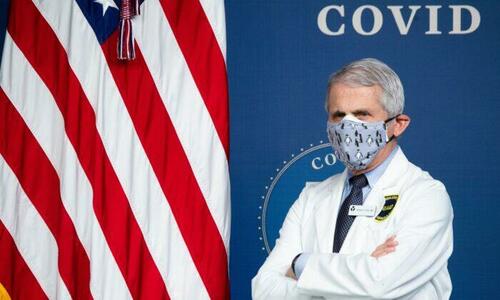 Jack Phillips, at The Epoch Times, as many of those blue states suddenly started to pull back, Republicans questioned the timing and said that Democrats are fearful they will suffer significant losses during the 2022 midterm elections if they keep pushing COVID-19 rules. Currently, Democrats have slim majorities in the House and Senate, and historically, the party of the president tends to lose seats in midterm elections.
"I find it very disingenuous that all of a sudden, as we get closer to the elections and the midterms that they decide to follow the science. They're following political science," Rep. Buddy Carter (R-Ga.) told NTD's "Capitol Report" on Feb. 10.
But in a recent interview, Fauci suggested that it's not because of polling numbers.
"I wouldn't say it's the politics. I think it's the different evaluation of what's right for a particular community," Fauci told MSNBC on Tuesday.
However, even some Democrat elected officials have sounded the alarm on COVID-19 politics. Rep. Sean Patrick Maloney (D-N.Y.), the head of the House Democrats' campaign organization, said Thursday that members of the party shouldn't "[fall] in love" with mandates.
"We as Democrats should not be, out of some sense of correctness, falling in love with mandates when they aren't necessary," he told MSNBC.

"We should get rid of them as quickly as we responsibly can."​
A recent poll from Monmouth University showed that around 70 percent of Americans agree with the statement: "It's time we accept that COVID is here to stay and we just need to get on with our lives."
Meanwhile, internal polling numbers obtained by SFGATE suggest that a majority of Americans believe Democrat officials have "taken things too far" in their pandemic response.